Alcohol
Easy, Healthy Tropical Cocktail Recipe. Ever since I caught sight of the Obamas' holiday digs in Hawaii, I've been desperately missing the tropics, and all the sun, surf, and superb eats that go along with it.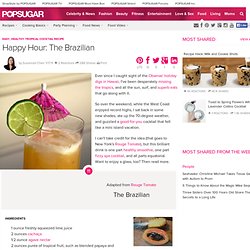 So over the weekend, while the West Coast enjoyed record highs, I sat back in some new shades, ate up the 70-degree weather, and guzzled a good-for-you cocktail that felt like a mini island vacation. I can't take credit for the idea (that goes to New York's Rouge Tomate), but this brilliant drink is one part healthy smoothie, one part fizzy spa cocktail, and all parts equatorial. Want to enjoy a glass, too? Then read more. Tequila Bramble Recipe. One of my favorite Summer cocktails is the bramble, a mix of gin, lemon, fresh blackberries, and blackberry liqueur.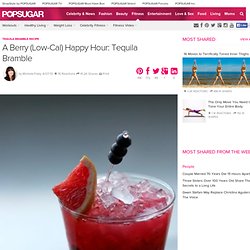 It's also a recipe that's easy to play around with, which makes for a fun day of improvising. For anyone craving a fruity cocktail minus the calories, this variation of a classic bramble makes a great choice. Low-Calorie Basil Gimlet Recipe. A basil gimlet might not be the natural choice for a St.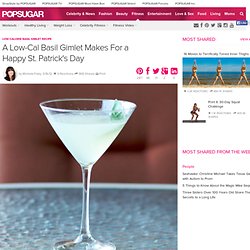 Patrick's Day drink, but it's got two things going for it: it's green, and it's a nice low-calorie alternative to the traditionally served whiskey or beer. For those of you who are counting, a pint of Guinness will set you back 210 calories and the average shot of Jameson whiskey is around 140 calories. On the other hand, when made with shochu, our basil gimlet recipe doesn't even hit the 100-calorie mark! Making the cocktail with soju (an alcohol commonly distilled from rice) brings the recipe to about 165 calories, while using gin or vodka results in a 215-calorie cocktail. Sangria! Sangria! Recipe. Mango Lassi — summer in a glass. Lassi : |ˈlasē| noun; a sweet or savory Indian drink made from a yogurt or buttermilk base with water With summer beautifully seeping into the lingering golden days and sultry arabian nights, I'm into a major cooler kick.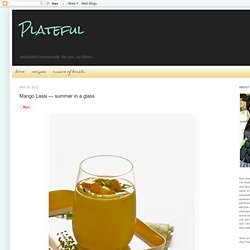 The lure of a tall glass of chilled beverage that's quick to mix and heavenly to quench thirst and combat heat is so wild that I've been going crazy shaking things up with summers bounty. And while I've been cooking other serious food, it is astonishingly the drink recipes that I'm drawn to, and gets scandalously photographed and featured, again and again. Strawberry Peach Vodka Collins Popsicle Recipe. You like fruit, you like vodka, you like popsicles — shoot, you like a lot of things.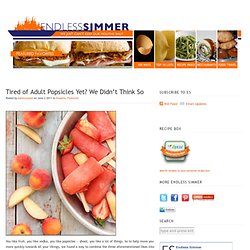 So to help move you more quickly towards all your likings, we found a way to combine the three aforementioned likes into one. Before your skeptical brow can arch upwards, let us say — yes, you can freeze vodka. Watermelon Mojito Popsicles Recipe. Tweaking a trend can either make you a hero or a target.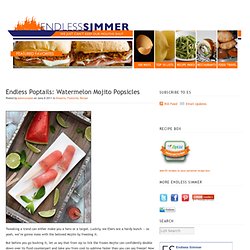 Luckily, we ESers are a hardy bunch — so yeah, we're gonna mess with the beloved Mojito by freezing it. But before you go bucking it, let us say that from sip to lick the frozen Mojito can confidently double down over its fluid counterpart and take you from cool to sublime faster than you can say freeze! Now that you know we've got our Teflon suits on, give it your best lick and let us know what you think. PS – have a cocktail you want to see turned popsicle? Summer Sangria. A party is not complete without booze.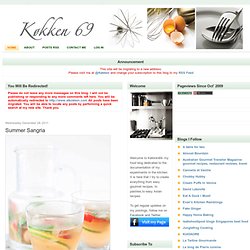 I still remember the drink I prepared for my first house warming party was a Bellini, prepared with peach puree and champagne. I was not totally into cooking then but still managed to wow my guests with curry chicken and beef rendang prepared with Prima pre-mixed paste.... it wasn't difficult because most of my friends and colleagues do not cook so any sort of reasonably decent culinary effort was sufficient to impress. As the years went by and as I started to dig deeper into recipes, premixes started to feel like a cheating easy way out... the party dinner preparations became more frentic and tedious as I insisted on making everything from scratch. Drinks took a backseat over the last few years.
Most of the time, we would just open up bottles of wine as we ate. Winter Sangria Recipe. Got any plans this weekend?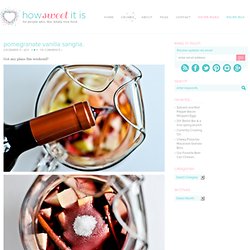 Print Save Pomegranate Vanilla Sangria Yield: serves 4? (depends on how much you drink!) Cranberry Mojitos. It's officially the holidays!!!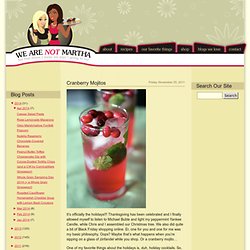 Thanksgiving has been celebrated and I finally allowed myself to listen to Michael Buble and light my peppermint Yankee Candle, while Chris and I assembled our Christmas tree. We also did quite a bit of Black Friday shopping online. Er, one for you and one for me was my basic philosophy. Oops? [Skeleton] Mudslide Jigglers « Teacher by Day – Chef by Night. Due to the Snow-Tober Storm we experienced here in the NorthEast, my pumpkin-carving-party got changed a bit!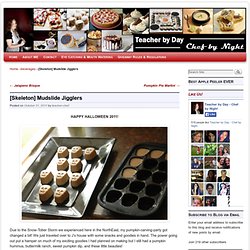 We just traveled over to J's house with some snacks and goodies in hand. The power going out put a hamper on much of my exciting goodies I had planned on making but I still had a pumpkin hummus, buttermilk ranch, sweet pumpkin dip, and these little beauties! The color was just right, the flavor was awesome, and they are so easily adaptable to whatever you want to make with them! I can see these guys being so cute for Winter in a Snowman (or snowflake) pan!!!
---