learningtheory
Get flash to fully experience Pearltrees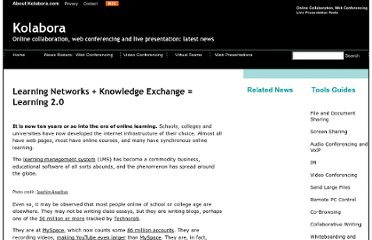 It is now ten years or so into the era of online learning. Schools, colleges and universities have now developed the internet infrastructure of their choice. Almost all have web pages, most have online courses, and many have synchronous online learning. The learning management system (LMS) has become a commodity business, educational software of all sorts abounds, and the phenomenon has spread around the globe. Photo credit: Joachim Angeltun
Our open course PLENK2010 (personal learning environments, networks, and knowledge) is going strong. Recordings from our weekly live sessions have been posted . This past week, due to a conversation kicked off by Viplav Baxi, Stephen Downes and I spent about 15 minutes discussion connectivism and constructivism.
About 6 weeks ago I wrote a posting on this blog, entitled What is the future of the LMS? Within a few hours, my colleague in the Internet Time Alliance (ITA), Harold Jarche had followed it up with one of his own, LMS is no longer the centre of the universe , and so began, what we at the ITA are now calling, The Great LMS Debate (you can see the chronological list of postings here .) At the Learning & Skills Group Conference earlier this month, Jay Cross mentioned this debate in his keynote and a number of other session speakers picked up on it too, and this sparked off further discussion in blogs and tweets. On Saturday Charles Jennings added a further posting to this thread, called Real learning, let's not confuse it with completing templated exercises . Charles's rational, reasoned and elegantly written post is a must-read, and it got me thinking even further.
OK, so here's the deal – if learning is work and work is learning, why is organizational learning controlled by a learning management systems (LMS) that isn't connected to the work being done in the enterprise? Learning is no longer what you do before you go to work, never having to learn anything else in order to do your job. In the 21st century networked economy, learning and working are becoming one.
The page you are looking for might have been removed, had its name changed, or is temporarily unavailable. Please try the following: Make sure that the Web site address displayed in the address bar of your browser is spelled and formatted correctly.
Recently, I read a blog article about connectivism by Debora Gallo. Soon after, I attended a presentation about m-learning by Jan Herrington, in which she too mentioned connectivism. This got me thinking… I don't know anything about connectivism!
A Constructivist Approach to Online Teaching and Learning By Julie Carwile from Inquiry , Volume 12, Number 1, Spring 2007, 68-73 © Copyright 2007 Virginia Community College System Abstract The author contends that using a learning-centered, or constructivist, approach in online courses is critical to student success.
From Adult Education Created by Robin, fall 2006; Edited by Tanya, fall 2008 What is Constructivism?
Connectivism: A Learning Theory for the Digital Age December 12, 2004 George Siemens Update (April 5, 2005): I've added a website to explore this concept at www.connectivism.ca