Leadership

Our CEO | Our organisation | About us - CPA Australia
Alex Malley FCPA, Chief Executive, CPA Australia Alex Malley is responsible for 19 offices globally and more than 150,000 CPA Australia members in 121 countries. He is one of only two Australians to be included on The Accountant publication's list of the world's top 50 most influential people in the accounting profession. At the National Press Club he has addressed issues impacting Australia's economic competitiveness and future. Tackling leadership matters is something he has always taken very seriously. As host of the television series The Bottom Line, screened nationally on the Nine Network Australia, Alex brings these issues into sharp focus through interviews with fellow leaders from business, politics and the community.
Transparency = Leadership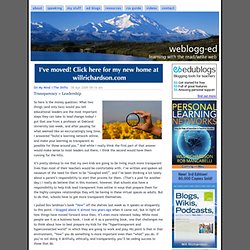 So here is the money question: What two things (and only two) would you tell educational leaders are the most important steps they can take to lead change today? I got that one from a professor at Oakland University last week, and after pausing for what seemed like an excruciatingly long time, I answered "build a learning network online, and make your learning as transparent as possible for those around you." And while I really think the first part of that answer would make sense to most leaders out there, I think the second would have them running for the hills. It's pretty obvious to me that my own kids are going to be living much more transparent lives than most of their teachers would be comfortable with.
Are you ready to lead a revolution at your school or in your district? Leadership Day 2009. Intro: The Professional Networked Learning Collaborative Back in 2002 in his book Smart Mobs: The Next Social Revolution Howard Rheingold predicted that, "The 'killer apps' of tomorrow's mobile infocom industry won't be hardware devices or software program but social practices.
Welcome To The Revolution: The Professional Networked Learning Collaborative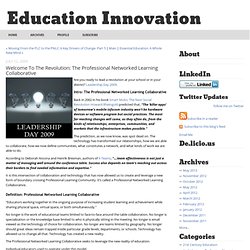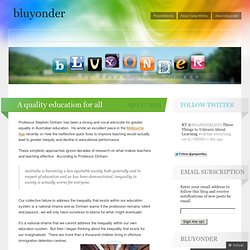 It was interesting to read the range of commentary last week around the latest PISA results. If Australian students are slipping towards a mathematical wilderness, spare a thought for Finland who was out-ranked by Estonia. Yong Zhao's attempt at translating the Finnish newspapers was first-rate. The most balanced views on PISA came from Dr Ken Boston, former director-general of NSW education and Sir Michael Barber, former advisor to UK Prime Minister Tony Blair on where we should be focusing our attention and efforts.
bluyonder