L
It's not every day a university student has access to leading edge technology before it becomes commercially widespread. Now, Macquarie students can reap the benefits as the traditional stand-alone PC makes way for new virtualisation technology. "As an alternative to the traditional 'stand-alone PC on a desk' approach, the new virtual PC lab in building C5C showcases exciting virtualisation technology in a working environment," said Kerry Agars, IT Services Project Manager. "The new lab adds value and is a strategic move for the university."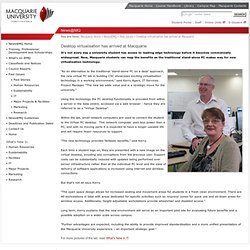 Desktop virtualisation has arrived at Macquarie - News@MQ - Macquarie University
OMNIUM - The Conversation - Part 1 | Notes on Design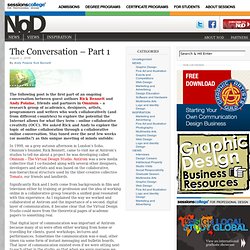 The following post is the first part of an ongoing conversation between guest authors Rick Bennett and Andy Polaine, friends and partners in Omnium – a research group of academics, designers, artists, programmers and writers who work collaboratively (and from different countries) to explore the potential the Internet allows for what they term – online collaborative creativity (OCC). We asked Rick and Andy to explore the topic of online collaboration through a collaborative online conversation. Stay tuned over the next few weeks (or months?) as this unique meeting of minds unfolds:
Windows on Learning: Resources for Basic Skills Education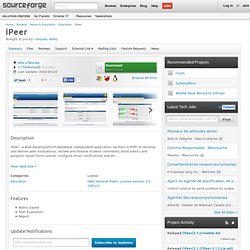 ★ Add a Review 17 Downloads (This Week) Last Update: Download iPeer-3.1.2.zip Browse All Files Windows BSD Linux iPeer - a web-based platform/database independent application (written in PHP) to develop and deliver peer evaluations, review and release student comments, build rubrics and progress report forms online, configure email notifications and etc ...
iPeer
2009-Horizon.K12-Preview.pdf (application/pdf Object)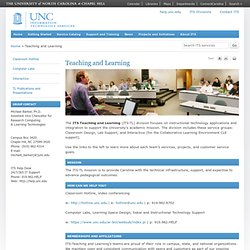 Information Technology Services: Teaching and Learning
The ITS Teaching and Learning (ITS-TL) division focuses on instructional technology applications and integration to support the University's academic mission. The division includes these service groups: Classroom Design, Lab Support, and Interactive (for the Collaborative Learning Environment CLE support). Use the links to the left to learn more about each team's services, projects, and customer service goals.
August 1st, 2007 | Category: Learning | Comments are closed "To agree to learn from a stranger who does not respect your integrity causes a major loss of self. The only alternative is to not learn and reject the stranger's world." - Herbert Kohl, from "I Won't Learn from You" American educator Herbert Kohl's "I Won't Learn from You" is a compelling essay about the complex relationship between a learner's social context and their motivation to learn.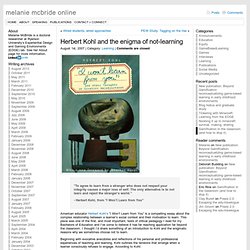 Herbert Kohl and the enigma of not-learning
Characteristics of High Quality Technology Teaching and Learning
University Digital Commons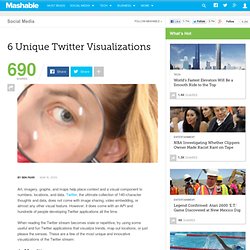 Art, imagery, graphs, and maps help place context and a visual component to numbers, locations, and data. Twitter, the ultimate collection of 140-character thoughts and data, does not come with image sharing, video embedding, or almost any other visual feature. However, it does come with an API and hundreds of people developing Twitter applications all the time. When reading the Twitter stream becomes stale or repetitive, try using some useful and fun Twitter applications that visualize trends, map out locations, or just please the senses.
Power Up with E-Tools
Footprints » Footprints Carbon Calculator
What is Twitter? Twitter is a service for friends, family, and co–workers to communicateand stay connected through the exchange of quick, frequent messages.People write short updates, often called "tweets" of 140 characters orfewer. These messages are posted to your profile, sent toyourfollowers,and are searchable on Twitter search. What does it mean to follow someone on Twitter? Followingsomeone simply means receiving their Twitter updates. Whenyou follow someone, every time they post a new message, it will appearin your Twitter home page.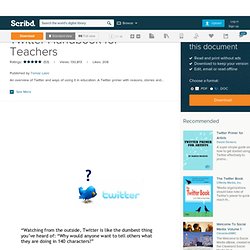 Today I had the pleasure of doing a short presentation for our IB Theory of Knowledge class. I was invited in to give a lesson on how knowledge is changing in the 21st century. My first thought was "How do I tell students knowledge has changed, when they already know that?"
It's not about Web 2.0 it's about learning! « The Thinking Stick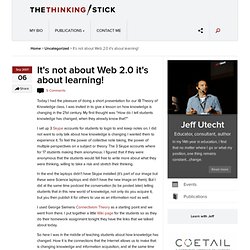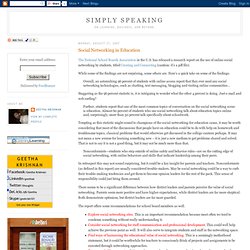 The National School Boards Association in the U.S. has released a research report on the use of online social networking by students, titled Creating and Connecting (caution: it's a pdf file). While some of the findings are not surprising, some others are. Here's a quick take on some of the findings. Overall, an astonishing 96 percent of students with online access report that they ever used any social networking technologies, such as chatting, text messaging, blogging and visiting online communities… Staggering as the 96 percent statistic is, it is intriguing to wonder what the other 4 percent is doing.
Social Networking in Education
Last updated: 15:19 Source: Youtube Manchester United Uses Google Hangouts To Get World Fans Into Old Trafford Front Row Robin Good: A selected group of Manchester United fans living far away from England have had a unique opportunity offered to them: seeing their favorite soccer team while sitting in the front row of the Old Trafford stadium.Thanks to Google Hangout technology, connected fans from far away countries have been able to cheer their stars by appearing in real time inside the advertising panels that surround the soccer field while... Read more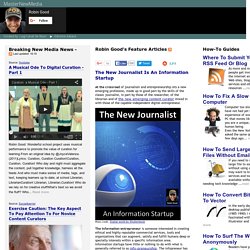 15 Things I'd Love to Teach
I recently applied for a curriculum coordinator position in my district school board, and although my current regional position in some ways restricts my ability to teach relevant skills to educators, there are many 21st century skills I'd love to share with local colleagues. 1] How to model academic integrity in your teaching; 2] How to harness universal designs for learning;