Iphone
iPhone app tracks trams in real-time - Technology - smh.com.au
Google confirms Goggles for iPhone
Google has confirmed that its impressive visual search tool Google Goggles will be available on iPhone and other platforms soon, after its trial spell on the Android handset.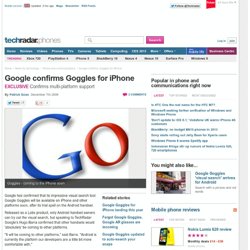 Social Apps for iPhone - Twinkle
Skip to content Your wishlist Your account Register your product Home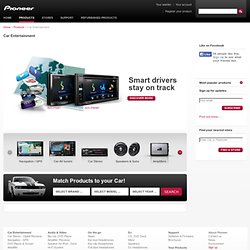 CD - DVD Players :: Pioneer Australia
Why you should install MY iPhone app : Christopher S. Penn's Awaken Your Superhero
ICTAC MEMO iPhone Apps for Education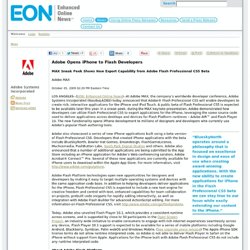 Adobe Opens iPhone to Flash Developers
LOS ANGELES--( EON: Enhanced Online News )--At Adobe MAX, the company's worldwide developer conference, Adobe Systems Incorporated (Nasdaq:ADBE) today announced that Adobe® Flash Professional CS5 will enable developers to create rich, interactive applications for the iPhone and iPod Touch. A public beta of Flash Professional CS5 is expected to be available later this year.
Acme Made, JOBY's sister company, makes stylish accessories for your everyday electronics. From iPad cases to camera backpacks, AcmeMade's attention to detail will make any device happy. Thoughtful and refined features include an exterior slash pocket, built-in stylus loop and a snap-lock zipper.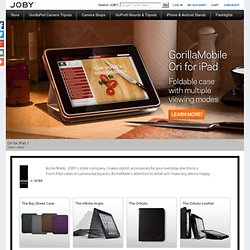 Gorillamobile - Joby
TwitVid app lets you send iPhone videos to Twitter | Web Crawler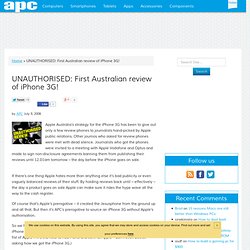 Unlike Walt "special dispensation" Mossberg, APC wasn't allowed to review the iPhone 3G in advance of its launch, but we got one anyway. Apple Australia's strategy for the iPhone 3G has been to give out only a few review phones to journalists hand-picked by Apple public relations.
UNAUTHORISED: First Australian review of iPhone 3G!