Hashtag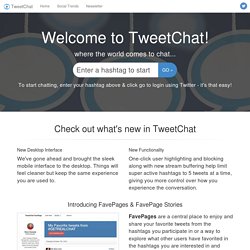 Sign in to TweetChat. Signup with Twitter if you don't have an account. Our login securely authenticates you with Twitter. Once authenticated, you will be returned directly to TweetChat. If you ever want to sign in as a different user, sign out at Twitter and return to TweetChat.
The Extraordinaries: Twitter Hashtag Strategies for Conferences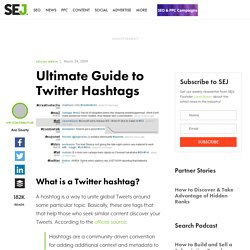 inShare91 What is a Twitter hashtag? A hashtag is a way to unite global Tweets around some particular topic. Basically, these are tags that that help those who seek similar content discover your Tweets. According to the official source: Hashtags are a community-driven convention for adding additional context and metadata to your tweets.
Posted by Bonnie Landau on 11 Feb 2010 under Twitter As Twitter has grown, people follow hundreds of people, and as a result it's not so simple to read all the tweets. As a result, various methods have evolved to help categorize tweets to make it easier to sift through and find just what you're looking for. Hence the birth of the Twitter "hashtag". A hashtag is simply a keyword or group of keywords with the '#' sign in front of the them.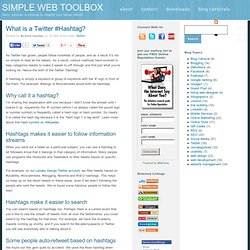 What is a Twitter #Hashtag? | Simple Web Toolbox
Hashtags Introduction Hashtags are a community-driven convention for adding additional context and metadata to your tweets. They're like tags on Flickr, only added inline to your post. You create a hashtag simply by prefixing a word with a hash symbol: #hashtag. Hashtags were developed as a means to create "groupings" on Twitter, without having to change the basic service. The hash symbol is a convention borrowed primarily from IRC channels, and later from Jaiku's channels.
Hashtags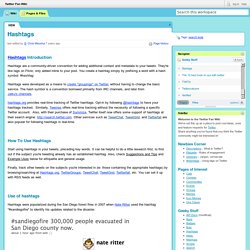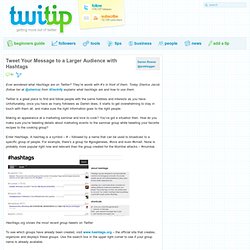 Ever wondered what Hashtags are on Twitter? They're words with #'s in front of them. Today Sherice Jacob (follow her at @sherice) from iElectrify explains what hashtags are and how to use them. Twitter is a great place to find and follow people with the same hobbies and interests as you have. Unfortunately, once you have as many followers as Darren does, it starts to get overwhelming to stay in touch with them all, and make sure the right information goes to the right people. Making an appearance at a marketing seminar and love to cook?
Tweet Your Message to a Larger Audience with Hashtags