Googlewave
Blip - Google Wave Blip. Google Wave was an innovative new platform that Google introduced at their I/O developer conference in 2009 It got a standing ovation from the attendees.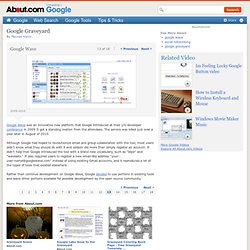 The service was killed just over a year later in August of 2010. Although Google had hoped to revolutionize email and group collaboration with the tool, most users didn't know what they should do with it and seldom did more than simply register an account. Google Wave: 5 Ways It Could Change the Web. Google Wave arrives on September 30th.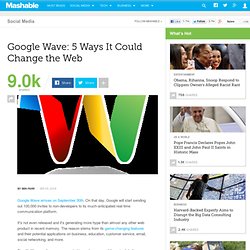 On that day, Google will start sending out 100,000 invites to non-developers to its much-anticipated real-time communication platform. It's not even released and it's generating more hype than almost any other web product in recent memory. The reason stems from its game-changing features and their potential applications on business, education, customer service, email, social networking, and more. So with Wave on the way, we wanted to explore some of the potential of Google's upcoming product. We have a few of our own ideas and included some from Google Wave developers, but more than anything, we want your ideas, so be sure to leave your great Google Wave invention in the comments! Embeddable Waves: The Google Wave WordPress Plugin. One of the more intriguing aspects of Google Wave – the much anticipated communication and collaboration platform that debuts later this month – is the fact that Waves can be embedded anywhere on the Web.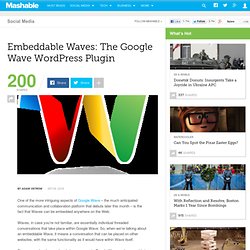 Waves, in case you're not familiar, are essentially individual threaded conversations that take place within Google Wave. So, when we're talking about an embeddable Wave, it means a conversation that can be placed on other websites, with the same functionality as it would have within Wave itself. Since some developers already have access to Google Wave, we're now able to show you what this functionality looks like – and how you may be seeing it in the future – via a WordPress plugin that has already been built for easily embedding Waves in blog posts. Embeddable Waves You'll only be able to see the embed in action if you have a dev account for Wave, so here's a screenshot of what the end result looks like, via a post on Mastering Wave: Google Wave: A Complete Guide. Last updated: January 29th, 2010 Today has been dominated by news and excitement surrounding Google Wave, Google's new real-time communication platform that will launch to the public on September 30th.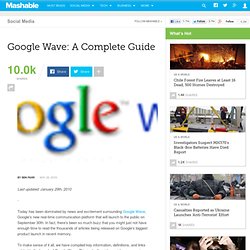 In fact, there's been so much buzz that you might just not have enough time to read the thousands of articles being released on Google's biggest product launch in recent memory. To make sense of it all, we have compiled key information, definitions, and links related to the launch of Google Wave. This in-depth guide provides an overview of Google Wave, discusses the terminology associated with it, details information on Google Wave applications, (i.e. the Twitter Wave app Twave), and goes over ways to keep yourself informed. Look out Outlook, Google's Wave is coming to swamp you - web - Technology.
Google Wave's Best Use Cases - Wave - Lifehacker. @arekkusu82: Realistically, Wave is just a new implementation of an old idea.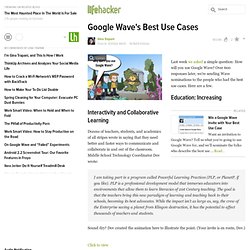 You can acheive much the same thing with SharePoint Discussion boards, or Microsoft Groove (which was developed by a different company before being gobbled up my Microsoft), or ShareFlow by zenbe. Wave is extensible, but so is SharePoint. Sure, the real time translation is pretty sweet, but all the "oooh, shiny" stuff in Wave are just features.
The idea behind wave isn't anything groundbreaking...people just think it is because it's a Google project (Oooh! The Complete Guide to Google Wave: How to Use Google Wave. Web Site for Telling Stories with Photos from Flickr. How does Google work? Infographic. How-google-works.jpg (JPEG Image, 1195x2074 pixels) - Scaled (55%) Connecting Google Apps Education Edition with Blackboard. Technology has the potential to transform the educational experience and to connect students, instructors, and researchers in new ways.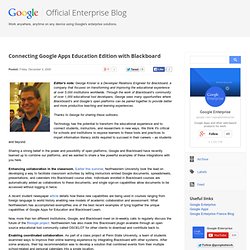 We think it's critical for schools and institutions to expose learners to these tools and practices to impart information literacy skills required to succeed in their careers – as students and beyond. Sharing a strong belief in the power and possibility of open platforms, Google and Blackboard have recently teamed up to combine our platforms, and we wanted to share a few powerful examples of these integrations with you here.
Enhancing collaboration in the classroom. Google Wave – first Meh, then Wow! | Librarians Matter. I played with Google Wave a couple of days ago and found the interface confusing and felt a bit lonely, so I moved onto something shinier.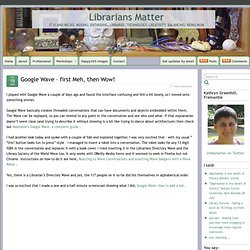 Google Wave basically creates threaded conversations that can have documents and objects embedded within them. The Wave can be replayed, so you can rewind to any point in the conversation and see who said what. Google Wave vs Twitter at conferences | FreshNetworks Blog. Image courtesy of Shutterstock Twitter has quickly become the must-have channel for conference back-chat.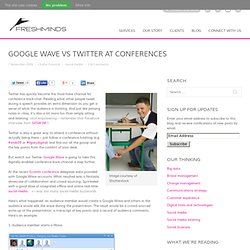 Reading what other people tweet during a speech provides an extra dimension as you get a sense of what the audience is thinking. And just like passing notes in class, it's also a lot more fun than simply sitting and listening. Google Wave for Educators. Six Ways that Google Wave is Going to Change Your Business, Career and Life. Learning Waves from Google. Waves A 'wave' is a group conversation with lots of added functionality.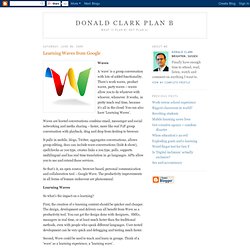 There's work waves, product waves, party waves – waves allow you to do whatever with whoever, whenever. Google Wave Use Cases: Education. Google Wave is a much hyped new Internet-based communications and collaboration platform.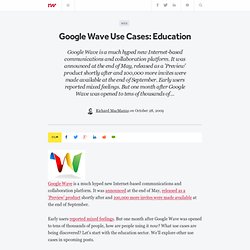 It was announced at the end of May, released as a 'Preview' product shortly after and 100,000 more invites were made available at the end of September. Early users reported mixed feelings. But one month after Google Wave was opened to tens of thousands of people, how are people using it now? What use cases are being discovered? 7 things you should know about Google wave. Google Wave: how to add a bot. Google Wave and teaching.
The announcement of Google's new Wave technology seems to be causing equal parts excitement and bafflement. For education, it's worth getting through the bafflement, because the potential is quite exciting. What is Google Wave? Wave API Overview - Google Wave API - Google Code. Google Wave Drips With Ambition. A New Communication Platform For A New Web. Yesterday, during the Google I/O keynote, Google's VP of Engineering, Vic Gundotra, laid out a grand vision for the direction Google sees the web heading towards with the move to the HTML 5 standard. While we're not there yet, all the major browser players besides Microsoft are aligned and ready for the next phase, which will include such things as the ability to run 3D games and movies in the browser without additional plug-ins.
But Google wants to take it one step further with a brand new method of communication for this new era. It's called Google Wave. Everyone uses email and instant messaging on the web now, but imagine if you could tie those two forms of communication together and add a load of functionality on top of it. At its most fundamental form, that's essentially what Wave is. What's Next for Google Wave - Digits. What Intrigues Me About Google Wave. Now that I've had a little while to think about it, I'm ready to distill my initial enthusiastic reaction to Google Wave down to a manageably short (and hopefully non-fanboi) post. Let me say at the outset that I have no idea whether Wave will succeed.
I am convinced, however, that something like Wave will succeed, in part because much about it is not new. My initial thought was was, "Hey, somebody finally got Apple's OpenDoc to work." Scott Wilson twittered that Google had reinvented ActiveX. In some ways, Wave is, like many great inventions, an old idea with some new twists. Does Google Wave Mean the End of the LMS? I suppose it was inevitable. At a time when even The Chronicle is asking whether Blackboard can be replaced by WordPress, a slick demo of a super-cool product like Wave was bound to trigger breathless speculation about the demise of the LMS. Equally predictably, the most enthusiastic predictions that the LMS will be replaced are being made by people who have already replaced their LMS.
It is not terribly shocking to read Jim Groom predicting that this time the LMS is REALLY doomed!!!! (I mean that to be taken affectionately.) Still Some Ripples in Google Wave Beta | CloudAve. Marissa Mayer on the future of Google. Google helps the web to go social. Google's Virtual World. Google Launches Gears Open Source Project to Bring Offline Capabilities to Web Applications. Trends.
---