Periodicals
Asian Perspectives. The Journal of Archaeology for Asia and the Pacific Asian Perspectives is the leading peer-reviewed archaeological journal devoted to the prehistory of Asia and the Pacific region.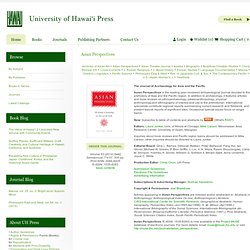 In addition to archaeology, it features articles and book reviews on ethnoarchaeology, palaeoanthropology, physical anthropology,and ethnography of interest and use to the prehistorian. International specialists contribute regional reports summarizing current research and fieldwork, and present topical reports of significant sites. Archaeological Excavation Reports Bulletin (Archive) | CAIS. Archaeological Excavation Reports Bulletin Archived in 2000 For the Latest Daily Archaeological News e-Bulletin Service Please [ Click Here ].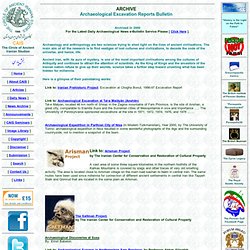 Archaeology and anthropology are two sciences trying to shed light on the lives of ancient civilisations. The main aim of all the research is to find vestiges of lost cultures and civilizations, to decode the code of the universe, and hence, life. Archaeology. History Today | The World's Best History Writing. Acta Archaeologica. Internet Archaeology - Electronic Journal - Home Page. National Geographic - Inspiring People to Care About the Planet Since 1888. Antiquity Journal. Welcome to ABIA at www.abia.net. World Cultures Journal of holocultural/cross-cultural research. WORLD CULTURES NOW PUBLISHED AT UC eRepositories Peer Review Journal Site Starting with issues 16 and 17 and eventually working back to put earlier issues online.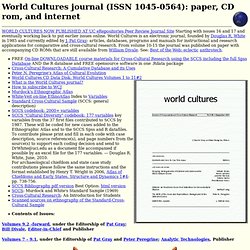 World Cultures is an electronic journal, founded by Douglas R. White in 1985 and currently edited by J. Pat Gray: articles, databases, programs and manuals for instructional and research applications for comparative and cross-cultural research. From volume 10-15 the journal was published on paper with accompanying CD ROMs that are still available from William Divale. See: Best of the Web: eclecticanthrotech. Fragments | Home. The broadest aim of Fragments is to generate new, integrated ways of thinking about the premodern past.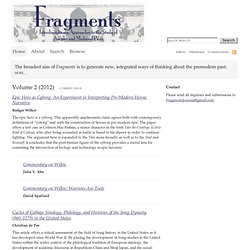 More... Contact Please send all inquiries and submissions to FragmentsJournal@gmail.com Volume 2 (2012) Current Issue Epic Hero as Cyborg: An Experiment in Interpreting Pre-Modern Heroic Narrative.
---