Fabricateurs numériques
Reprap
edit is restricted to the sysop group (set from the "protect" tab)move is restricted to the sysop group (set from the "protect" tab) RepRap is humanity's first general-purpose self-replicating manufacturing machine. RepRap takes the form of a free desktop 3D printer capable of printing plastic objects.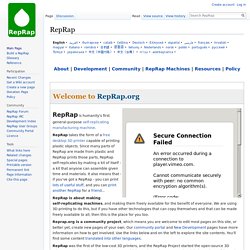 La RepRap est une imprimante 3D conçue sur le mode du logiciel et du matériel libre, réalisable pour un faible coût par des bricoleurs. Plusieurs modèles de cette imprimante sont fonctionnels, celui décrit dans ce site s'appelant Mendel. La RepRap forme des objets par addition de couches faites d'un mince filament de plastique fondu – voir les vidéos. Elle peut imprimer les pièces de plastique qui la constituent, les autres pièces étant des tiges métalliques, des boulons, moteurs ou cartes électroniques. La RepRap Mendel dessinée par Lauren van Niekerk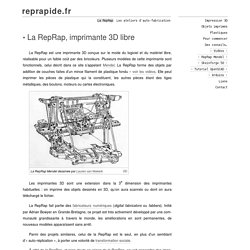 Le projet RepRap | reprapide.fr
Blog: Reprap
Hi All,I just wanted to let you all know that the Reprap "Blog of Blogs" has just been upgraded to use the new Yahoo "V2" pipes technology! (today) For those that live under a rock ( or are new) this is the URL for the meta-blog of around 100 reprap blogs:http://pipes.yahoo.com/davidbuzz/reprap_aggregation_pipe ..and this is a brief from Yahoo on the new technology, which went into BETA about a week ago.http://blog.pipes.yahoo.net/2010/06/09/yahoo-pipes-v2-engine/ Happy Blogging!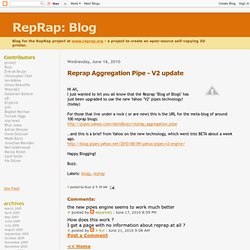 Julien c'est notre merveilleux usineur, un de ces rares artisans qui persistent dans le coin. L'autre jour on est allé lui rendre visite à son atelier, c'était la première fois que je le rencontrais. Julian is our talentous machinist, one of those rare skilled artisans that still exist around.
What's design ?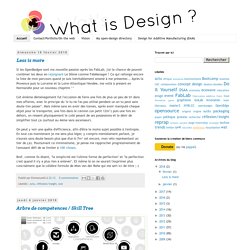 HydraRaptor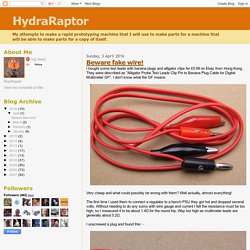 I temporarily suspended kit production for a few weeks in order to have some time to make some improvements to the design. The following improvements apply to kits currently being shipped. Hot End It came to light during the hot summer that the top of the J-Head can get too hot for extruding PLA. The problem seems to manifest itself when extruding slowly because it takes longer for the filament to pass through the hex grub screw (which is the Achilles heel of the J-Head because it is wider than the rest of the filament path) and so has enough time to soften and buckle.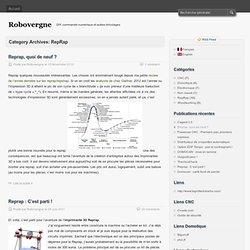 RepRap | Robovergne
Reprap, quoi de neuf ? Reprap quelques nouveautés intéressantes. Les choses ont énormément bougé depuis ma petite review de l'année dernière sur les reprap/repstrap.
Cageot 2.0 Trouvé hier chez mon primeur ! Cela ressemble à du carton compressé, probablement découpé au laser. Le poids est comparable à celui des cageots de nos grands parents, en petit bois, mais l'assemblage est très rigide !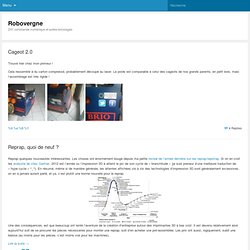 Robovergne