Savings
Fishers IN Homes and Real Estate - Keller Williams Realty - The Montgomery Team. 14 Homemade soap recipes : Bohemian Revolution. The Duggar Family - Duggar Recipes - Inexpensive Fabric Softener Recipes. Recipe #11 Cup White VinegarAdd vinegar to rinse cycle.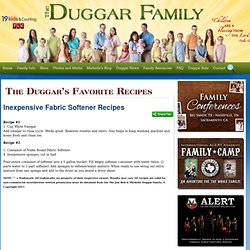 Works great. Removes residue and odors. Also helps to keep washing machine and hoses fresh and clean too. Recipe #2. The Duggar Family - Duggar Recipes - Homemade Liquid Laundry Soap- Front or top load machine- best value. 4 Cups - hot tap water1 Fels-Naptha soap bar1 Cup - Arm & Hammer Super Washing Soda*½ Cup Borax - Grate bar of soap and add to saucepan with water.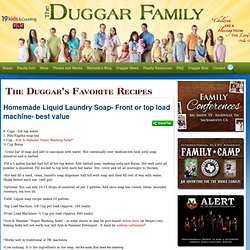 Stir continually over medium-low heat until soap dissolves and is melted. -Fill a 5 gallon bucket half full of hot tap water. Add melted soap, washing soda and Borax. Stir well until all powder is dissolved. How to Make Washing Soda. How to Make Homemade Laundry Detergent. In the spirit of Laura Ingalls, with wash day being Monday, here's a little recipe for homemade laundry detergent you can use tomorrow, Monday!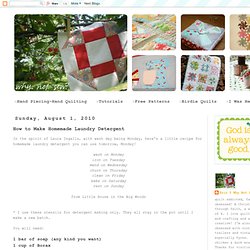 Wash on Mondayiron on Tuesdaymend on Wednesday churn on Thursday clean on Friday bake on Saturday rest on Sunday from Little House in the Big Woods. Homemade Fabric Softener Recipe - Food.com - 355877. Real Estate Affinity Program: NAR Real Estate Association Benefits.
---