Research
Asset Correlations: Major Asset Classes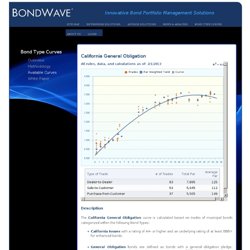 Bond Type Curves
Description The California General Obligation curve is calculated based on trades of municipal bonds categorized within the following Bond Types: California Issues with a rating of AA- or higher and an underlying rating of at least BBB+ for enhanced bonds.General Obligation bonds are defined as bonds with a general obligation pledge, whether that is unlimited or limited as to property taxation, full faith and credit pledge, or the bond is "double-barreled" (in which case the bond is generally paid through revenues but also carries a general obligation pledge).Use of Proceeds may include airports, electric and public power, higher education and sewer to name a few.
Catalpa Capital
Federal Reserve Districts and Banks
The Federal Reserve officially identifies Districts by number and Reserve Bank city. In the 12th District, the Seattle Branch serves Alaska, and the San Francisco Bank serves Hawaii. The System serves commonwealths and territories as follows: the New York Bank serves the Commonwealth of Puerto Rico and the U.S. Virgin Islands; the San Francisco Bank serves American Samoa, Guam, and the Commonwealth of the Northern Mariana Islands.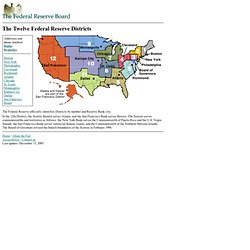 Credit Easing Policy Tools :: Federal Reserve Bank of Cleveland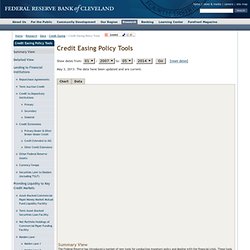 The Federal Reserve has introduced a number of new tools for conducting monetary policy and dealing with the financial crisis. These tools have become more important with the federal funds rate close to zero. Chairman Ben Bernanke divides the tools into three groups: Lending to financial institutionsProviding liquidity to key credit marketsPurchasing longer-term securities The new tools make use of the Fed's balance sheet, particularly the asset side, and involve ways of extending credit and purchasing securities. These actions can change both the absolute level of the balance sheet as well as the types of assets it contains.
Federal Reserve Bank of St. Louis | Economic Data, Monetary Rates, Economic Education
Research Publications
The Federal Reserve Bank of San Francisco: Economic Research, Educational Resources, Community Development, Consumer and Banking Information
Survey: Home
Doing Business - Business Planet - The World Bank Group
Harvard Business School - Institute for Strategy and Competitiveness
The Future Issue - An FP Special Report
The Economist Film Project
Fuck Yeah, Dinosaur Art!: Archive