Securing Change
Nudging responsible behaviour
The Travel Foundation - Travelife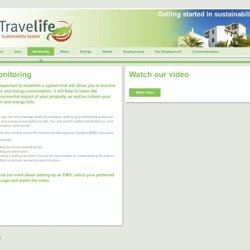 It's important to establish a system that will allow you to monitor water and energy consumption. It will help to lower the environmental impact of your property, as well as reduce your water and energy bills. Since you can only manage what you measure, setting up a monitoring system for water and energy consumption is vital. You will need to gather information on your consumption each month.
The Travel Foundation - Travelife
Climate change & carbon solutions
The Nudge blog sat down (electronically) with John Kenny, Senior Vice President of Strategic Planning in Draftfcb's Chicago office, to explore whether behavioral economics is just a fad in marketing or a legitimate tool to help the industry perform better. Starting with the Institute of Decision Making, Draftfcb has been one of the leaders in thinking about how to incorporate the discipline of behavioral economics with the practice, and business, of modern advertising and marketing. Recently, Kenny has put together a set of video lessons that serve as a guide to using behavioral economics in their work.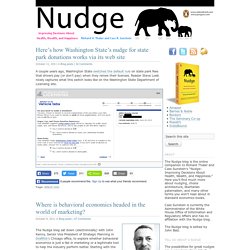 Ecumenical Coalition for Tourism - ECOT
Tourism Concern
The Awards were founded in 2004 to surprise and inspire tourists and the tourism industry by the best of the best in responsible tourism - tourism that creates better places to live in and visit. 2013 sees the awards growing to be called the World Responsible Tourism Awards. We want to celebrate the shining stars of responsible tourism - the individuals, organisations and destinations working innovatively with local cultures, communities and biodiversity. But more than that, we want their examples to inspire others.
Responsible Tourism Awards organised by responsibletravel.com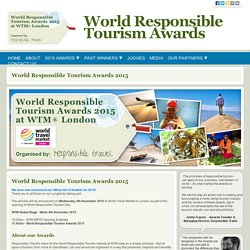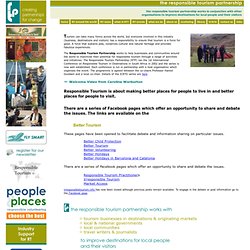 Tourism can take many forms across the world, but everyone involved in this industry (business, destinations and visitors) has a responsibility to ensure that tourism is a force for good. A force that sustains jobs, conserves cultural and natural heritage and provides fabulous experiences. The Responsible Tourism Partnership works to help businesses and communities around the world to maximise their potential for responsible tourism through a range of activities and initiatives. Welcome Video from Caroline Warburton Responsible Tourism is about making better places for people to live in and better places for people to visit.
The Responsible Tourism Partnership
10 Life Lessons From PEPY
WTM World Responsible Tourism Day - WTM World Responsible Tourism Day
Responsible Travel's Justin Francis - Inspiring Entrepreneur‬‏