SM Strategies
Is Group Texting Google's Next Social Circle?
Texting, invented in 1992, has changed little over the past 19 years. In the absence of innovation on the part of the phone companies, a number of companies have stepped in and created this new class of texting product that adds a significant value layer to the basic texting function. Group texting is like adding a party line (for those of you that remember them) to your text messages.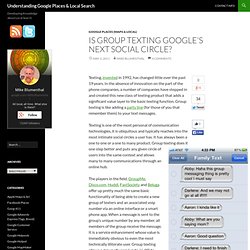 The Difference A Company's Size Makes In Social Media
Maybe the size of a company has never been pondered by the employees or consultants who are managing their social media campaigns.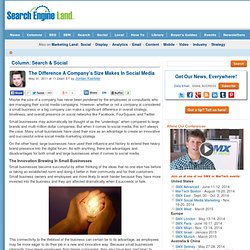 5 Truly Creative Uses Of Social Media
The biggest news in the world of social media over the last few weeks has been the IPO of LinkedIn, the upcoming Groupon IPO, and the slew of floatations these two are likely to herald.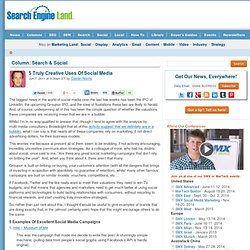 A couple of weeks ago, I spoke at the excellent SMX Sydney conference.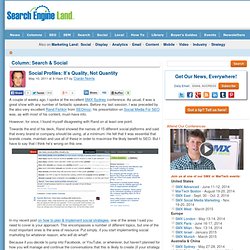 Social Profiles: It's Quality, Not Quantity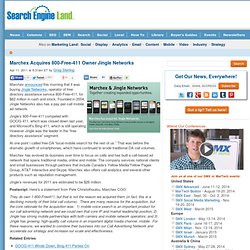 Marchex announced this morning that it was buying Jingle Networks, operator of free directory assistance service 800-Free-411, for $62 million in cash and stock.
Marchex Acquires 800-Free-411 Owner Jingle Networks
It appears that Facebook has settled on a central metaphor for the behavior of its 600 million users.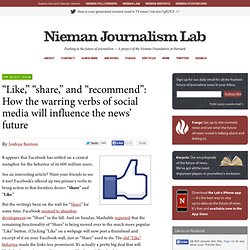 "Like," "share," and "recommend": How the warring verbs of social media will influence the news' future » Nieman Journalism Lab » Pushing to the Future of Journalism
Future implications that SM will overtake SEO - user trends stronger demographics all point to this. by robertwiii Mar 1
Social Media and the Want of a Nail — Knowledge Center — NewComm Collaborative
Statistics: "World's Top Social Media Sites"
Tuesday, 23rd November 2010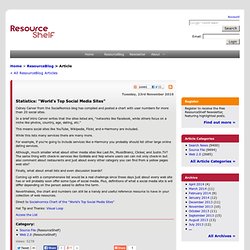 6 Content Tips: How To Write When You Have Nothing To Write About
When I tell a client/friend/colleague they need to add X pages of interesting content to their site, I typically hear one of three answers: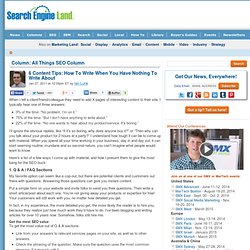 December 2013: a new edition of my World Map of Social Networks, showing the most popular social networking sites by country, according to Alexa traffic data (caveat: it's hard to understand the impact of Google+ because it is part of Google domain traffic). A few differences since last June but a lot since June 2009.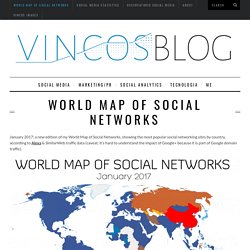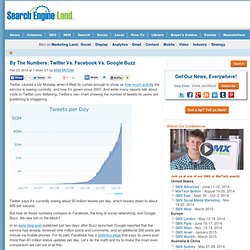 Twitter caused a stir Monday when it lifted its curtain enough to show us how much activity the service is seeing currently, and how it's grown since 2007. And while many reports talk about visits to Twitter.com flattening, Twitter's own chart showing the number of tweets its users are publishing is staggering.
By The Numbers: Twitter Vs. Facebook Vs. Google Buzz
Social media experts, typically self-appointed, trumpet their belief that social media marketing (SMM) "throws out the rules" and is a "game-changer." However, the extent to which SMM can change the rules depends very much on how thoughtful its practitioners are, and how well they understand the connection between the various ways people associate things and ideas, even at a neurological level.
How Prototype Theory Influences A Social Media Strategy
Hot At Sphinn: Article Spinning, Search Behavior, SEO Advice & More
Do you remember the best piece of SEO advice you ever received? Do you think "article spinning" is spam?
UK based SEO firm BrightLocal is conducting a local SEO survey.
BrightLocal Conducting Local SEO Survey
Pew Studies Internet Use & Income Levels
The PEW Internet and American Life Project has come out with a new study about internet use based on household income that includes some data on how these segments use search.
Saturday, 4th December 2010
Google Roundup: No Groupon Deal But Two Acquisitions; "Updated" Becomes "Realtime"; Turnkelang to LinkedIn; and More
What Social Signals Do Google & Bing Really Count?
Key Problems With Current Social Link Graph Signals
Why Groupon Makes Sense (to Google)
Amazing: Groupon Rejects Google Mega-Offer
2011: The year when 80% of Social CRM projects will #fail ...
How Many Spam Mails Does It Take to Sell $100 of Viagra?
Walmart Buys Former Search Engine Kosmix To Power Social And Mobile Shopping
Kosmix technology could have beaten Google Places... by robertwiii Apr 20