SM Strategies
Is Group Texting Google's Next Social Circle? Texting is one of the most personal of communication technologies, it is ubiquitous and typically reaches into the most intimate social circles a user has.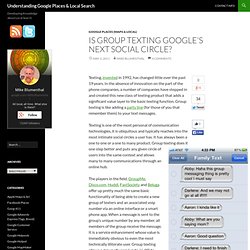 It has always been a one to one or a one to many product. Group texting does it one step better and puts any given circle of users into the same context and allows many to many communications through an online hub. The Difference A Company's Size Makes In Social Media. Maybe the size of a company has never been pondered by the employees or consultants who are managing their social media campaigns.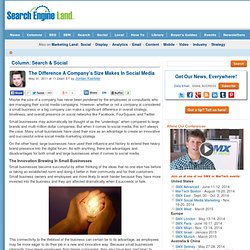 However, whether or not a company is considered a small business or a big company can make a significant difference in overall strategy, timeliness, and overall presence on social networks like Facebook, FourSquare, and Twitter. Small businesses may automatically be thought of as the "underdogs" when compared to large brands and multi-million dollar companies. But when it comes to social media, this isn't always the case. 5 Truly Creative Uses Of Social Media. The biggest news in the world of social media over the last few weeks has been the IPO of LinkedIn, the upcoming Groupon IPO, and the slew of floatations these two are likely to herald.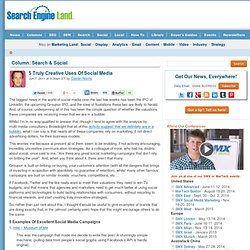 And, of course, underpinning all of this has been the simple question of whether the valuations these companies are receiving mean that we are in a bubble. Whilst I'm in no way qualified to answer that (though I tend to agree with the analysis by multi-media consultancy Broadsight that all of this activity suggest that we definitely are in a bubble), what I can say is that nearly all of these companies rely on marketing, if not direct advertising dollars, for their business models.
This worries me because at present all of them seem to be enabling, if not actively encouraging, incredibly uncreative communication strategies. Social Profiles: It's Quality, Not Quantity. A couple of weeks ago, I spoke at the excellent SMX Sydney conference.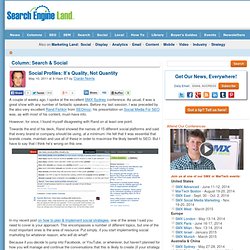 As usual, it was a great show with any number of fantastic speakers. Before my last session, I was preceded by the also very excellent Rand Fishkin from SEOmoz; his presentation on Social Media For SEO was, as with most of his content, must-have info. However, for once, I found myself disagreeing with Rand on at least one point. Towards the end of his deck, Rand showed the names of 15 different social platforms and said that every brand or company should be using, at a minimum.
Simple Methods to Clean Up Your Digital Life and Manage Information Overload. Marchex Acquires 800-Free-411 Owner Jingle Networks. Marchex announced this morning that it was buying Jingle Networks, operator of free directory assistance service 800-Free-411, for $62 million in cash and stock.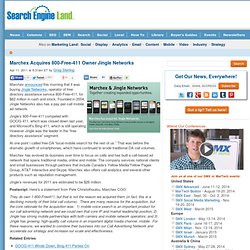 Founded in 2004, Jingle Networks also has a pay-per-call mobile ad network. Jingle's 800-Free-411 competed with GOOG-411, which was closed down last year, and Microsoft's Bing-411, which is still operating. However Jingle was the leader in the "free directory assistance" segment. "Like," "share," and "recommend": How the warring verbs of social media will influence the news' future. It appears that Facebook has settled on a central metaphor for the behavior of its 600 million users.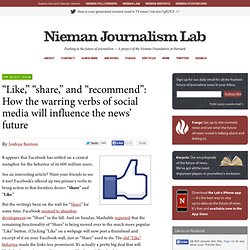 See an interesting article? Want your friends to see it too? Facebook's offered up two primary verbs to bring action to that formless desire: "Share" and "Like." Social Media and the Want of a Nail — Knowledge Center — NewComm Collaborative. Statistics: "World's Top Social Media Sites" Tuesday, 23rd November 2010 Statistics: "World's Top Social Media Sites" Cidney Carver from the SocialNomics blog has compiled and posted a chart with user numbers for more than 20 social sites.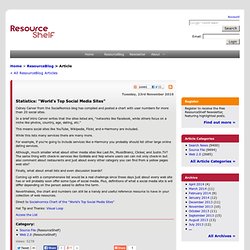 In a brief intro Carver writes that the sites listed are, "networks like Facebook, while others focus on a niche like photos, country, age, dating, etc. " This means social sites like YouTube, Wikipedia, Flickr, and e-Harmony are included. 6 Content Tips: How To Write When You Have Nothing To Write About. When I tell a client/friend/colleague they need to add X pages of interesting content to their site, I typically hear one of three answers: 3% of the time: "No problem, I'm on it."75% of the time: "But I don't have anything to write about."22% of the time: "No one wants to hear about my product/service.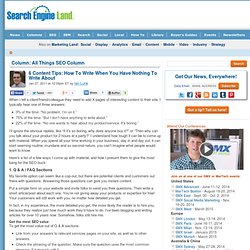 It's boring." I'll ignore the obvious replies, like "If it's so boring, why does anyone buy it?" Or "Then why can you talk about your product for 2 hours at a party?" World Map of Social Networks. December 2013: a new edition of my World Map of Social Networks, showing the most popular social networking sites by country, according to Alexa traffic data (caveat: it's hard to understand the impact of Google+ because it is part of Google domain traffic).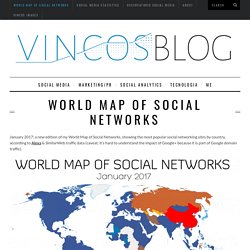 A few differences since last June but a lot since June 2009. Zuck's baby is the dominant social network in in 127 out of 137 countries analyzed: in the latest months Facebook lost Kyrgyzstan, but stole Syria from Maktoob. Facebook has now 1,189 billion monthly active users, but it is growing less rapidly than before (it has added just 34 million active users in 6 months). 351 million users in Asia, 276 million in Europe, 199 million in US & Canada, 362 million in remaining countries (according to Q3 2013 Earnings) In Russian territories V Kontakte and Odnoklassniki are still struggling to conquer the market.
By The Numbers: Twitter Vs. Facebook Vs. Google Buzz. Twitter caused a stir Monday when it lifted its curtain enough to show us how much activity the service is seeing currently, and how it's grown since 2007.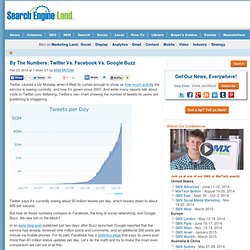 And while many reports talk about visits to Twitter.com flattening, Twitter's own chart showing the number of tweets its users are publishing is staggering. Twitter says it's currently seeing about 50 million tweets per day, which breaks down to about 600 per second. But how do those numbers compare to Facebook, the king of social networking, and Google Buzz, the new kid on the block? In an early blog post published just two days after Buzz launched, Google reported that the service had already received nine million posts and comments, and an additional 200 posts per minute via mobile phones. For its part, Facebook has a statistics page that says its users post more than 60 million status updates per day. How Prototype Theory Influences A Social Media Strategy. Social media experts, typically self-appointed, trumpet their belief that social media marketing (SMM) "throws out the rules" and is a "game-changer." However, the extent to which SMM can change the rules depends very much on how thoughtful its practitioners are, and how well they understand the connection between the various ways people associate things and ideas, even at a neurological level.
One scientific approach involves mastery of a new approach to linguistics, called Prototype Theory. Prototype Theory: The Basics The generally accepted thesis about how we put things in category buckets and how we decide whether some object falls into a specific category involves a yes/no examination of characteristic attributes of the thing being described. For example, we would identify some big animal as a cow by evaluating whether it meets the criteria that defines a cow, like "four legged," "has hooves," "does not have feathers," "has a second stomach," etc. Hot At Sphinn: Article Spinning, Search Behavior, SEO Advice & More. Do you remember the best piece of SEO advice you ever received? Do you think "article spinning" is spam? And are you up on the latest research about how consumers use search engines?
Those were some of the hot topics last week on our sister site, Sphinn, where the community interacts by commenting, tweeting, and liking articles. Sphinn's "Discussion of the Week," which asked What's the Best Piece of SEO-related Advice You've Ever Received? , picked up the most comments (12) and tweets (100) over the past week. BrightLocal Conducting Local SEO Survey.
UK based SEO firm BrightLocal is conducting a local SEO survey. The survey covers the US, Canadian and UK markets and asks specifically about local SEO practices. We haven't participated in formulating the survey questions but we'll release the results when they become available in the next couple weeks. The survey essentially is trying to find out basic things about local SEO attitudes, metrics and clients. It takes about 5 or so minutes to complete. Pew Studies Internet Use & Income Levels. The PEW Internet and American Life Project has come out with a new study about internet use based on household income that includes some data on how these segments use search. There's also interesting stuff here about how income correlates to likelihood to rate and review products, pay for online content, book travel, and access online news. The top-level conclusions are that Americans in higher income brackets (over $75,000 a year) use the internet more often than those in lower income brackets.
Those in higher income brackets are also more likely to have broadband access), which PEW has previously correlated to higher internet usage. the study correlates income to mobile device usage as well as PEW found that a greater percentage of higher income households (95% vs 83%) own cell phones. How Americans In Higher Income Brackets use the Internet.
Google Roundup: No Groupon Deal But Two Acquisitions; "Updated" Becomes "Realtime"; Turnkelang to LinkedIn; and More. Saturday, 4th December 2010 Google Roundup: No Groupon Deal But Two Acquisitions; "Updated" Becomes "Realtime"; Turnkelang to LinkedIn; and More 1. Not Today: The Google Acquisition of Groupon Is A No Go + "Thanks, But No Thanks: Groupon Pulls a Facebook" (by Kara Swisher, AllThingsD) What Social Signals Do Google & Bing Really Count? Key Problems With Current Social Link Graph Signals. Why Groupon Makes Sense (to Google) Amazing: Groupon Rejects Google Mega-Offer. 2011: The year when 80% of Social CRM projects will #fail ... How Many Spam Mails Does It Take to Sell $100 of Viagra?
Walmart Buys Former Search Engine Kosmix To Power Social And Mobile Shopping.
---