Google Newsworthy
Matt Cutts Webmaster Video Infographic. Matt Cutts of Google gives daily advice on the Google Webmaster YouTube Channel.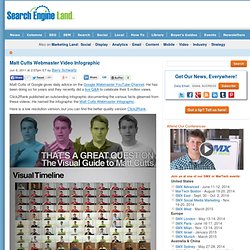 He has been doing so for years and they recently did a live Q&A to celebrate their 5 million views. Click2Rank published an outstanding infographic documenting the various facts gleamed from these videos. French Company Seeks $421M From Google For "Blacklisting" Perhaps sensing "blood in the water," a French company called 1plusV has sued Google in the Paris Commercial Court for the equivalent of $421 million.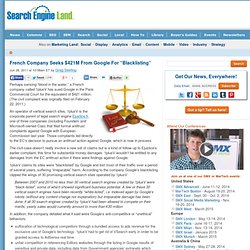 (The civil complaint was orginally filed on February 22, 2011.) An operator of vertical search sites, 1plusV is the corporate parent of legal search engine Ejustice.fr, one of three companies (including Foundem and Microsoft-owned Ciao) that filed formal antitrust complaints against Google with European Commission last year. Google Says Stop Reading Tin Foil Hat SEO. I love it when I see Googlers go off on SEO advice.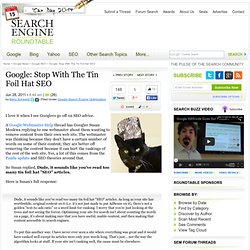 A Google Webmaster Help thread has Googler Susan Moskwa replying to one webmaster about them wanting to remove content from their own web site. The webmaster was thinking because they don't have a certain number of words on some of their content, they are better off removing the content because it can hurt the rankings of the rest of the web site. Yes, a lot of this comes from the Panda update and SEO theories around that. So Susan replied, Dude, it sounds like you've read too many tin foil hat "SEO" articles. Here is Susan's full response: The Google+ Project. Google Plus: The Good, The Bad & The Ugly. When I first logged into Google+ I was a bit underwhelmed, but the more I used and explored the site, the more I liked it.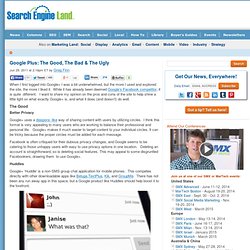 While it has already been deemed Google's Facebook competitor, it is quite different. I want to share my opinion on the pros and cons of the site to help shine a little light on what exactly Google+ is, and what it does (and doesn't) do well. Google Plus Shortcuts & Tips. "the motherlode of Google+ tips for all y'all suckas that don't know…" – Donny Rhoades I figured it would be useful to put all of the Google Plus tips and shortcuts I have found thus far in one handy place.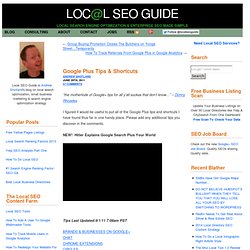 Please add any additional tips you discover in the comments. NEW! Hitler Explains Google Search Plus Your World Tips Last Updated:9/1/11 7:08am PST. How To See Inside Google+ If You Can't Get Inside Google+ Google+ has been live for a full day now, and there's plenty going on within the service, even with the limited number of people in there.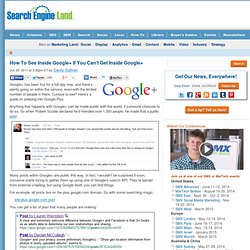 Curious to see? Here's a guide on peeping into Google Plus. Anything that happens with Google+ can be made public with the world, if someone chooses to do so. So when Robert Scoble declared he'd friended over 1,000 people, he made that a public post: Googleopoly: The Definitive Guide To Antitrust Investigations Against Google. We're another step closer to the US Federal Trade Commission launching an expected antitrust investigation of Google.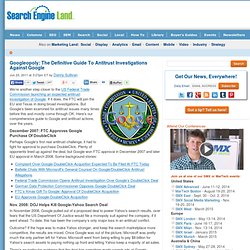 If it does, the FTC will join the EU and Texas in doing broad investigations. But Google's been examined for antitrust issues many times before this and mostly come through OK. Here's our comprehensive guide to Google and antitrust actions, over the years. December 2007: FTC Approves Google Purchase Of DoubleClick Perhaps Google's first real antitrust challenge, it had to fight for approval to purchase DoubleClick. Irish Hotel Sues Google For Defamation Over Autocomplete Suggestion. A popular Irish hotel has sued Google for defamation because Google's autocomplete feature suggests to searchers that the hotel is in receivership.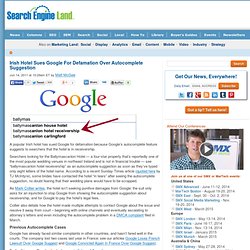 Searchers looking for the Ballymascanlon Hotel — a four-star property that's reportedly one of the most popular wedding venues in northeast Ireland and is not in financial trouble — see "ballymascanlon hotel receivership" as an autocomplete suggestion as soon as they've typed only eight letters of the hotel name. According to a recent Sunday Times article (quoted here by TJ McIntyre), some brides have contacted the hotel "in tears" after seeing the autocomplete suggestion, no doubt fearing that their wedding plans would have to be scrapped. As Mark Collier writes, the hotel isn't seeking punitive damages from Google; the suit only asks for an injunction to stop Google from showing the autocomplete suggestion about receivership, and for Google to pay the hotel's legal fees. Google Indexing Bing's Cached Image Results. Tristan Savatier, aka loupiote, spotted an interesting issue with Google indexing and displaying Bing's image cached results in the Google Image search index.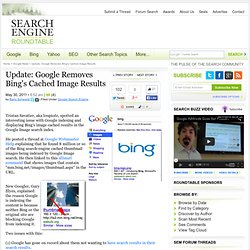 He posted a thread at Google Webmaster Help explaining that he found 8 million or so of the Bing search-engine cached thumbnail images being indexed by Google Image search. He then linked to this allinurl command that shows images that contain "mm.bing.net/images/thumbnail.aspx" in the URL. Gmail's 'People Widget' Takes On Rapportive, No Browser Plugin Required. It's probably not a good sign that I'm this excited about an email widget, but there you go.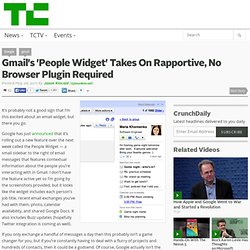 Google has just announced that it's rolling out a new feature over the next week called the People Widget — a small sidebar to the right of email messages that features contextual information about the people you're interacting with in Gmail. I don't have the feature active yet so I'm going by the screenshots provided, but it looks like the widget includes each person's job title, recent email exchanges you've had with them, photo, calendar availability, and shared Google Docs. It also includes Buzz updates (hopefully Twitter integration is coming as well). If you only exchange a handful of messages a day then this probably isn't a game changer for you, but if you're constantly having to deal with a flurry of projects and hundreds of contacts, then it could be a godsend.
Googlism : Google's Matt Cutts Riffs On J.C. Penney, Panda Update & Other SEO Topics In Live Webchat. Google's Matt Cutts confirmed this morning that Google has lifted J.C. Penney's SEO penalty, that the Panda update will continue to rollout internationally and offered numerous SEO- and search-related tips in a live webchat on the Google Webmaster Central YouTube Channel. More than a thousand viewers tuned in but, for those who weren't able to stay for the full 90 minutes, or who missed it entirely, here's a recap of some of the more important topics.. J.C. Mining patterns in search data with Google Correlate.
It all started with the flu. In 2008, we found that the activity of certain search terms are good indicators of actual flu activity. Based on this finding, we launched Google Flu Trends to provide timely estimates of flu activity in 28 countries. Since then, we've seen a number of other researchers—including our very own—use search activity data to estimate other real world activities.
However, tools that provide access to search data, such as Google Trends or Google Insights for Search, weren't designed with this type of research in mind. Google, Smartphone Contacts & Social Graphs: Has Eric Schmidt Crossed The Creepy Line Again? Things have been a little quiet — perhaps even boring — since Eric Schmidt stepped down as Google's CEO to become the company's Executive Chairman.
The strange quotes and not-so-funny attempts at cracking privacy-related jokes have slowed down in the past couple months. But Schmidt may have just added another one to his collection of so-called "creepy" quotes. It's in an article/interview from London's Evening Standard. Google Thinks Facial Recognition Is Very, Very Bad. Except Maybe For Famous People. Google's Search Team (Finally) Gets Its Own Blog.
Google launched a new search blog today: Inside Search – The official Google Search blog. You're probably thinking one of three things right now: Cool! I'm tired of finding search news and articles from them scattered in several places. Examining Facebook's "Smear Campaign" Concerns About Google Social Circles. I read the news today, oh boy. The Facebook army had just declared a war. Well, a smear campaign against Google. DOJ Investigating Google Ads; $500 Million Set Aside For Potential Settlement. Report: Google May Pay $500 Million To Settle Complaint Over Illegal Drug Ads.
Where Are They Now? Products Announced During Past Google I/O Keynotes. Googler Gets Short With Upset Webmaster. "Knowledge" Replaces "Search" For Google. Where Is Google Investing Its Marketing Spend Internationally? Google: Mobile Search Will Pass PC Sooner Than People Think. Legal Woes Mount For Google: "Locationgate," Skyhook Suit And FTC-Search Probe. 25 Things I Hate About Google, Revisited 5 Years Later. Google Bans Top Contributor From Forums, Community Fights To Get Him Back.
Finding more high-quality sites in search. Googler Quits To Build Browser To Block Google Tracking. DuckDuckGo Challenges Google On Privacy With DontTrack.us. Wolfram|Alpha, DuckDuckGo Expand Partnership. Odies (Tech) Android 3.0 Honeycomb Has Google-Built Augmented Reality? Google already knows its search sucks (and is working to fix it) Matt Cutts Outed As GoogleGuy In New Book, "In The Plex" What Google Still Isn't Saying.
Search Optimization and Its Dirty Little Secrets. Google: "Expect Some Big Changes Here Very Shortly" SEM Trends For 2011: What To Expect & What To Do. Video: BBC Airs One-on-One Interview With Google's Eric Schmidt. Priceline.com Founder Sues Google Over Offers Service. How Long Has Marissa M Been Testing Hotspot? Top 10 Obscure Google Search Tricks.
---