Robertrowshan
Robert Babak Rowshan
Reddit: the front page of the internet. 'It is not in the American national interest to go to war against Iran anytime soon' So I ran into a friend who knows a lot about U.S. policy and Iran .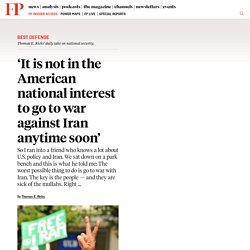 We sat down on a park bench and this is what he told me: The worst possible thing to do is go to war with Iran. The key is the people -- and they are sick of the mullahs. Right now the pressure is working to separate the people from the regime. THIS JUST IN! Sloths in onesies! Netflix, Please Don't Go Cable. A report from Reuters that Netflix is in talks with an unnamed cable company has us worried since Netflix turning into cable is the last thing we want.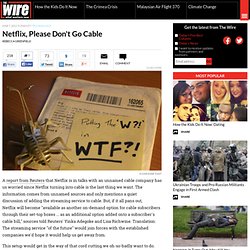 The information comes from unnamed sources and only mentions a quiet discussion of adding the streaming service to cable. But, if it all pans out, Netflix will become "available as another on-demand option for cable subscribers through their set-top boxes ... as an additional option added onto a subscriber's cable bill," sources told Reuters' Yinka Adegoke and Lisa Richwine. Translation: The streaming service "of the future" would join forces with the established companies we'd hope it would help us get away from.
I Double-Derp Dare You. Cute Overload :D. FileHippo.com - Download Free Software. Google Voice Founder Sets His Sights On VoIP Once Again. Is Google Voice (previously GrandCentral) co-founder Craig Walker getting back into the VoIP game?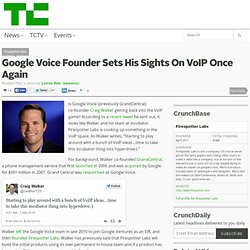 According to a recent tweet he sent out, it looks like Walker and his team at incubator Firespotter Labs is cooking up something in the VoIP space. As Walker writes, "Starting to play around with a bunch of VoIP ideas…time to take this incubator thing into hyperdrive:)." For background, Walker co-founded GrandCentral, a phone management service that first launched in 2006 and was acquired by Google for $50+ million in 2007. Grand Central was relaunched as Google Voice. Walker left the Google Voice team in late 2010 to join Google Ventures as an EIR, and then founded Firespotter Labs. Odd Anomalous Facts about the Human Mouth. If you're new here, you may want to sign up for email alerts or to subscribe to my RSS feed .
Enjoy Life in the Fast Lane ! While your mouth is more than the simple means of mastication and communication, there are a number of little-known facts about the human mouth that will give you some food for thought. Right-handed people are most likely to chew on the right side of their mouths , and just by the basic act of kissing your partner, you can gain over 250 colonies of bacteria. Chartbeat's New Features: Up With Engagement, Down With Linkbait. Chartbeat is going to be launching a new version of its real-time analytics service in a few weeks, and I got a sneak peek earlier today.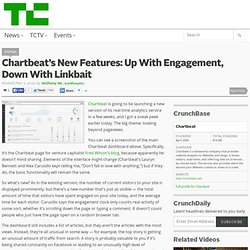 The big theme: looking beyond pageviews. You can see a screenshot of the main Chartbeat dashboard above. Specifically, it's the Chartbeat page for venture capitalist Fred Wilson's blog, because apparently he doesn't mind sharing. Elements of the interface might change (Chartbeat's Lauryn Bennett and Alex Carusillo kept telling me, "Don't fall in love with anything.") but if they do, the basic functionality will remain the same. Don't draw attention to your community's weaknesses. Movie-Vault does a great job at highlighting its weaknesses.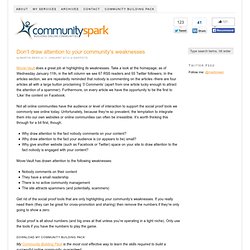 Take a look at the homepage; as of Wednesday January 11th, in the left column we see 67 RSS readers and 55 Twitter followers. In the articles section, we are repeatedly reminded that nobody is commenting on the articles -there are four articles all with a large button proclaiming '0 Comments' (apart from one article lucky enough to attract the attention of a spammer). Furthermore, on every article we have the opportunity to be the first to 'Like' the content on Facebook. Australia's Leading Renewable Energy Company – Hydro Tasmania – Completes Cisco Connected Grid Implementation at Tasmania's King Island Power Station. Cisco Australia has been working with Logica on a major upgrade to the communications network at Tasmania's King Island power station.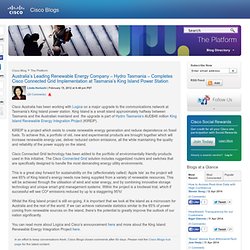 King Island is a small island approximately halfway between Tasmania and the Australian mainland and the upgrade is part of Hydro Tasmania's AUD$46 million King Island Renewable Energy Integration Project (KIREIP). KIREIP is a project which exists to create renewable energy generation and reduce dependence on fossil fuels. To achieve this, a portfolio of old, new and experimental products are brought together which will increase renewable energy use, deliver reduced carbon emissions, all the while maintaining the quality and reliability of the power supply on the island. Google Meets Miss Manners, Encourages Searchers To Thank Those Who +1'd Content. DEAR MISS GOOGLE: When I searched for something using your service, I found a friend had +1′d one of the of listings.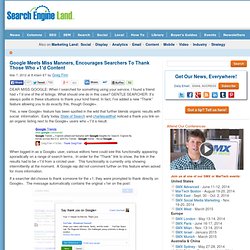 What should one do in this case? GENTLE SEARCHER: It's always polite in these situations to thank your kind friend. In fact, I've added a new "Thank" feature allowing you to do exactly this, though Google+. Yes, a new Google+ feature has been spotted in the wild that further blends organic results with social information. Early today State of Search and charliesaidthat noticed a thank you link on an organic listing next to the Google+ users who +1′d a result. How independent is your online community? A great community manager can build a great online community.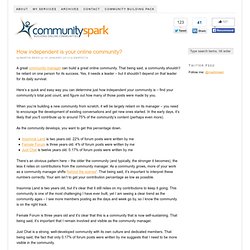 That being said, a community shouldn't be reliant on one person for its success. Yes, it needs a leader – but it shouldn't depend on that leader for its daily survival. Alumni Scholarship Award Winners: Carrie, Kristin, Catherine — School of Visual Arts — MFA in Interaction Design. The department is proud to announce that second-year MFA Interaction Design candidates, Carrie Stiens, Kristin Breivik, and Catherine Young have received Alumni Scholarship Awards from the School of Visual Arts Alumni Society.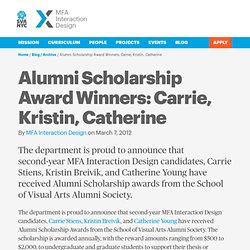 The scholarship is awarded annually, with the reward amounts ranging from $500 to $2,000, to undergraduate and graduate students to support their thesis or portfolio projects during their final year of study. The funding for this scholarship comes entirely from alumni who have established themselves as artists and designers since graduating from SVA. SPOKED: Prototyping ride tracking methods. SEC Charges Adviser with Defrauding Investors via Social Media Sites | Investing, Raising Capital, Sales Training, and Recruiting with Social Media. On Wednesday, the Securities and Exchange Commission today charged a Chicago-area investment adviser, Anthony Fields, with fraudulently promoting more than $500 billion in fictitious securities on several social media sites and issued two alerts and an investor bulletins regarding the risks investors and advisory firms face when using social media.
"Fraudsters are quick to adapt to new technologies to exploit them for unlawful purposes," said Robert B. Kaplan, Co-Chief of the SEC Enforcement Division's Asset Management Unit. "Social media is no exception, and today's enforcement action reflects our determination to pursue fraudulent activity on new and evolving platforms." How to Ensure Replacement Windows Live up to Efficiency Claims. Home energy savings from replacement windows may be overstated by marketers… Homeowners who replace their existing windows with new energy-efficient ones will be saving energy and helping to reduce heating and cooling costs. But the home energy-savings claims made by some companies which market replacement windows may be overstated. Follow WordPress Development. Steve Jobs's Reality Distortion Field — [VIDEO.
6 Steps To Get The Most Out Of Your Optimization Team. I would like to start this blog post by stating I am NO Analyst! However, I am on the front lines, talking to the people contacting FutureNow Inc. and answering their sales related questions. My unique lack of expertise in the day to day analytical reporting allows me to share some insights about what is necessary to begin a Conversion Rate Optimization Engagement, even before your first call with an analyst! Online Checkout Evolves — Pay by Holding Your Credit Card Up to Your Webcam. The Internet will need to see some ID, please. Online payment company Jumio has announced the launch of Netverify: an image recognition technology that allows merchants to remotely scan credit cards and IDs with a webcam or phone. To use Netverify, shoppers hold up a credit card and a driver's license to their cameras to verify their identification as they're checking out.
This online equivalent of asking a customer to show ID at the checkout stand is designed to help eliminate credit card fraud, and although the application can recognize and verify an image, no data is stored on the computer. With less hardware than a traditional credit card swiper – and an even more mobile platform than a plug-in device like Square – Netverify can make an online transaction just as personal as a point of sale, but less expensive for the merchants.
What will this mean for the social media industry? Would you Expose your Family to Neurotoxins for a Greener Lawn? World Water Day Focus: Carbon for Water. Community Math: Multiplying Employee Power to Fight Global Hunger. Hands On With The New iPad.
Delicious
Pearltrees videos. Getting started.
---
amsika Mar 8 2012

www.pearltrees.com/reobertrowshan :)

robertrowshan Mar 8 2012

what is the link to my profile/pearltree ? thanks!
---