Arduino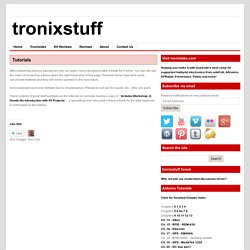 This is the start page for our series of over fifty Arduino tutorials. Each tutorial from chapter zero to thirteen will cover a variety of topics and lessons, then from chapter fourteen each chapter will cover a particular topic. If you are looking to learn about the world of Arduino – this is a great place for beginners to start, or for more experienced users to brush up on their knowledge. Scroll down to read the contents of each chapter.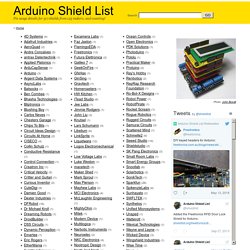 Sick of trying to figure out which pins are used by some obscure Arduino shield? Can't tell whether two shields will be compatible with each other? This shield database arose out of a discussion on the Arduino Forums about the need for a comprehensive online reference for shield pin assignments. It lists as many Arduino shields as I can find along with their pin usage, making it easy for you to determine if particular shields are compatible.
What Arduino can do Arduino can sense the environment by receiving input from a variety of sensors and can affect its surroundings by controlling lights, motors, and other actuators. The microcontroller on the board is programmed using the Arduino programming language (based on Wiring) and the Arduino development environment (based on Processing). Arduino projects can be stand-alone or they can communicate with software running on a computer (e.g. Flash, Processing, MaxMSP).