News
La buonuscita che chiede Berlusconi | Emiliano Liuzzi. Download Gladinet Cloud Suite. Professional Edition adds significant value to the Starter Edition with improvements in Security, Performance, Usability and Configurability.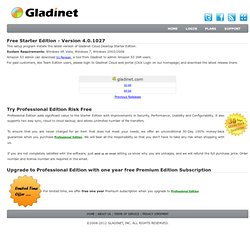 It also supports two way sync, cloud to cloud backup, and allows unlimited number of file transfers. To ensure that you are never charged for an item that does not meet your needs, we offer an unconditional 30-Day 100% money-back guarantee when you purchase Professional Edition. Il Sole 24 Ore: notizie di finanza, economia, cronaca italiana, esteri, borsa e fisco.
WikiLeaks. Il Fatto Quotidiano. Home. Il portale dei settori agricolo, agroalimentare e agroindustriale. Blog di Beppe Grillo. Antonio Di Pietro - Cambiare l'Italia - Blog Politici. Latest news, sport and comment from the Guardian. The Sun | The Best for News, Sport, Showbiz, Celebrities | The Sun.
Corriere della Sera. LASTAMPA. IL MANIFESTO. LA VOCE.INFO. NEWS24. Il Messaggero. ANSA.it. La Repubblica.it - Homepage.
---