Just found!
Get flash to fully experience Pearltrees
Long Man
When putting great music online, we have to show some gratitude for all the hard work the musicians have done. Find out more about the artists on this channel using the links below. Support them by subscribing to their channels, and by buying their albums and the tickets for their shows. Many thanx to all artists who gave me their permission to put their work online.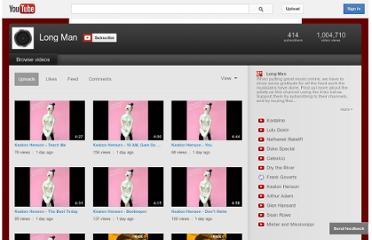 NAPRED U PROŠLOST - "Majko Jugoslavijo ne dam da mi seku pupčanu vrpcu"
The Best Medieval Music
Raul Midon, RIchard Bona - Jazz in Marciac 2011
Medieval Music "Vox Vulgaris - La Suite Meurtriere"
Coal Chamber (Full Album) (1997)
Jon Gomm - Passionflower
Generacija Bez Kompasa- Odlaziš
Ill Niño - I Am Loco
Darkest Hour - Beyond The Life You Know [HQ]
Black Cloud
MORPHINE It's Not Like That Anymore.wmv
Hsu-Nami - The Four Noble Truths
A Storm of Light - Arc of Failure(Law of nature part 2)
Dodge & Fuski - Pornstep (feat. The Highbury Whores)
Kaki King rocks out to &Pink Noise&
Book of Black Earth - I See Demons
Horn of the Rhino - Southern Beast
DOPETHRONE - Dark Foil
Egypt - Valley of the kings
The Myrrors - Pyramids
Scar Symmetry - Alpha and Omega
One Shot Not 2011 Remix, Richie Havens - Going Back To My Roots
Summoning - Long Lost To Where No Pathway Goes
Manes - Under ein blodraud maane
Summoning - Epic Black Metal
Summoning Ambient black metal that wanders through a groove of diffusion like a dancer underwater. Summoning - Lugburz (1995) Summoning - Minas Morgul (1995) Summoning - Dol Guldur (1997) Summoning - Nightshade Forests (1997) Summoning - Stronghold (1999) Summoning - Let Mortal Heroes Sing Your Fame (2001) Summoning - Lost Tales (2003) Summoning - Oath Bound (2006) Summoning - Interview (2006)
Silent Kingdom - Acoustic medley (Reflection of Fire)
Igra Staklenih Perli - Pecurka (Mushroom)
Narjahanam - Al Jihad (الجهاد)
Liquid Tension Experiment - Acid Rain
Infected mushroom-Muse Breaks
Ashes Divide - Forever Can Be
R O C K B I T C H • Official Website
► Concerning The UFO Sighting Near Highland, Illinois by Sufjan Stevens | Steady Studyin' | BrainStorm | 8tracks
Animated Musical Instrument – Seems Spider Playing It