Corrosion
Different Types of Corrosion: Pitting Corrosion - Causes and Prevention, WebCorr Corrosion Consulting Services, Corrosion Short Courses and Corrosion Expert Witness. corrosion types, corrosion forms, pipe corrosion, generalized corrosion, pitting corrosio. What causes pitting corrosion?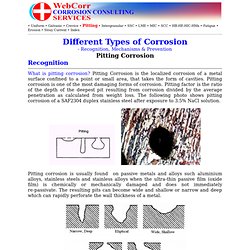 For a defect-free "perfect" material, pitting corrosion is caused by the ENVIRONMENT (chemistry) that may contain aggressive chemical species such as chloride. Chloride is particularly damaging to the passive film (oxide) so pitting can initiate at oxide breaks. The environment may also set up a differential aeration cell (a water droplet on the surface of a steel, for example) and pitting can initiate at the anodic site (centre of the water droplet). For a homogeneous environment, pitting IS caused by the MATERIAL that may contain inclusions (MnS is the major culprit for the initiation of pitting in steels) or defects. Passivation. Pickling (metal) Pickling is a metal surface treatment used to remove impurities, such as stains, inorganic contaminants, rust or scale from ferrous metals, copper, and aluminum alloys.[1] A solution called pickle liquor, which contains strong acids, is used to remove the surface impurities.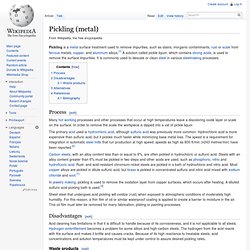 It is commonly used to descale or clean steel in various steelmaking processes. Many hot working processes and other processes that occur at high temperatures leave a discoloring oxide layer or scale on the surface. In order to remove the scale the workpiece is dipped into a vat of pickle liquor. 18-8 Stainless steel, 304, 316 Stainless Steel Corrosion. A common misconception about stainless steel is that is not affected by corrosion.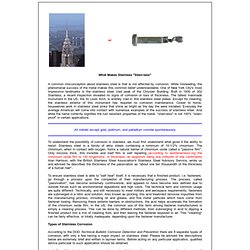 While misleading, the phenomenal success of the metal makes this common belief understandable. One of New York City's most impressive landmarks is the stainless steel clad peak of the Chrysler Building. Built in 1930 of 302 Stainless, a recent inspection revealed no signs of corrosion or loss of thickness. The tallest manmade monument in the US, the St Louis Arch, is entirely clad in 304 stainless steel plates. Except for cleaning, the stainless exterior of this monument has required no corrosion maintenance. How To Passivate Stainless Steel Parts.
Article From: 10/1/2003 Modern Machine Shop, Terry A.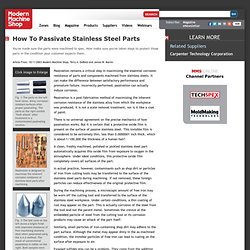 DeBold and James W. Martin.
---