Resource Based Economy
What is Legitimate Authority?
"DEFINING PEACE" - Full Lecture | by Peter Joseph | Feb. 6th '12 | The Zeitgeist Movement
Steady state economy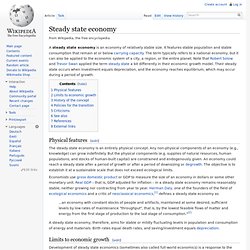 A steady state economy is an economy of relatively stable size. It features stable population and stable consumption that remain at or below carrying capacity.
In a sentence: by increasing the amount and quality of physical goods (through automation) via freely available open-source channels, until it makes no sense for anyone to rely on anything else.
Post-scarcity - AdCiv
Phonebloks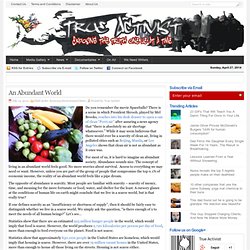 An Abundant World
Do you remember the movie Spaceballs?
Peter Diamandis: Abundance is our future
The $100bn Facebook question: Will capitalism survive 'value abundance'?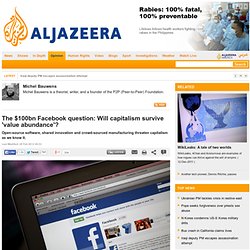 Chiang Mai, Thailand - Does Facebook exploit its users?
Practical Post Scarcity: Open Source Solutions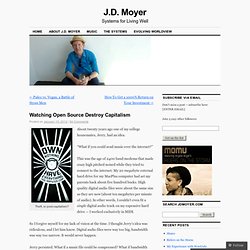 Theft, or post-capitalism?
Watching Open Source Destroy Capitalism | The Blog of J.D. Moyer
Open Source Philosophy. on Vimeo
Open Access Explained!
- by Dror Hilman -In a world of accelerated and unexpected development, we should start to separate from the models that dominated society over the past century, and get ready for a dramatic change.
A Resource Based Economy - the Beginning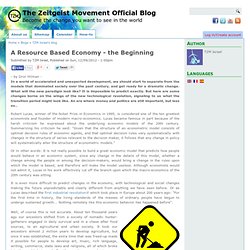 What Is Open Source Hardware?
I probably don't need to regale you about the economic troubles of our generation.
Post-Scarcity « Free Northerner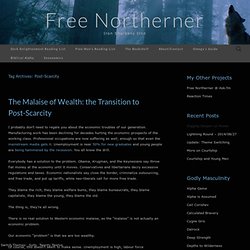 Post Scarcity Economics
Public Libraries, 3D Printing, FabLabs and Hackerspaces
Ownership | Myles Dyer
Meeting Needs
Car Sharing | Fully Charged
Imagining a World Without Money
(h) TROM - 2.4 Work
Ben McLeish - The Innovation War
The Bribe Mentality: Neglecting and Derailing Intrinsic Motivation
Jacque Fresco (2011): Incentive & Motivation (Audio)
Noam Chomsky on Work and Human Creativity
The Venus Project-Scarcity, Justice, Transition, Resource Based Economy
Designing the Future - narrator Peter Joseph |MULTI SUB|
Andrew Buxton - TVPDesign (Z-Day 2011)
What about democracy? A Resource Based Economy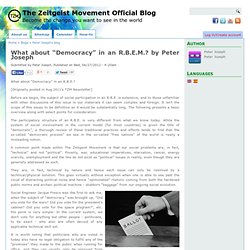 What about "Democracy" in an R.B.E.?
What about "Democracy" in an R.B.E.M.? by Peter Joseph
Democracy, technocracy, the free market or the scientific method for social concern?
RSA Animate - The Empathic Civilisation
Zeitgeist Day 2013: Brandon Kristy | "Case for Human Unity" [Part 8 of 11]
Jeremy Rifkin - The Empathic Civilization: The Race to Global Consciousness in a World in Crisis
One Tube, One World, One Day...
Israel and Iran: A love story?
Us Now (FULL 60 MIN FILM) on Vimeo
Are you ready for the 21st Century?
RSA Animate - 21st century enlightenment
The Networked Society, On the Brink
INTERNET RISING: edu-tainment documentary film
Jacque Fresco - What the Future Holds Beyond 2000 - Nichols College (1999)
Dr. Michio Kaku about Future Civilizations
Food Production in a Resource Based Economy
Jason Lord | "Visualizing a Systems Approach" | The Zeitgeist Movement | [LA TownHall - Part 2]
Zeitgeist Day 2013: Jason Lord | "Thinking in Systems" [Part 7 of 11]
Titan supercomputer could be the world's most powerful
Is the new supercomputer at Oak Ridge National Labs the most powerful machine on Earth? It might be.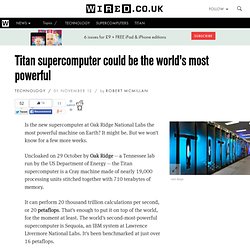 In the first commercial application of CeNSE technology, HP and Shell will build a wireless sensing system to acquire high-resolution seismic data.
Labs' Central Nervous System for the Earth project aims to build a planetwide sensing network: HP Labs Feature Article (November 2009)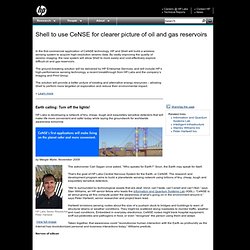 Many who read about the Resource-Based Economic (RBE) model wonder how such a thing would be possible ever, especially when many consider it to be possible with today's technology.
Computer Science as Resource Management
Fresco
Jacque Fresco New Zealand FULL TV Interview Duben 2010
The Greatest Talk of Jacque Fresco - The Venus Project
Jacque Fresco on Larry King Live Full
TROM: [3](B) Resource Based Economy
The Venus Project - Future By Design
Paradise or Oblivion
The Venus Project-Resource Based Economy
Zeitgeist: The Summary
ZEITGEIST: MOVING FORWARD | OFFICIAL RELEASE | 2011
An Intro. to a Resource-Based Economy [ TEDx - Peter Joseph ]
Peter Joseph: Where Are We Going [Full Film]
Social Pathology Full | The Zeitgeist Movement | NYC 2010 ZDAY
Zeitgeist Movement Activist and Orientation Guide
Ben McLeish talks TZM for the coming documentary "Perspectives on Contemporary Britain".
Awakening Full movie by Douglas Mallette
Douglas Mallette Lecture Blindern Oslo Norway
A Resource Based Economic Model Explained - Matt Berkowitz | The Zeitgeist Movement
TEDxOjai - Peter Joseph - The Big Question
The Zeitgeist Movement - Common Objections
The Zeitgeist Movement: EXPOSED!1
"Deprogramming Zeitgeist Movement/Venus Project Cult Members" - Off The Cuff Response
Stefan Molyneux on "Is TVP/TZM a cult?"
"Understanding The Zeitgeist Movement Critics..." An Essay by Peter Joseph
Peter Joseph on the Circus Attacks on the Zeitgeist Movement
Peter Joseph's Response to "60 Minutes" / Brooklyn Co.Expo [ The Zeitgeist Movement ]
Alex Jones Anti-TZM Propaganda Debunked by Peter Joseph - Aug 15th 2012 [ The Zeitgeist Movement ]
Peter Joseph about Alex Jones
Venus Project is NOT connected to UN/NWO
TZM - FAQ
(1) What is The Zeitgeist Movement? The Zeitgeist Movement is an explicitly non-violent, global sustainability advocacy group currently working in over 1000 Regional Chapters across 70 countries.
Full Guide to be released on February 1st 2014 If you find a Typo, please email media@thezeitgeistmovement.com Download PDF Here TZM Orientation Essays 1-13
TZM - Orientation
Peter Joseph's Response to Stefan Molyneux [Zeitgeist: Moving Forward]
Response to StormCloudsGathering - TZM is Nonviolent
Roader: Economic Calculation Problem
Capitalism Doesn't Rationally Allocate Resources
Economic Calculation in a Natural Law / RBE, Peter Joseph, The Zeitgeist Movement, Berlin
hayek_critique
[3] RBE 101 - A New Value System
ZDay 2012 - Vancouver - Matt Berkowitz - Updating Human Values
[2.1] Response to JacobSpinney - Objective Human Needs
[2.2] Response to JacobSpinney - Objective Human Needs
BBC Horizon - Nice Guys Finish First (Richard Dawkins, 1987)
Mind & Brain::Mind Matters::November 20, 2012:: ::Email::Print
Scientists Probe Human Nature—and Discover We are Good, After All
Resource-Based Economy: No need for Money
Jacque Fresco and the natives at the south seas
Resource Based Communities: Sustainable Communities and Nature Preservation
Is the "Free Market" part of "Human Nature"?
Alfie Kohn - The Case Against Competition