Drinks
Watermelons: Natures Keg. Still pumping your watermelons full of rum?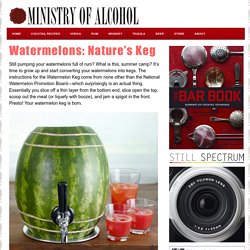 What is this, summer camp? It's time to grow up and start converting your watermelons into kegs. Nutella Shots. Guess what I am drinking tonight?
Ingredients & Measurements: • 1 cup ice • ½ cup milk • 2 tablespoons Nutella • 1 shot Baileys or Frangelico Hazelnut liquor • 1 shot vanilla vodka Instructions: Wine Types Chart. The 20 Best Movie Drinking Games. It's St Patrick's Day, and no doubt the pressure is on to head downtown for a few jars this evening (or, if you're a student, when doors open).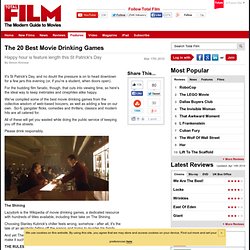 For the budding film fanatic, though, that cuts into viewing time, so here's the ideal way to keep inebriates and cinephiles alike happy. We've compiled some of the best movie drinking games from the collective wisdom of web-based boozers, as well as adding a few on our own. Sci-fi, gangster flicks, comedies and thrillers, classics and modern hits are all catered for. All of these will get you wasted while doing the public service of keeping you off the streets. Please drink responsibly. 15 New Drinks to Thrill Your Taste Buds. Scotch whiskey in a can costs $5. Scottish Spirits Scottish Spirits in a can features 80-proof liquor that's been aged for three years in the Highlands.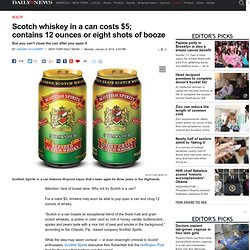 Attention, fans of boxed wine: Why not try Scotch in a can? For a mere $5, drinkers may soon be able to pop open a can and chug 12 ounces of whisky. Drinking Games. Have fun with The Webtender's collection of drinking games, but be extremely careful if you play any these games, especially the ones with high buzz factors.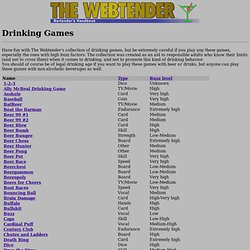 The collection was created as an aid to responsible adults who know their limits (and not to cross them) when it comes to drinking, and not to promote this kind of drinking behavior. You should of course be of legal drinking age if you want to play these games with beer or drinks, but anyone can play these games with non-alcoholic beverages as well. For more fun, visit the Web Site Index and go to one of the sites listed there. You should also take a look at 'The Complete Book of Beer Drinking Games'. Home · Drink Recipes · Forums · Bookstore · Barstore · Web Index · Feedback.
Irish Car Bomb Cupcakes Recipe. As I mentioned on Friday, I have been doing some experimentation with the beer and chocolate combination.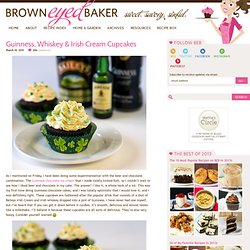 The Guinness-chocolate ice cream that I made totally kicked butt, so I couldn't wait to see how I liked beer and chocolate in my cake. The answer? 10 Jello Shots Worth the Hangover. Caramel Apple Shots. Photo: Michelle Oddis Once in a while, a party trick comes along that grabs our attention.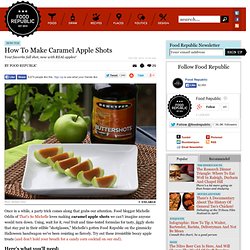 Food blogger Michelle Oddis of That's So Michelle loves making caramel apple shots we can't imagine anyone would turn down. Using, wait for it, real fruit and time-tested formulas for tasty, jiggly shots that stay put in their edible "shotglasses," Michelle's gotten Food Republic on the gimmicky Halloween bandwagon we've been resisting so fiercely. Try out these irresistible boozy apple treats (and don't hold your breath for a candy corn cocktail on our end).
Here's what you'll need: Drinkify-Drink Your Music. Cherry Apple Whiskey Sour Popsicles. We ESers like our whiskey combinations and we're betting you will too.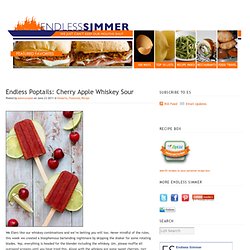 Never mindful of the rules, this week we created a blasphemous bartending nightmare by skipping the shaker for some rotating blades. Yep, everything is headed for the blender including the whiskey. Jolly Rancher Vodka.
---