Green
What a surprise! In advance of Wednesday night's mayoral forum on community development and the environment, a coalition of Chicago environmentalists issued a news release carrying this headline: "Chicago's Next Mayor Will Support Green City Policies." With the candidates answering "yes" to nearly all the softball questions posed by 17 environmental, conservation and civic organizations — who wouldn't commit to improving the city's woeful recycling program? — it's little wonder that the groups trumpeted the pols' agreement.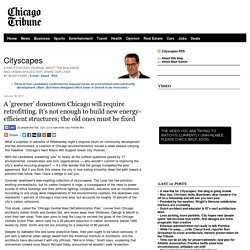 A 'greener' downtown Chicago will require retrofitting. It's not enough to build new energy-efficient structures; the old ones must be fixed
Australia's floods a glimpse of warmer future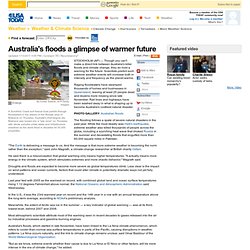 STOCKHOLM (AP) — Though you can't make a direct link between Australia's killer floods and climate change, they do hold a warning for the future: Scientists predict such extreme weather events will increase both in intensity and frequency as the planet warms. Raging floodwaters have swamped thousands of homes and businesses in Queensland , leaving at least 25 people dead and dozens more missing since late November. Rail lines and highways have been washed away in what is shaping up to become Australia's costliest natural disaster. The flooding follows a spate of severe natural disasters in the past year. While the most deadly was Haiti's earthquake , extreme weather also killed thousands of people across the globe, including a scorching heat wave that choked Russia in the summer and devastating floods that engulfed more than 60,000 square miles in Pakistan. "The Earth is delivering a message to us.
Play on! Lt. Dunbar would love the ends of modern college or pro basketball games. Dunbar, no first name given, is a U.S. Army airman in Joseph Heller's 1961 novel "Catch 22" who believes that the key to prolonging life is to be as bored as possible at all...