Peace Studies - Peace building
This website provides an overview along with resources to complement the book Conflict Assessment & Peacebuilding Planning. Click here for a 1 hour, narrated on-line training about the book's methods and content for an introduction. Overview: For those who have not read the book, this website includes an overview and basic resources to consider for the process of conflict assessment (also known as conflict analysis) and peacebuilding planning. Templates: This website includes short, downloadable templates are available for many of the tables and figures in this handbook. Researchers and planners can use these templates to fill in their own information for use in their own case studies or work.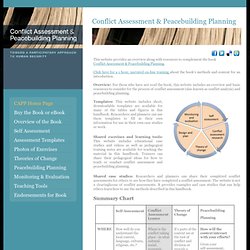 Conflict Assessment and Peacebuilding Planning
Class of Nonviolence - Introduction
In addition to the eight-week "Class of Nonviolence," Colman McCarthy also has prepared readings for a 16-week "University" course. The "University" essays are not harder to read or understand than the 8-week class: it is just MORE, and divided into 16 sessions to conform with the typical college semester. (The 8-week class is also works very well as a high school or college course, as it leaves time for student projects and more discussion.) Twelve of the 48 essays in the 8-week class are omitted in the 16-week class. There are 41 additional essays, making a total of 77 readings. Those familiar with the 8-week class of Nonviolence will notice that 36 of the readings are the same: these are marked with a *.
University Class of Nonviolence
Our mission is to steward diverse learning communities and educational programs that weave together spirituality, peace, sustainability and social action. Our lives and work embody a vision for peace and justice achieved through learning and service. Woolman is a nonprofit educational community originally founded in 1963 as a Quaker high school. Woolman now offers a high school semester program, summer camp programs for youth and families, and community activities. John Woolman, an 18th century Quaker human rights activist who aspired to live his life in complete integrity with his principles, inspired the name for the school. Located on 230 acres in the Sierra Nevada Foothills within walking distance of the Yuba river, the Woolman campus is an experiment in sustainable community living.
Woolman at Sierra Friends Center | Educational Community for Peace, Justice & Sustainability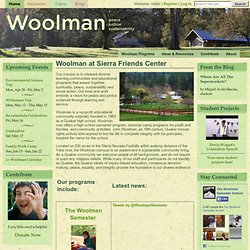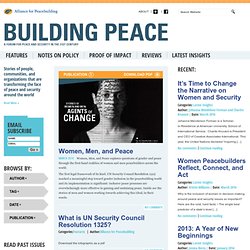 Building Peace
Women, Men, and Peace March 2014 Women, Men, and Peace explores questions of gender and peace through the first-hand realities of women and men peacebuilders across the world. The first legal framework of its kind, UN Security Council Resolution 1325 marked a meaningful step toward gender inclusion in the peacebuilding world and its implementation is significant: inclusive peace processes are overwhelmingly more effective in gaining and sustaining peace. Inside are the stories of men and women working towards achieving this ideal, in their words. A Revolution Asks Questions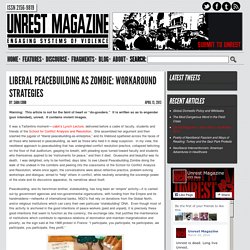 Liberal Peacebuilding as Zombie: Workaround Strategies | UNRESTMAGAZINE | Engaging Systems of Violence
Warning: This article is not for the faint of heart or "do-gooders." It is written so as to engender (pun intended), unrest. It contains violent images. It was a Tartentino moment—- Jabri's Lynch Lecture , delivered before a cadre of faculty, students and friends of the School for Conflict Analysis and Resolution . She assembled her argument and then slashed the jugular of "liberal peacebuilding-as-enterprise," and its lifeblood spattered across the faces of all those who believed in peacebuilding, as well as those who held it in deep suspicion. In my view, the neoliberal approach to peacebuilding that has undergirded conflict resolution practice, collapsed twitching on the floor of that auditorium, gasping for breath, with pleading eyes turned toward faculty and students who themselves aspired to be "instruments for peace," and then it died.
The AfP 2013 Annual Conference was held April 15 to 17 in Washington, DC, and featured a Keynote Address by Jan Eliasson, Deputy Secretary-General of the United Nations. Over the course of three days, we explored the political landscape for peacebuilding in the second Obama administration, issues of the private sector in peacebuilding, new theories of change for peacebuilding and social healing, and more! The conference was attended by over 200 AfP members, and individuals from the NGO community, government officials, the private sector, and others from more than 13 countries worldwide.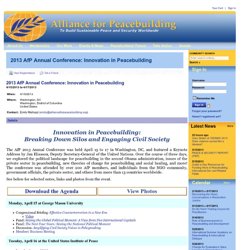 2013 AfP Annual Conference: Innovation in Peacebuilding - Alliance For Peacebuilding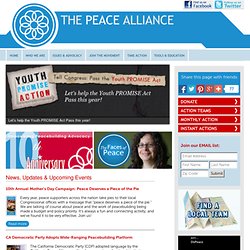 There is currently a bill before the U.S. House of Representatives to establish a United States Department of Peacebuilding. Take Action Now! The Faces of Peace, an initiative crafted to make the work and values of "peace," in it's many forms, a better understood, more tangible, personal, and accessible phenomenon; shining a bright spotlight on what peace looks like in the 21st century. 10th Annual Mother's Day Campaign: Peace Deserves a Piece of the Pie
The Peace Alliance
Peacebuilding Evaluation
US Peacekeeping - From_Aspiration_to_Implementation
DM&E For Peacebuilding | The Learning Portal for Design, Monitoring and Evaluation for Peacebuilding
The Governance Commons
The Commons, a "CL3" Community The Commons is organizing a Challenge-oriented, Large-scale, Long-term, Learning (CL3) Community . Through this community, we hope users from myriad backgrounds--civilian government, IGOs and NGOs, business, and the military--from all over the world--will join together to discuss and expand the ideas presented here. By doing so, we will be able to work together to improve the knowledge base, while simultaneously learning how to better address governance problems and intractable conflict at international, national, and local levels.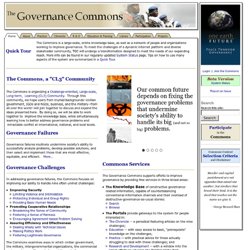 Glossary of Terms for Conflict Management and Peacebuilding
This glossary grew out of the development of courses for USIP's new Academy for International Conflict Management and Peacebuilding, the education and training arm of the Institute. We encourage users to submit comments in the comment boxes for the terms. To do so, users must first register, and then, on subsequent visits, login. Users may also contact us via the contact form. Download the PDF version of Peace Terms (PDF/2.4MB)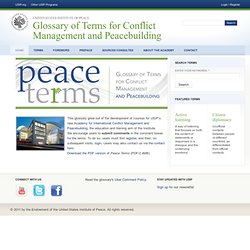 Civil Rights Mediation Oral History Project
International Peace Research Association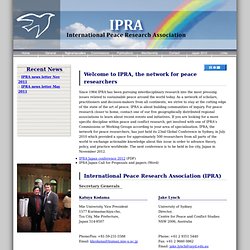 Welcome to IPRA, the network for peace researchers Since 1964 IPRA has been pursuing interdisciplinary research into the most pressing issues related to sustainable peace around the world today. As a network of scholars, practitioners and decision-makers from all continents, we strive to stay at the cutting edge of the state of the art of peace.
Institute of Interfaith Dialog organized an intercultural trip to Turkey during the Spring Break in March 2012. Honory guests from Lubbock Christian University experience Turkey's emerging role as a democratic model. Troy provides a backdrop for the group during a tour of Trojan War. With much of the Middle East immersed in political change, one predominately Muslim country serves as a model for democracy while expanding its influence as a regional, economic and political power.
The Institute of Interfaith Dialog
The Invisible Presence of Palestinian Nonviolence I've often heard the question, "Where is the Palestinian Gandhi?" in articles, conversations, emails, as an audience question, in discussions with peace activists. The question is usually well-intentioned. But it represents a misunderstanding of Palestinian nonviolent resistance, which seems to be invisible to many people, even though it has a history back to the 19th century and a broad presence today. So why the invisibility?
Fellowship of Reconciliation | Working for peace, justice and nonviolence since 1915
M.K. Gandhi Institute for Nonviolence
The King Library and Archives in Atlanta is the largest repository of primary source materials on Dr. Martin Luther King, Jr. and the American Civil Rights Movement in the world. The collection consists of the papers of Dr. King and those of the organization he co-founded, the Southern Christian Leadership Conference, as well as the records of 8 major civil rights organizations and of several individuals active in the Movement. The archives also include more than 200 oral history interviews with Dr.
Languages: Faith FrontiersSA 18:30IN 21:00Fire of FaithSA 21:00IN 11:30Fundamentals of FaithIN 09:30SA 07:00Izhar-e-HaqSA 18:00IN 20:30Learning Qur'anic ArabicSA 14:30IN 17:00Man with a MissonSA 19:30IN 22:00Paigham-e-AmanIN 20:00SA 17:30Peace MissileSA 19:00IN 21:30Rah-e-HidayatSA 20:00IN 22:30Sahih TariqahSA 15:30IN 18:00Truth ExposedIN 19:00SA 16:30Youth TalkSA 03:00IN 17:30 Peace TV Live Peace TV Events Send peace to a friend
PeaceTV Official Website
The Hampshire-based Five College Program in Peace and World Security Studies (PAWSS) is a multidisciplinary educational program designed to stimulate student and faculty interest in the study of critical international issues, especially those connecting issues of conflict and the environment. Pursuing the study of peace and world security studies at Hampshire can allow for a wide range of self-designed concentrations--for example, an analysis of the relationship between militarization, economic development, and human rights in a particular region, or an investigation into traditional and innovative strategies for peacemaking and conflict resolution. PAWSS is a highly diversified program entailing the development of new courses, the sponsorship of public lectures and symposia, and the publication of specialized resource materials.
Peace and World Security Studies
Morningside Center | morningsidecenter.org
VOV.COM, Victory Over Violence Network
Peace_Education_Programme
PeaceMedia
Peace and Justice Studies Association
Peace Accords Matrix