Peace Studies - Peace building
The Class of Nonviolence
Conflict Assessment and Peacebuilding Planning. Class of Nonviolence - Introduction. University Class of Nonviolence. In addition to the eight-week "Class of Nonviolence," Colman McCarthy also has prepared readings for a 16-week "University" course.
The "University" essays are not harder to read or understand than the 8-week class: it is just MORE, and divided into 16 sessions to conform with the typical college semester. (The 8-week class is also works very well as a high school or college course, as it leaves time for student projects and more discussion.) Twelve of the 48 essays in the 8-week class are omitted in the 16-week class. There are 41 additional essays, making a total of 77 readings. Those familiar with the 8-week class of Nonviolence will notice that 36 of the readings are the same: these are marked with a *. Woolman at Sierra Friends Center | Educational Community for Peace, Justice & Sustainability.
Building Peace. Liberal Peacebuilding as Zombie: Workaround Strategies | UNRESTMAGAZINE | Engaging Systems of Violence. Warning: This article is not for the faint of heart or "do-gooders."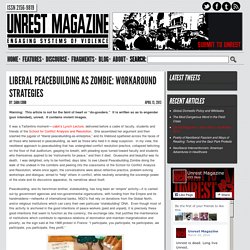 It is written so as to engender (pun intended), unrest. It contains violent images. It was a Tartentino moment—- Jabri's Lynch Lecture , delivered before a cadre of faculty, students and friends of the School for Conflict Analysis and Resolution . She assembled her argument and then slashed the jugular of "liberal peacebuilding-as-enterprise," and its lifeblood spattered across the faces of all those who believed in peacebuilding, as well as those who held it in deep suspicion. In my view, the neoliberal approach to peacebuilding that has undergirded conflict resolution practice, collapsed twitching on the floor of that auditorium, gasping for breath, with pleading eyes turned toward faculty and students who themselves aspired to be "instruments for peace," and then it died.
2013 AfP Annual Conference: Innovation in Peacebuilding - Alliance For Peacebuilding. The AfP 2013 Annual Conference was held April 15 to 17 in Washington, DC, and featured a Keynote Address by Jan Eliasson, Deputy Secretary-General of the United Nations.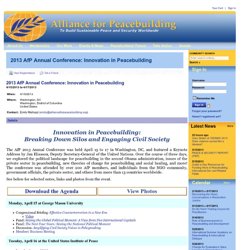 Over the course of three days, we explored the political landscape for peacebuilding in the second Obama administration, issues of the private sector in peacebuilding, new theories of change for peacebuilding and social healing, and more! The conference was attended by over 200 AfP members, and individuals from the NGO community, government officials, the private sector, and others from more than 13 countries worldwide. The Peace Alliance. Peacebuilding Evaluation. US Peacekeeping - From_Aspiration_to_Implementation. DM&E For Peacebuilding | The Learning Portal for Design, Monitoring and Evaluation for Peacebuilding. The Governance Commons. Glossary of Terms for Conflict Management and Peacebuilding. Civil Rights Mediation Oral History Project. International Peace Research Association. The Institute of Interfaith Dialog.
Fellowship of Reconciliation | Working for peace, justice and nonviolence since 1915. M.K. Gandhi Institute for Nonviolence. The Martin Luther King Jr. Center for Nonviolent Social Change. PeaceTV Official Website. Peace and World Security Studies. The Hampshire-based Five College Program in Peace and World Security Studies (PAWSS) is a multidisciplinary educational program designed to stimulate student and faculty interest in the study of critical international issues, especially those connecting issues of conflict and the environment.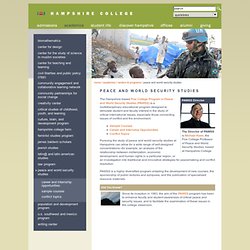 Pursuing the study of peace and world security studies at Hampshire can allow for a wide range of self-designed concentrations--for example, an analysis of the relationship between militarization, economic development, and human rights in a particular region, or an investigation into traditional and innovative strategies for peacemaking and conflict resolution. PAWSS is a highly diversified program entailing the development of new courses, the sponsorship of public lectures and symposia, and the publication of specialized resource materials. Morningside Center | morningsidecenter.org. VOV.COM, Victory Over Violence Network.
Peace_Education_Programme. United States Institute of Peace. PeaceMedia. About PeaceMedia Media's power is no secret.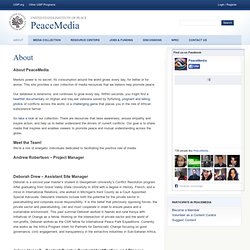 Its consumption around the world grows every day, for better or for worse. This site provides a vast collection of media resources that we believe help promote peace. Our database is extensive, and continues to grow every day. Within seconds, you might find a heartfelt documentary on Afghan and Iraq war veterans saved by flyfishing, poignant and telling photos of conflicts across the world, or a challenging game that places you in the role of African subsistence farmer. Peace and Justice Studies Association. Peace Accords Matrix.
---