Higher Ed
Global Peacebuilding Center | The University for Peace. U Calgary: Peace Studies. Calgary Peace Prize 2014 Eighth Annual Uprising National Playwriting Competition: Peace, Politics and Society (2013) The Consortium for Peace Studies and Downstage Theatre in collaboration with the School for the Creative and Performing Arts (University of Calgary) are proud to announce the winners of the eighth annual Uprising National Playwriting Competition: Peace, Politics and Society (2013).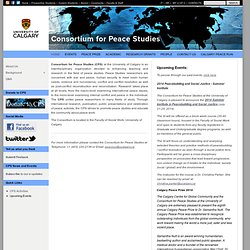 This competition celebrates playwrights whose work dynamically engages with social and political issues and/or promotes peace, social justice and human rights. You are invited to a Public Reading of the winning play and the Consortium for Peace Studies Holiday Social on Friday, December 6. Robert Tsonos, the winning playwright, will be in attendance. PAWSS - The Five College Program in Peace and World Security Studies. Dominguez Hills. U Hawaii: graduate. University of Hawai'i at Mānoa Graduate Division The Office of Graduate Education (informally, Graduate Division) provides opportunities for further study, research and professional training to students who have earned a bachelor's degree from an accredited institution of higher learning.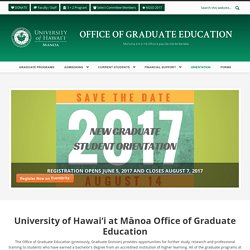 All of the graduate programs at UHM apply rigorous academic standards. Special emphasis is placed on the cultivation of scholarly attitudes and methods of research and creative activity. U Hi: Matsunaga Institute for Peace & Conflict Resolution (MIPCR) at the University of Hawai'i at Mānoa. Royal Roads: Conflict and Disaster Management | Victoria, BC Canada University. When work is purposeful, lives can change.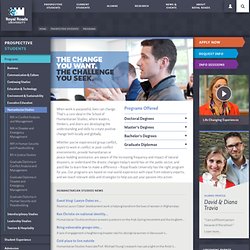 That's a core ideal in the School of Humanitarian Studies, where leaders, thinkers, and doers are developing the understanding and skills to create positive change both locally and globally. Whether you've experienced group conflict, aspire to work in conflict or post-conflict environments, provide humanitarian or peace-building assistance, are aware of the increasing frequency and impact of natural disasters, or understand the drastic changes today's world has on the public sector, and you'd like to learn how to make a difference – Royal Roads University has the right program for you. Simon Fraser University | Study + Practice of Dialogue.
Chief Robert Joseph Tribute Video Simon Fraser University's Centre for Dialogue presents a tribute video for Chief Robert Joseph.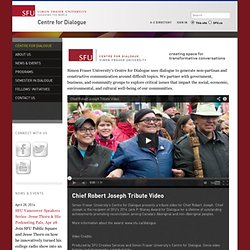 Chief Joseph is the recipient of SFU's 2014 Jack P. Blaney Award for Dialogue for a lifetime of outstanding achievements promoting reconciliation among Canada's Aboriginal and non-Aboriginal peoples. More information about the award: www.sfu.ca/dialogue Video Credits: Guide to MA Program in Peace and Conflict Resolution and Related Fields. Dear Colleagues Many individuals around the world are interested in doing graduate work in Peace and Conflict Resolution at the MA or Ph.D. level.
This guide is for MA level programs. For Ph.D. programs see the resource guide There are several excellent existing guides to finding programs listed below (Please note that no guide provides complete up-to-date information on all programs, thus please feel free to suggest additional programs and also do your own research). Before looking through the guides, readers are strongly encouraged to read carefully through the free report Graduate Education and Professional Practice in International Peace and Conflict (2010. by Nike Carstarphen, Craig Zelizer, Robert Harris and David J. ADR Graduate Programs.
Graduate Programs in the Field of Conflict Resolution At the Center for Conflict Resolution we have compiled a online database of Universities that offer Graduate Programs in the field of Conflict Resolution (Alternative Dispute Resolution, Mediation, Conflict Resolution, Peace Studies, etc.).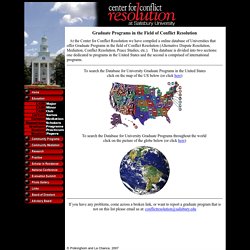 This database is divided into two sections: one dedicated to programs in the United States and the second is comprised of international programs. To search the Database for University Graduate Programs in the United States click on the map of the US below (or click here) Kennesaw State University - Master of Science In Conflict Management. Kennesaw State University's Master of Science in Conflict Management (MSCM) is a 16-month executive degree program designed for students seeking a supportive academic environment.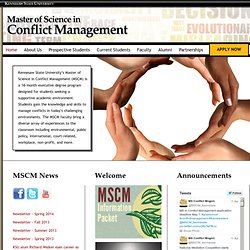 Students gain the knowledge and skills to manage conflicts in today's challenging environments. The MSCM faculty bring a diverse array of experiences to the classroom including environmental, public policy, international, court-related, workplace, non-profit, and more. EMU: Graduate Program in Conflict Transformation – Center for Justice & Peacebuilding. The master's program in conflict transformation prepares students to creatively work for long-term sustained, structural change, whether in an organization or community or on a large-scale level.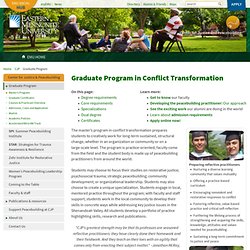 The program is practice-oriented; faculty come from the field and the student body is made up of peacebuilding practitioners from around the world. Students may choose to focus their studies on restorative justice; psychosocial trauma; strategic peacebuilding; community development; or organizational leadership. Students may also choose to create a unique specialization.
Students engage in local, mentored practice throughout the program; with faculty and staff support, students work in the local community to develop their skills in concrete ways while addressing key justice issues in the Shenandoah Valley. Georgetown University: Master of Arts Program in Conflict Resolution - Georgetown College - Conflict at both intergroup and interpersonal levels is a dominant theme of the human condition in the twenty-first century.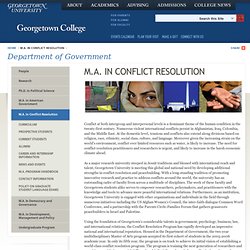 Numerous violent international conflicts persist in Afghanistan, Iraq, Colombia, and the Middle East. At the domestic level, tensions and conflicts also extend along divisions based on religion, race, ethnicity, social class, culture, and language. Moreover given the increasing strain on the world's environment, conflict over limited resources such as water, is likely to increase. Joan B. Kroc Institute for Peace & Justice. News Briefs April 3, 2014 IPJ Links Schools for Peaceconferencing Simulation Partners of the IPJ's WorldLink program and Nepal Peacebuilding Initiative are teaming up this spring for a peaceconferencing simulation.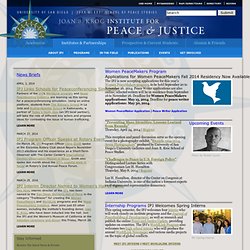 Using an online platform, students from The Bishop's School in La Jolla and Budhanilkantha School in Kathmandu, a partner of Today's Youth Asia (an IPJ local partner), will take the role of different key actors and propose ideas for combatting the issue of human trafficking. Stanford Law School: Center on International Conflict and Negotiation (SCICN) | Mission Statement: SCICN is an interdisciplinary research and teaching community dedicated to the study of conflict resolution and peacebuilding.
The central focus of our work is the identification and analysis of barriers—psychological, strategic, institutional and relational—to conflict resolution and the development of strategies to overcome these barriers. Our work: SCICN brings scholars and graduate students together from across the university to provide a rich environment for interdisciplinary dialogue and exploration. We support innovative researcher-practitioner collaboration, and provide a forum for scholars to discuss research and methods in conflict resolution and peacebuilding.
In addition, we offer seminars and colloquia at Stanford, an annual graduate student fellowship program, and produce a working paper series available here on our website. Our legacy: SCICN was founded at Stanford University in 1984 by an interdisciplinary group of eminent scholars. Kent State: Center for Applied Conflict Management. The Center for Applied Conflict Management (CACM) was founded in 1971 as Kent State University's original "living memorial" to the students killed on May 4, 1970 when Ohio National Guardsmen killed four and injured nine Kent State University students during a student protest against the United States' war in Vietnam and Southeast Asia. Following the shootings, a university-wide commission was charged with recommending long-range institutional responses. The commission's consensus recommendation was that KSU should establish a living memorial in the form of a Center to study and to promote peaceful mechanisms of change.
Denver: conflict resolution institute. The Conflict Resolution Institute at the University of Denver will challenge your understanding of conflict as you explore its theoretical roots and craft peaceful solutions. more of the Directors' welcome letter Essential Skills for 21st Century Life "The greatest problem we face in today's world is conflict, but the quality of our life depends not on conflicts, but our response to them." The Program on Negotiation at Harvard Law School. GMU : The School for Conflict Analysis and Resolution. University of Victoria - Institute for Dispute Resolution. Columbia: International Center for Cooperation and Conflict Resolution. UNC Public Dispute Resolution. Public dispute resolution draws on the skills of negotiation, mediation, and facilitation to address issues that involve a neighborhood, a town or city, a county, or statewide policies.
Assistance is available for city/city and city/county conflicts, or matters involving state agencies and local government. Contact us for help as you consider your options, assess the possibility of using a mediator or facilitator, and for assistance with finding an impartial third party. Particular situations can be addressed confidentially by phone. Upcoming Course: Tuesday, May 14, 2013 - North Carolina Arboretum - Asheville, NC - 9:30 a.m. – 4:00 p.m. NOVA. Camous ADR.org.
---