Higher Ed
Global Peacebuilding Center |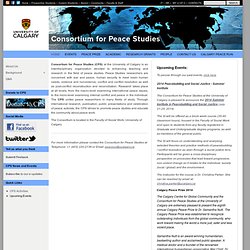 U Calgary: Peace Studies
2013 Summer Institute in Peacebuilding and Social Justice (July 8-12, 2013, Location: PFB 3208 UofC): The popular SI will be offered as a block week course (35-40 classroom hours), housed in the Faculty of Social Work and open to students from any faculty registered in Graduate and Undergraduate degree programs, as well as members of the general public. Click here for course details and registration info for students and public. 2020 Vision for Humanity Symposium November 2, 2013, Calgary, AB The symposium organizing committee welcomes Call for Abstracts/ Papers (deadline Sept 2) on armed conflict resolution; nuclear disarmament; post-conflict development; gender issues; how moving beyond a fear culture is necessary for a society based on equity and freedom; peace-building, global citizenship, human rights, intercultural / interreligious explorations, democracy and the global order, best practices, success stories, and capacity building.
PAWSS - The Five College Program in Peace and World Security Studies
Dominguez Hills
The Office of Graduate Education (informally, Graduate Division) provides opportunities for further study, research and professional training to students who have earned a bachelor's degree from an accredited institution of higher learning. All of the graduate programs at UHM apply rigorous academic standards. Special emphasis is placed on the cultivation of scholarly attitudes and methods of research and creative activity.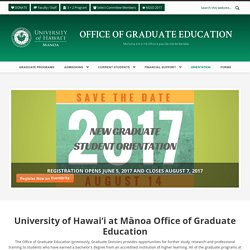 U Hawaii: graduate
U Hi: Matsunaga Institute for Peace & Conflict Resolution (MIPCR) at the University of Hawai'i at Mānoa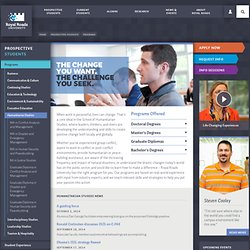 Whether you've experienced group conflict, aspire to work in conflict or post-conflict environments, provide humanitarian or peace-building assistance, are aware of the increasing frequency and impact of natural disasters, or understand the drastic changes today's world has on the public sector, and you'd like to learn how to make a difference – Royal Roads University has the right program for you.
Royal Roads: Conflict and Disaster Management | Victoria, BC Canada University
Simon Fraser University | Study + Practice of Dialogue
Guide to MA Program in Peace and Conflict Resolution and Related Fields
Dear Colleagues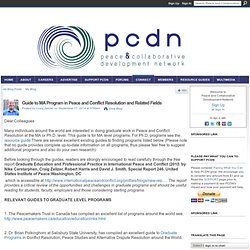 Graduate Programs in the Field of Conflict Resolution At the Center for Conflict Resolution we have compiled a online database of Universities that offer Graduate Programs in the field of Conflict Resolution (Alternative Dispute Resolution, Mediation, Conflict Resolution, Peace Studies, etc.). This database is divided into two sections: one dedicated to programs in the United States and the second is comprised of international programs. To search the Database for University Graduate Programs in the United States click on the map of the US below (or click here )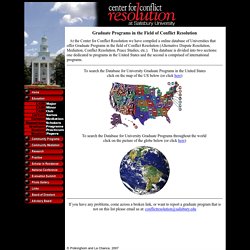 ADR Graduate Programs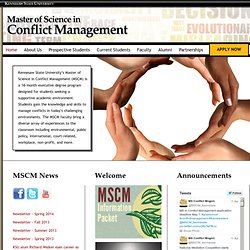 Kennesaw State University - Master of Science In Conflict Management
Kennesaw State University's Master of Science in Conflict Management (MSCM) is a 16-month executive degree program designed for students seeking a supportive academic environment. Students gain the knowledge and skills to manage conflicts in today's challenging environments. The MSCM faculty bring a diverse array of experiences to the classroom including environmental, public policy, international, court-related, workplace, non-profit, and more.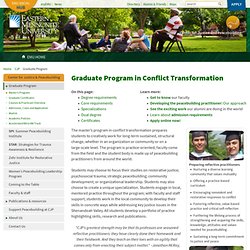 EMU: Graduate Program in Conflict Transformation – Center for Justice & Peacebuilding
The graduate program in conflict transformation is designed for persons interested in pursuing academic studies within the peacebuilding field: conflict transformation, restorative justice, trauma healing, community and international development, and organizational leadership. The graduate program in conflict transformation attracts people who desire a combination of world-respected graduate studies with a practice-based curriculum grounded in current realities. Our alumni include 80 Fulbright-supported scholars from 20 countries. They and fellow graduates occupy respected positions in their home communities, governments, embassies, the United Nations, and numerous other organizations throughout the U.S. and world. Presently there are about 100 students enrolled at CJP , many from diverse communities in regions of conflict throughout the world, like Sumanto, a 2007 graduate, quoted below.
Georgetown University: Master of Arts Program in Conflict Resolution - Georgetown College -
Share on linkedin Share on facebook Share on twitter Share on email More Sharing Services 201 News Briefs March 20, 2013 IPJ to Hold Trainings in Cambodia on Negotiation Skills Partnering with Khmer Ahimsa, an organization led by Woman PeaceMaker Thavory Huot , the IPJ is in Cambodia to work again with women involved in politics, including those from remote districts.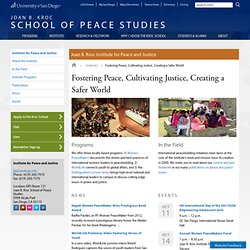 Joan B. Kroc Institute for Peace & Justice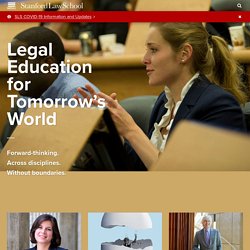 Stanford Law School: Center on International Conflict and Negotiation (SCICN) |
Mission Statement: SCICN is an interdisciplinary research and teaching community dedicated to the study of conflict resolution and peacebuilding.
Kent State: Center for Applied Conflict Management
The Center for Applied Conflict Management (CACM) was founded in 1971 as Kent State University's original "living memorial" to the students killed on May 4, 1970 when Ohio National Guardsmen killed four and injured nine Kent State University students during a student protest against the United States' war in Vietnam and Southeast Asia. Following the shootings, a university-wide commission was charged with recommending long-range institutional responses. The commission's consensus recommendation was that KSU should establish a living memorial in the form of a Center to study and to promote peaceful mechanisms of change.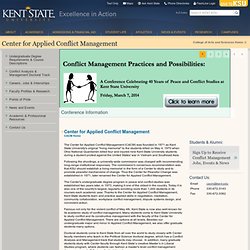 Denver: conflict resolution institute
The Conflict Resolution Institute at the University of Denver will challenge your understanding of conflict as you explore its theoretical roots and craft peaceful solutions. more of the Directors' welcome letter Essential Skills for 21st Century Life "The greatest problem we face in today's world is conflict, but the quality of our life depends not on conflicts, but our response to them."
The Program on Negotiation at Harvard Law School
GMU : The School for Conflict Analysis and Resolution
"Educating for Constructive Conflict Transformation" – Louis Kriesberg has published an article in Peace Studies Journal (vol. 6 no. 2) focusing on how conflicts, when conducted well, can contribute to achieving peaceful societies and peaceful international relationships. A Mile in Their Shoes: Anthropology Students Gain Different Perspectives from Shadowing Campus Union Workers - Students working with PARCC's Labor Studies Working Group are conducting research on the experiences of union sectors across campus, including groundskeeping, food services, library services and housekeeping. Resolving Conflict and Rebuilding Lives in Darfur - Peter Castro and Mohamed Dahia speak about natural resource conflict management training in Darfur. Democracy in Motion: Evaluating the Practice and Impact of Deliberative Civic Engagement - Professor Tina Nabatchi has co-edited a new volume addressing the big questions of deliberative civic engagement (2012, Oxford Univ.
Maxwell School of Syracuse University
University of Victoria - Institute for Dispute Resolution
Columbia: International Center for Cooperation and Conflict Resolution
UNC Public Dispute Resolution
Programs Graduate Certificate in Advanced Conflict Resolution Practice The Graduate Certificate in Advanced Conflict Resolution Practice offers students the fundamentals of applied conflict resolution and advanced training in the conflict resolution "skill-set." It is intended to meet the needs of those individuals who seek more expertise in conflict resolution and are mainly interested in becoming practitioners in the field. It may also be appropriate for professionals who have already earned a graduate degree in their professional area, but who would benefit from academic study of applications of conflict analysis & resolution in their current profession.
NOVA
Camous ADR.org