Associations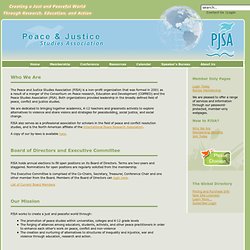 The Peace and Justice Studies Association (PJSA) is a non-profit organization that was formed in 2001 as a result of a merger of the Consortium on Peace research, Education and Development (COPRED) and the Peace Studies Association (PSA). Both organizations provided leadership in the broadly defined field of peace, conflict and justice studies.
Peace and Justice Studies Association
ADRhub Werner Institute
Mediate.com
Alliance For Peacebuilding
The Institute for Economics and Peace and American University's Kogod School of Business announce the inaugural conference on "Peace Metrics, Peace Economics, and the Role of Business," co-hosted April 5-6, 2013 at American University in Washington, D.C.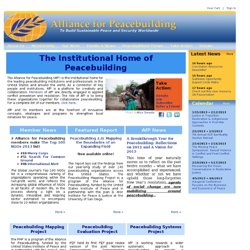 Am Board of Neutrals
Alliance for Conflict Transformation
Master of Arts in Coexistence and Conflict: Title
Peace Studies
Association for Conflict Resolution