Associations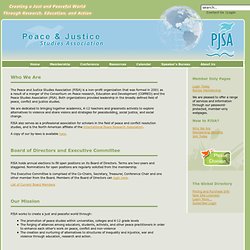 The Peace and Justice Studies Association (PJSA) is a non-profit organization that was formed in 2001 as a result of a merger of the Consortium on Peace research, Education and Development (COPRED) and the Peace Studies Association (PSA). Both organizations provided leadership in the broadly defined field of peace, conflict and justice studies. We are dedicated to bringing together academics, K-12 teachers and grassroots activists to explore alternatives to violence and share visions and strategies for peacebuilding, social justice, and social change. PJSA also serves as a professional association for scholars in the field of peace and conflict resolution studies, and is the North-American affiliate of the International Peace Research Association. A copy of our by-laws is available here. PJSA holds annual elections to fill open positions on its Board of Directors.
Peace and Justice Studies Association
The month of April is "Crisis Negotiation Month" at ADRhub.com. It is a collaboration between the ACR Crisis Negotiation Section and ADRhub.com and it will bring you articles, tips, info graphics, and a webinar throughout the month. Crisis & Hostage Negotiation Skills Sheet Get your own copy of the above skills sheet that was created after a review of the research on the effective skills of law enforcement crisis and hostage negotiators. Saving Lives: The SAFE Model For Resolving Hostage & Crisis Incidents
ADRhub Werner Institute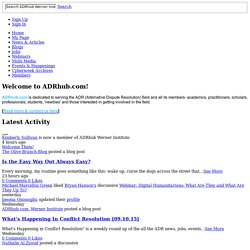 PCDN is the leading global portal connecting over 31,800 individuals and organizations engaged in peacebuilding and collaborative development. To learn more about the network see: What others are saying about PCDN: The PCDN has emerged in a short time to become an absolutely essential resource for the peacebuilding field. Nowhere else can one find the tremendous range of information -- from articles on innovative ideas, to job postings and event announcements. PCDN supports its community members in very tangible ways.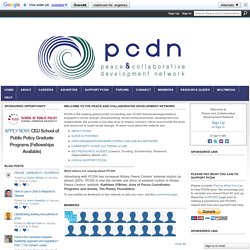 Mediate.com
" ABNA Member Spotlights " ABNA Member First Look- April 2012 Mitchell L.
Am Board of Neutrals
Alliance for Conflict Transformation
Association for Conflict Resolution