TV
Hong Kong personals. 歡迎您使用ECFRIEND.COM的服務。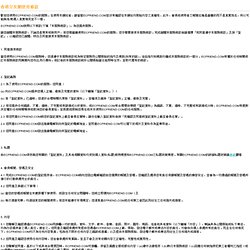 在使用本網站前,請留意ECFRIEND.COM並沒有確認在本網站內張貼內容之真確性,此外,會員或使用者之帳號名稱是虛構的而不是真實姓名,所以可能與他/她個人真實情況並不一樣。 ECFRIEND.COM按照以下條款(下稱「本服務條款」),為您提供服務。 請您細閱本服務條款,不論您是現有或新用戶,若您想繼續使用ECFRIEND.COM的服務,您亦需要接受本服務條款。
Droit d'auteur. Ustream Sued By Boxing Promoter Over Pirated Broadcast. Live video streaming service Ustream is being sued by Square Ring, Inc, a boxing promotional company owned by professional boxer Roy Jones, Jr.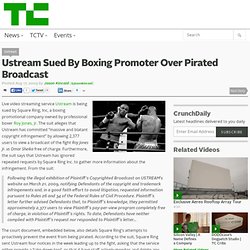 The suit alleges that Ustream has committed "massive and blatant copyright infringement" by allowing 2,377 users to view a broadcast of the fight Roy Jones Jr. vs Omar Sheika free of charge. Furthermore, the suit says that Ustream has ignored repeated requests by Square Ring Inc. to gather more information about the infringement.
From the suit: Following the illegal exhibition of Plaintiff's Copyrighted Broadcast on USTREAM's website on March 21, 2009, notifying Defendants of the copyright and trademark infringements and, in a good faith effort to avoid litigation, requested information pursuant to Rules 26 and 34 of the Federal Rules of Civil Procedure. Ustream Vows To Stop UFC Streamers, Makes It Easier For Copyright Owners To File Complaints. A few days ago we learned that the UFC had subpoenaed Ustream.tv and Justin.tv for the information of people who had ilegally streamed pay-per-view events.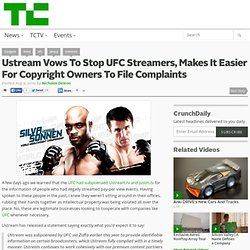 Having spoken to these people in the past, I knew they weren't sitting around in their offices, rubbing their hands together as intellectual property was being violated all over the place. No, these are legitimate businesses looking to cooperate with companies like UFC whenever necessary. Justin.TV Turns To Law Professor Eric Goldman As It Battles Live Video Piracy.
Before livestreaming video networks like Justin.TV can become attractive to advertisers, they need to deal with their piracy issues.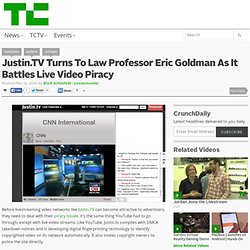 It's the same thing YouTube had to go through, except with live video streams. Like YouTube, Justin.tv complies with DMCA takedown notices and is developing digital fingerprinting technology to identify copyrighted video on its network automatically. It also invites copyright owners to police the site directly. Despite these measures, a casual perusal of the most popular streams on Justin.tv is filled with pirated streams of professional sports, TV shows, and movies. UFC subpoenas Justin.tv, Ustream.tv for names of illegal streamers. If this were the AP, the following would be the lede to this next story: "UFC President Dana White wants to put pirates in a kimura."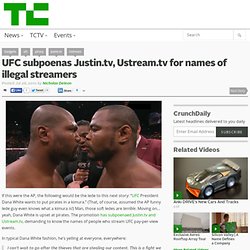 (That, of course, assumed the AP funny lede guy even knows what a kimura is!) Man, those soft ledes are terrible. Moving on… yeah, Dana White is upset at pirates. How Serious Is Justin.tv About Fighting Live Broadcasting Piracy? Justin.tv, one of the most popular live webcasting services on the net, will be testifying in a hearing held by the House Judiciary Committee tomorrow morning.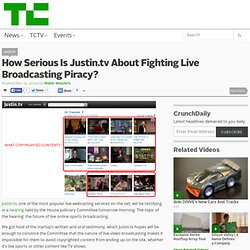 The topic of the hearing: the future of live online sports broadcasting. We got hold of the startup's written and oral testimony, which Justin.tv hopes will be enough to convince the Committee that the nature of live video broadcasting makes it impossible for them to avoid copyrighted content from ending up on the site, whether it's live sports or other content like TV shows. Ultimately, Justin.tv calls on the Digital Millennium Copyright Act (DMCA), which they claim should provide them with a safe harbor for copyright-infringing content that appears on the website before they or the appropriate right owners get a chance to remove it. Sam Bengal (telefrancaise) sur Twitter. De nouveaux bouquets pour regarder les chaînes françaises aux États-Unis. Les offres qui permettent aux expatriés de recevoir les chaînes françaises se multiplient.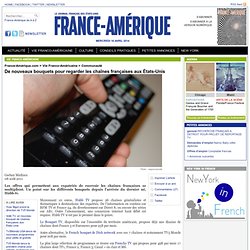 Un point sur les différents bouquets depuis l'arrivée du dernier né, Hubb-tv. Moyennant 10 euros, Hubb TV propose 26 chaînes généralistes et thématiques à destinations des expatriés. De l'information en continu sur BFM TV et France 24, du divertissement sur Direct 8, ou encore des séries sur AB1. Comment accéder à toutes les chaînes de TV françaises à l'étranger sans passer par le satellite ?
« Je suis expatrié à Londres… Et je suis confronté à un problème d'ordre « culturel », ma femme et ma fille qui sont bien françaises, désirent regarder de temps en temps la télé française.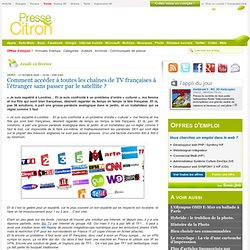 Et là, pas 36 solutions, à part une grosse parabole analogique dans le jardin, et un installateur qui va régler comme il faut « Je suis expatrié à Londres… Et je suis confronté à un problème d'ordre « culturel », ma femme et ma fille qui sont bien françaises, désirent regarder de temps en temps la télé française. Et là, pas 36 solutions, à part une grosse parabole analogique dans le jardin, et un installateur qui va régler comme il faut le tout, car impossible de le faire soi-même, et malheureusement les paraboles SKY qui sont déjà sur la plupart des maisons anglaises ne sont pas assez grosses. D'ou une facture d'environ 400 à 500 £ au minimum. Zattoo. Un article de Wikipédia, l'encyclopédie libre.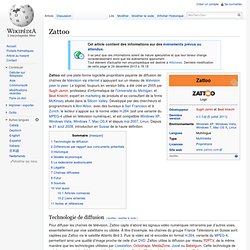 Zattoo est une plate-forme logicielle propriétaire payante de diffusion de chaînes de télévision via internet s'appuyant sur un réseau de télévision peer to peer. Le logiciel, toujours en version bêta, a été créé en 2005 par Sugih Jamin, professeur d'informatique de l'Université du Michigan, et Beat Knecht, expert en marketing de produits et ex-consultant de la firme McKinsey située dans la Silicon Valley. Développé par des chercheurs et programmeurs à Ann Arbor, avec des bureaux à San Francisco et à Zurich, le lecteur s'appuie sur la norme vidéo H.264 (soit une variante du MPEG-4 utilisé en télévision numérique), et est compatible Windows XP, Windows Vista, Windows 7, Mac OS X et depuis , Linux. Bienvenue sur Hubb TV, Télévision française, Monde francophone, Télévision, Télé, Online, Streaming, Live tv, Internet tv. Wizzgo - Ma télé avec moi. L'affaire Wizzgo. Aujourd'hui, je vous propose d'étudier une décision judiciaire rendue cet été qui mérite l'attention.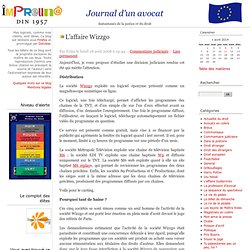 Distribution La société Wizzgo exploite un logiciel éponyme présenté comme un magnétoscope numérique en ligne. Ce logiciel, une fois téléchargé, permet d'afficher les programmes des chaînes de la TNT, et d'un simple clic sur l'un d'eux effectué avant sa diffusion, d'en demander l'enregistrement.
---