Droit d'auteur
Pinterest épinglé par le droit d'auteur. La start-up de l'année 2011 est confrontée à la rigidité des règles fixant le droit d'auteur.
Ses récentes déconvenues posent une énième fois la question du statut du partage des contenus sur Internet. Élu meilleure startup par TechCrunch en 2011, le réseau social Pinterest a le vent en poupe aux Etats-Unis et commence à faire parler de lui en France. Déjà considéré comme "le nouveau Facebook" par certains, le site est le premier début 2012 à avoir atteint aussi rapidement une audience de 10 millions de visiteurs par mois. Ce succès fulgurant cache néanmoins une polémique grandissante à propos du respect par le site des règles du droit d'auteur, car la contrefaçon semble inscrite dans ses principes même de fonctionnement. Blog Derecho en Red » Viacom pierde el caso contra Youtube: La exclusión para hosting. ¿Es YouTube responsable por los vídeos que cargan sus usuarios?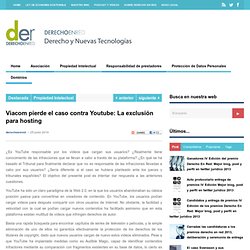 ¿Realmente tiene conocimiento de las infracciones que se llevan a cabo a través de su plataforma? ¿En qué se ha basado el Tribunal para finalmente declarar que no es responsable de las infracciones llevadas a cabo por sus usuarios? ¿Sería diferente si el caso se hubiera planteado ante los jueces y tribunales españoles? El objetivo del presente post es intentar dar respuesta a las anteriores cuestiones. YouTube ha sido un claro paradigma de la Web 2.0, en la que los usuarios abandonaban su clásica posición pasiva para convertirse en creadores de contenido. Antena 3 emite en streaming sus series de éxito (y la Champions) - Miguel Angel Mata. Ha transcurrido más de un año (mayo 2006) desde que se anunciara por parte de la cadena norteamericana ABC (perteneciente al Grupo Walt Disney) que difundiría gratuitamente por Internet (vía streaming) los episodios de sus cuatro series más exitosas en Estados Unidos.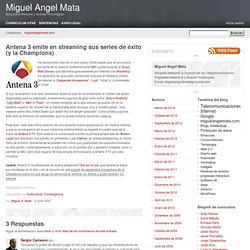 Se referían a "Desperate Housewives", "Lost", "Alias" y "Commander in Chief". Si hoy accedemos a su web, podremos observar que se ha aumentado el número de series disponibles para su visionado, incorporando algunas de gran éxito como "Grey's Anatomy" "Ugly Betty" o "Men in Trees". Un listado completo de lo que ofrecen se puede ver en la pestaña superior de "shows" de la mencionada web.
Le procès de TF1 contre YouTube classé sans suite ? L'affaire remonte à 2007.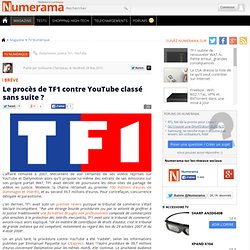 Mécontent de voir certaines de ses vidéos reprises sur YouTube et Dailymotion alors qu'il propose lui-même des extraits de ses émissions sur son propre portail WAT, TF1 avait décidé de poursuivre les deux sites de partage de vidéos en Justice. Modeste, la chaîne réclamait au premier 100 millions d'euros de dommages et intérêts, et au second 39,7 millions d'euros. YouTube. Le groupe TF1 compte bien faire payer les sites de partage de vidéo, YouTube, filiale de Google, et Dailymotion.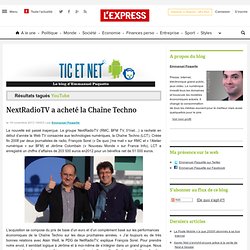 Début janvier, la chaîne de télévision a réévalué le montant des préjudices pour dommages et intérêts demandés pour contrefaçon, concurrence déloyale et parasitisme à Dailymotion qui diffuse illégalement certain de ses contenus. TF1 demande 141 millions d'euros à YouTube (autour de 100 millions pour TF1 et TF1 Production et 40 millions pour eTF1) et près de 80 millions d'euros à Dailymotion (contre 39,7 millions jusqu'ici), soit plus de 220 millions d'euros au total. « Nous avons été conduit à actualiser nos prétentions dans ces deux dossiers, les agissements fautifs s'étant poursuivis postérieurement à la délivrance des assignations (en 2008 NDLR); la juridiction saisie ne devrait pas de prononcer avant la fin de l'année 2011″, note la société.
Les droits d'auteur pour les nuls. J'avoue être surpris du retentissement qu'ont eu mes deux billets répondant à la tribune de Luc Besson et à l'interview de Frédéric Lefèbvre (j'ai eu plus de visites dans la journée de mardi que lors de la journée du 23 octobre 2008 où j'avais publié 63 billets de magistrats).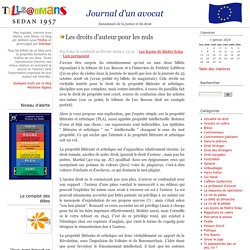 Cela révèle un véritable intérêt pour le droit de la propriété littéraire et artistique, discipline non pas complexe, mais contre-intuitive, à cause du parallèle fait avec le droit de propriété tout court, source de confusion chez les artistes eux-même (sur ce point, la tribune de Luc Besson était un exemple parfait). Alors je vous propose une explication, que j'espère simple, sur la propriété littéraire et artistique (PLA), aussi appelée propriété intellectuelle. Retenez d'ores et déjà une chose : ces expressions sont indivisibles. Les épithètes " littéraire et artistique " ou " intellectuelle " changent le sens du mot propriété. Les droits télé du foot bousculés par l'Europe. La planète football est peut-être face à un séisme égal à celui qu'elle a connu lors de l'arrêt Bosman.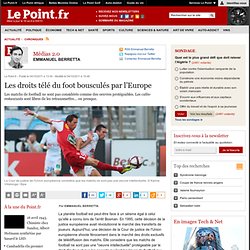 En 1995, cette décision de la justice européenne avait révolutionné le marché des transferts de joueurs. Aujourd'hui, une décision de la Cour de justice de l'Union européenne shoote férocement dans le marché des droits exclusifs de télédiffusion des matchs. Elle considére que les matchs de football ne sont pas une "oeuvre intellectuelle" protégeable par le droit d'auteur et que les accords qui lient les ligues de football aux télédiffuseurs ne peuvent, sans méconnaitre le principe de libre circulation des biens et services, imposer une "exclusivité absolue".
Karen Murphy may lead Sky Sports 1-0, but don't bet on the result | Media. Watching Gareth Bale could cost you less Photograph: Sean Dempsey/PA Wire/Press Association Images Karen Murphy is a bloody minded Portsmouth publican whose marathon legal battle with Sky may - just may - lead to a ripping up of the rules governing the way Premier League and other televised sports rights are sold around Europe.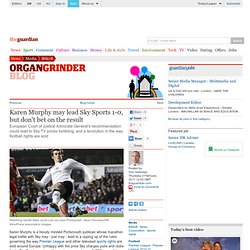 Unhappy with the price Sky charges pubs and clubs for its Sky Sports services (the costs can reach over £1000 a month), Murphy got her hands on a cheaper Greek satellite decoder card (yep, they show plenty of British football in Greece) and started showing matches down at her pub - which was patriotically named The Red, White and Blue. Like all good British revolutions tools were downed when enforcers from the Premier League went to court. Pub landlady Karen Murphy is about to learn whether she has won her legal battle against the Premier League over her screening games using a "foreign" TV decoder. Pub landlady Karen Murphy will learn tomorrow whether she has won her legal battle against the Premier League over the screening of games in her pub using a "foreign" television decoder.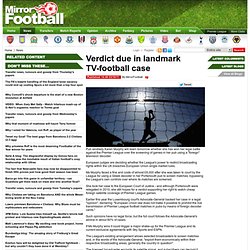 European judges are deciding whether the League's power to restrict broadcasting rights within the UK breaches European Union single market rules. Ms Murphy faced a fine and costs of almost £8,000 after she was taken to court by the League for using a Greek decoder in her Portsmouth pub to screen matches, bypassing the League's own controls over where its matches are screened. She took her case to the European Court of Justice - and although Portsmouth were relegated in 2010, she still hopes for a verdict supporting her right to watch cheap foreign satellite coverage of Premier League games. Un minutieux montage des JT de Pernaut censuré au nom du droit d'auteur. Voici encore une illustration de la censure par abus de droit d'auteur.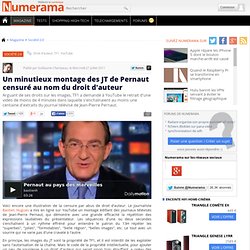 Le journaliste Bastien Hugues a mis en ligne sur YouTube un montage édifiant des journaux télévisés de Jean-Pierre Pernaut, qui démontre avec une grande efficacité la répétition des expressions laudatives du présentateur. Les séquences d'une ou deux secondes s'enchaînent à un rythme effréné pour entendre le patron du 13H répéter les "superbes", "jolies", "formidables", "belle région", "belles images", etc. Le tout avec un sourire qui ne varie pas d'une cravate à l'autre. Megaupload. The company's founder, Kim Dotcom, has denied any wrongdoing, and the case against Dotcom, who is a resident of New Zealand, has been the subject of controversy over its legality.[5] The US judge handling the case has expressed doubts about whether the case will come to court.[6] Company and services[edit] The company's registered office was in Room 1204, on the 12th floor of the Shanghai Industrial Investment Building in Wan Chai, Hong Kong.[9][10] The company web services included: (a) Megaupload.com, a one-click hosting service; (b) Megapix.com, an image hosting; (c) Megavideo.com and Megalive.com, video hosting services; (d) Megabox.com, a music hosting service.
Other services included Megaclick, Megafund, Megakey and Megapay, all of which were advertisement and financial services. Two additional services, Megabackup and Megamovie, were in development before their closure.[11] Brand Owner Vbbcom Ltd. Advertising and business services, namely, providing an online website where advertisers, marketers, and content providers can interact with users for advertising, branding, and promoting knowledge, products, and services, and tradeshows, on behalf of themselves and others, and for evaluating and rating the same; advertising and commercial information services, via the internet; advertising and directory services, namely, promoting the services of others by providing a web page featuring links to the websites of others; advertising and marketing services provided by means of indirect methods of marketing communications, namely, social media, search engine marketing, inquiry marketing, internet marketing, mobile marketing, blogging and other forms of passive, sharable or viral communications channels.
Kim Schmitz. In January 2012, the New Zealand Police placed him in custody in response to US charges of criminal copyright infringement in relation to his Megaupload website. Dotcom was accused of costing the entertainment industry $500 million through pirated content uploaded to his file-sharing site, which had 150 million registered users.[13] Dotcom has vigorously denied the charges, and is fighting the attempt to extradite him to the United States.[14] Despite legal action still pending over Megaupload, Dotcom launched a new project/website named "Mega" in January 2013, opened to the public exactly one year after Megaupload was shut down. It is a cloud storage service that uses encryption to protect users from government or third party "spies" from invading users' privacy.
Personal life[edit] The mystery man behind Megaupload piracy fight | Media Maverick. Meet the Mega man. MegaPorn, MegaVideo, MegaLive, MegaPix, and Megaupload are all Kim Schmitz: entrepreneur, father, former hacker, former street racer, and former outlaw. Depending on who you ask, all of these sites and brands created by Schmitz--a well-known hacker in Germany who is said to have officially changed his name to Kim Dotcom--are either part of the simple and successful Internet file-storage business he founded in 2005, or they're an extension of a vast online piracy empire that includes some of the most visited video sites on the Web--right there along with YouTube and Hulu. According to legal documents filed in California , where Schmitz, 37, is engaged in a copyright battle, he rents cyberlockers to the masses, and nobody disputes that many millions of people from across the globe use Megaupload to store or access unauthorized copies of TV shows, feature films, songs, porn, and software.
Je la regarde. Websites object to digital piracy label - Megaupload.com, MarkMonitor, legal, Internet-based applications and services, internet, intellectual property, e-commerce, copyright, cloud computing, Bonnie Lam, Association of American Publishers - Security - Te. Hong Kong. Perfect 10 Files $5 Million Infringement Suit Against Megaupload. Perfect 10 v. RapidShare: A Reminder About DMCA Safe Harbor Requirements - Technology Law and Culture Blog - Law Office of Chad Woodford, IP/Technology Attorney. Perfect 10, Inc. v. Megaupload Limited et al Document 16 - :: Justia Docs. Megaupload fait la nique à l'Hadopi. Hong Kong Company Formation, Registration, Incorporation Guide | Hong Kong Offshore Company, Branch Office, Subsidiary Setup. Copyright law of Hong Kong. Hong Kong Taxation. William S. Boyd School of Law. Article on Bypassing Geographic Content Restrictions Using Borrowed IP Addresses. Uruguay. Île Maurice. Dubai. Www.gov.mu/portal/goc/ncb/file/copyright.pdf. Contexte international - Arts et industries culturelles - Sujets.
Intellectual Property Laws and Treaties Database (WIPO Lex) Jersey Law | Jersey Law Review | October 1997 | Copyright And More: Oliver v ABN-AMRO Bank NV. Droit d'auteur. Convention de Berne pour la protection des œuvres littéraires et artistiques. Menu principal. Quel est le droit applicable si l'exploitation se fait à l'étranger? COPYRIGHT FRANCE ™ : Liste des pays signataires de la convention de Berne. San Marino : 5.1.7 Copyright provisions : Cultural Policies and Trends in Europe. Marshall Islands: Copyright Law of the United States and Related Laws Contained in Tıtle 17 of the United States Code. Serbia's New Draft Copyright Law - A Partial Diff | Copyright Watch. Uploads/reports/Copyright Law in Cambodia.pdf.
Copyright law of Hong Kong. Singapore Intellectual Property Law. Intellectual Property and Copyright Law Needed Urgently in the Maldives. Www.iipa.com/rbc/2007/2007SPEC301LAOS.pdf. Maldives: The Copyright & Related Rights Act. Traité de l'OMPI sur le droit d'auteur. Législation : UNESCO-CULTURE.
---