Divers
Histoire du Québec eBook: Marc Durand: Amazon.fr: Boutique Kindle. Phoenix - Live at Lollapalooza 2013.
Course sportive
Running. Marin. BAF. Contacts Emploibox. Rep Challenge Business Angel France. Supermarket. Val. To be explored. Fun. Golf. Cours de Golf en vidéo - Apprendre le golf en ligne. 12 utilisations créatives de l'iPad. L' est l'un des derniers jouets d' .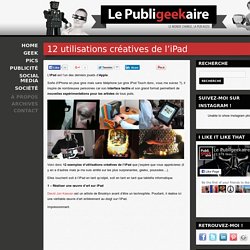 Sorte d'iPhone en plus gros mais sans téléphone (un gros iPod Touch donc, vous me suivez ?) , il inspire de nombreuses personnes car son et son grand format permettent de de tous poils. Voici donc que j'espère que vous apprécierez (il y en a d'autres mais je me suis arrêté sur les plus surprenantes, geeks, poussées…). Elles touchent soit à l'iPad en tant qu'objet, soit en tant en tant que tablette informatique. David Jon Kassan est un artiste de Brooklyn avant d'être un technophile. OpenCoffee Paris d'été. OCC été. Open Coffee Paris» Archive du blog » OCC Startup Battle: participez avec votre équipe. Prêt pour une activité fin Octobre en région parsienne ?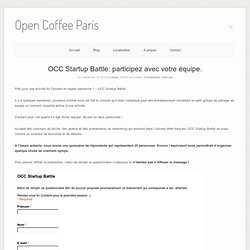 – OCC Startup Battle Il y a quelques semaines, plusieurs d'entre nous ont fait le constat qu'il était compliqué pour des entrepreuneurs travaillant en petit groupe de partager en équipe un moment chouette autour d'une activité. Des applis iPhone pour bien dormir. Sleep Cycle Le réveil peut être cruel.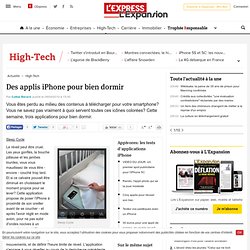 Les yeux gonflés, la bouche pâteuse et les jambes lourdes, vous vous maudissez de vous être - encore - couché trop tard. Et si ce calvaire pouvait être diminué en choisissant le moment propice pour se lever? Le smartphone, un "investissement identitaire renouvelé" Il y a les "Blackbé", les "iPhone" et les autres, les "simplets" ou les "dinosaures" : la folie "smartphone" a créé de nouveaux usages, et de nouveaux clivages chez les jeunes.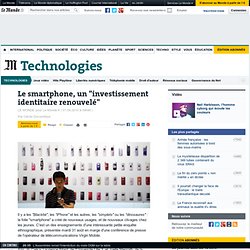 C'est un des enseignements d'une intéressante petite enquête ethnographique, présentée mardi 31 août en marge d'une conférence de presse de l'opérateur de télécommunications Virgin Mobile. L'étude a été menée par trois chercheurs en sciences de l'information (Olivier Aïm, du Celsa, Laurence Allard, de l'Université Lille 3, et Joëlle Menrath, de la société Discours & Pratiques), entre Strasbourg, Paris, et la "cité des 4000" à Aulnay-sous-bois, auprès de quelques dizaines de possesseurs – ou non – de téléphones multimédias.
Les 10 Impostures de la Blogosphère Marketing Française. 8inShareinShare8 Je suis énervé contre la blogosphère française, contre les entrepreneurs français, contre le web et surtout contre moi-même.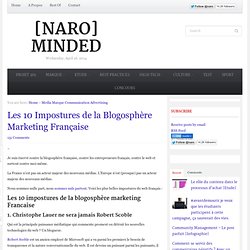 La France n'est pas un acteur majeur des nouveaux médias. L'Europe n'est (presque) pas un acteur majeur des nouveaux médias. Nous sommes nulle part, nous sommes nuls partout. Voici les plus belles impostures du web français : SquarO, un juego de puzles que no puedes dejar pasar - descargar SquarO, un juego de puzles que no puedes dejar pasar | noticias SquarO, un juego de puzles que no puedes dejar pasar.
Juegos de puzles los hay muchos en el App Store, cientos, tal vez miles.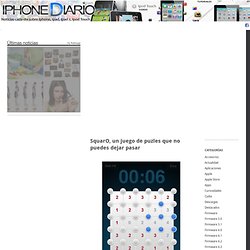 Pocos son los que destacan, obviamente. Pero en este caso hablamos de algo diferente. El SquarO es una especie de combinación entre sudoku y buscaminas. Toda su experiencia se basa en modo para un solo jugador, y es perfecto para esos ratos muertos que tenemos en el viaje al trabajo o algo parecido. Una vez adquirida la aplicación, no necesita de ningún tipo de conexión a internet para jugar. Cinq blogs solidaires à suivre cet été. Se rendre utile en labourant les champs d'un village africain ou en aidant des orphelins péruviens à vivre décemment?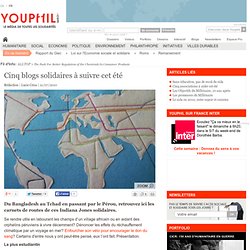 Dénoncer les effets du réchauffement climatique par un voyage en mer? Enfourcher son vélo pour encourager le don du sang? Les Yeux Dans La Banlieue. À l'abordage. La première souris invisible. The 10 Founding Fathers of the Web. While the phrase "founding fathers" is often used in conjunction with men like Benjamin Franklin, Thomas Jefferson and George Washington, we wanted the think about the phrase on the global level.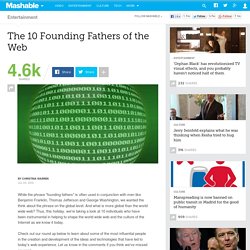 And what is more global than the world wide web? Thus, this holiday, we're taking a look at 10 individuals who have been instrumental in helping to shape the world wide web and the culture of the Internet as we know it today. Check out our round up below to learn about some of the most influential people in the creation and development of the ideas and technologies that have led to today's web experience. Let us know in the comments if you think we've missed anyone!
The Web Is Dead. Long Live the Internet | Magazine. Who's to Blame:Us As much as we love the open, unfettered Web, we're abandoning it for simpler, sleeker services that just work. by Chris Anderson You wake up and check your email on your bedside iPad — that's one app.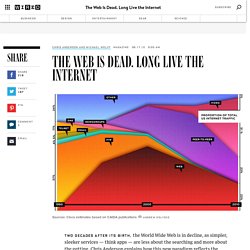 Did the Web kill journalism, and will the iPad bring it back? Links: Not Just the Currency of the Web, but the Soul « Author Nicholas Carr wrote a controversial post recently about the use of hyperlinks in online content, in which he argued that links were a distraction for readers, and were likely to lead to less comprehension rather than more.
This idea was an offshoot of Carr's latest book, The Shallows, which makes the claim that the Internet — and digital media in general — are making society dumber rather than smarter. Now Scott Rosenberg, one of the founders of the online magazine Salon and of a new media-accuracy startup called MediaBugs, has written an admirable series of posts defending the link as the heart and soul of the web. In his original post, Carr described links as "conveniences," but said they also functioned as a distraction for readers: Architecture. Picasso: Drawing With Light - Photo Gallery.
---