Environment
Bonneville Environmental Foundation - Renewable Energy. Environmental Working Group. Piedmont Environmental Alliance. An Inconvenient Truth. From director Davis Guggenheim, An Inconvenient Truth is a passionate and inspirational look at former Vice President Al Gore's fervent crusade to halt global warming's deadly progress by exposing the myths and misconceptions that surround it.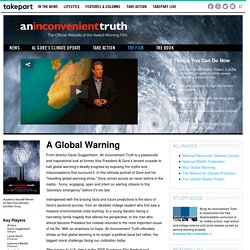 In this intimate portrait of Gore and his "travelling global warming show," Gore comes across as never before in the media - funny, engaging, open and intent on alerting citizens to this "planetary emergency" before it's too late. Interspersed with the bracing facts and future predictions is the story of Gore's personal journey: from an idealistic college student who first saw a massive environmental crisis looming; to a young Senator facing a harrowing family tragedy that altered his perspective; to the man who almost became President but instead returned to the most important cause of his life.
Conserve water and save money with our water filters, shower filters, rain barrels, water heaters, and more. SkyandTelescope.com.
---