FotoWorld
PigoLabs - Piwigo Services. Forum. Piwigo.com. PigoLabs = Piwigo Services. PigoLabs is the company behind Piwigo.com.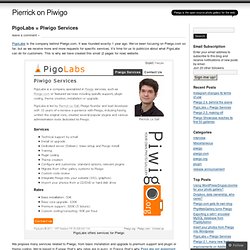 It was founded exactly 1 year ago. We've been focusing on Piwigo.com so far, but as we receive more and more requests for specific services, it's time for us to publicize about what PigoLabs can do for customers. Piwigo is an open source photo gallery software for the web | piwigo.org.
Piwigo Gallery. Piwigo est un logiciel de galerie photo pour le web | fr.piwigo.org. PhpWebGallery turns Piwigo. PhpWebGallery becomes Piwigo.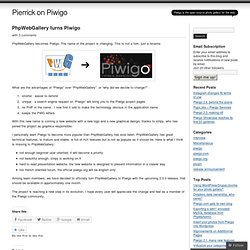 The name of the project is changing. This is not a fork, just a rename. Dropbox, data ownership, who cares? Dropbox, the famous storage solution in the cloud, has announced this week-end a change in their Terms Of Use.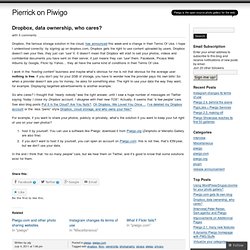 I hope I understood correctly: by signing up on dropbox.com, Dropbox gets the right to use content uploaded by users. Dropbox doesn't own your files, they just can "use" it. Piwigo Quick Start. Témoignages Piwigo.com. Cela fait environ 8 mois que mon site est hébergé par Piwigo.com et je ne le regrette pas.
Je suis vraiment satisfaite de cette formule qui permet de créer un espace convivial, personnalisé, sobre et surtout... très apprécié par les visiteurs. En effet, il est simple de naviguer d'un album à un autre, d'une photo à une autre et d'y laisser des commentaires. Je trouve le thème Simple White parfait et très classe car sa sobriété met les images en valeur. J'ai apprécié la possibilité de créer des bannières qui personnalisent les albums, ainsi que le patchwork de photos qui donne une belle vision d'ensemble de chaque collection de photos.
Enfin, en 8 mois je n'ai rencontré qu'une difficulté (spams) et il m'a été répondu extrêmement rapidement (en une heure) par l'équipe support. Piwigo, partagez vos photos sur le web. Cet article a été publié il y a 2 ans 9 mois 20 jours, il est donc possible qu'il ne soit plus à jour.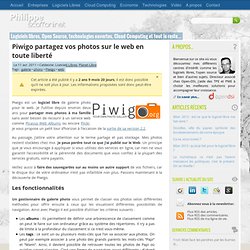 Les informations proposées sont donc peut-être expirées. Piwigo est un logiciel libre de galerie photo pour le web. Je l'utilise depuis environ deux ans pour partager mes photos à ma famille sans avoir besoin de recourir à un service web comme Picassa Web Albums ou encore Flickr. Galerie web : Passage à Piwigo. La flemme fait parfois découvrir de petites perles.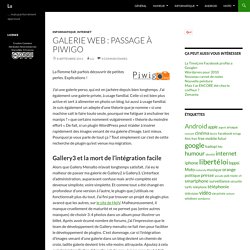 Explications ! J'ai une galerie perso, qui est en jachère depuis bien longtemps. J'ai également une galerie privée, à usage familial. Celle-ci est bien plus active et sert à alimenter en photo un blog, lui aussi à usage familial. Je suis également un adepte d'une théorie que je nomme « si une machine sait le faire toute seule, pourquoi me fatiguer à enchainer les manips ?
Votre galerie photo avec Piwigo. Piwigo est un logiciel opensource de galerie photo pour le web développé depuis 9 ans par Pierrick Le Gall et une communauté active de développeurs.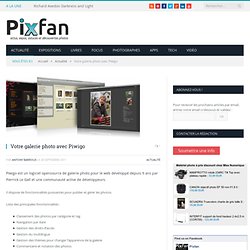 Il dispose de fonctionnalités puissantes pour publier et gérer les photos. Liste des principales fonctionnalités : Piwigo sur 01net Telecharger.com. Setting up a Piwigo Photo Gallery. Posted on 3 Mar '12 by Earl The last couple of years I've had an account at the Zenfolio.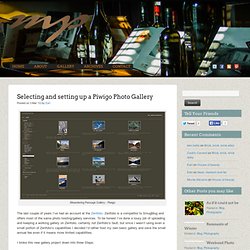 Zenfolio is a competitor to SmugMug and offers most of the same photo hosting/gallery services. Piwigo Sourcetrunk. Build Your Own Flickr with Piwigo. In 2006, the family computer on which our digital photographs were stored had a hard drive failure.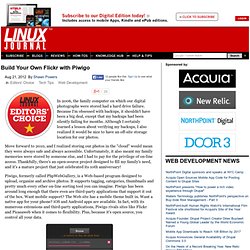 Because I'm obsessed with backups, it shouldn't have been a big deal, except that my backups had been silently failing for months. Although I certainly learned a lesson about verifying my backups, I also realized it would be nice to have an off-site storage location for our photos. Move forward to 2010, and I realized storing our photos in the "cloud" would mean they were always safe and always accessible. Unfortunately, it also meant my family memories were stored by someone else, and I had to pay for the privilege of on-line access. Thankfully, there's an open-source project designed to fill my family's need, and it's a mature project that just celebrated its 10th anniversary! Piwigo : Google+ button. Direct competitor to Facebook, Google+ is a social media launched in June 2011, only 3 months ago.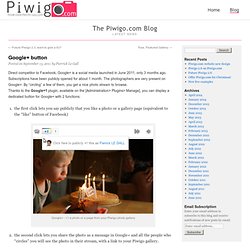 Subscriptions have been publicly opened for about 1 month. The photographers are very present on Google+. By "circling" a few of them, you get a nice photo stream to browse. Thanks to the Google+1 plugin, available on the [Administration> Plugins> Manage], you can display a dedicated button for Google+ with 2 functions: Album description, fine-tuning. Among all features provided by plugin Extended Description, you will find the fine-tuning of the album description. 1. Default display By default, the description of an album is displayed next to the album thumbnail on the albums page and the same description is displayed on the thumbnails page, above thumbnails.
Piwigo: default display of the album description on the albums page Piwigo: default display of the album description on the thumbnails page. Piwigo - Android Market. Enjoy your photos being placed on a world map. PhotoMap is a photo gallery that lets you browse through your geo photos in a fascinating way. It helps you finding and visiting beautiful or important locations again. Relive your vacation by jumping virtually from location to location.
PhotoMap presents your pictures where you took them. Piwigo sur Android. Si vous utilisez une galerie de photo Piwigo en ligne, cette application vous permettra d'envoyer vos photos mais aussi de créer de nouveaux albums directement depuis votre terminal mobil Android. Piwigo propose de nombreuses fonctionnalités, telles que la gestion des albums, les tags, la géolocalisation, plusieurs niveaux de personnalisation, l'envoi de photos par les visiteurs, la confidentialité des photos, un calendrier et des statistiques, ou encore un diaporama automatique. Piwigo est un projet Open Source. Il supporte le site piwigo.org et les galleries Piwigo autohébergées. Piwigo dans l'App Store d'iTunes. Afficher sur iTunes Cette app a été développée pour iPhone et iPad. GratuitCatégorie : Photo et vidéoSortie : 17 oct. 2011Version : 1.0Taille : 1.4 MoLangue : AnglaisÉditeur : Patrice Gauchon© 2011 Patrice Gauchon Compatibilité : Nécessite iOS 3.1 ou une version ultérieure.
Compatible avec l'iPhone 3GS, l'iPhone 4, l'iPhone 4S, l'iPhone 5, l'iPhone 5c, l'iPhone 5s, l'iPad, l' iPod touch (3e génération), l'iPod touch (4e génération) et l'iPod touch (5e génération). Piwigo è un software per la creazione di una galleria fotografica per il web | it.piwigo.org. Site photo de -> /<Ä®¿M <-
Matos
Technique photo. Magnum Blog / Wear Good Shoes: Advice to young photographers - the photo blog of Magnum Photos. Les conseils de 35 photographes de l'agence Magnum. Ceci n'est pas une nouveauté en soi, mais une source intemporelle d'inspiration,… La mythique agence Magnum a recueilli les conseils de 35 photographes de la maison envers les "jeunes" photographes.
Conseils classiques, anecdotes et partage d'expérience font de ces propos rapportés un grand classique à toujours garder dans un coin de votre tête, surtout pour les jours où vous doutez de vos talents ou de votre motivation en Photo… On vous traduit les conseils de 12 des photographes dans la suite. Meeting annuel des photographes Magnum. Paris. Fenelon college. 1988. © Elliott Erwitt/Magnum Photos. Trucs et astuces.
Techniques Photo. Photography.
---