Love
Keyword suggestion tool — Google suggest scraper — Übersuggest. The SEO Dilemma - Searchfest Keynote - Wil Reynolds. SEOmoz Meetup: Rapid Fire Link Building Strategies. How do you bounce back after the hard hits Google delivered with Penguin and Panda?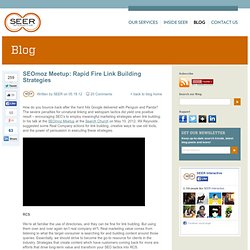 The severe penalties for unnatural linking and webspam tactics did yield one positive result – encouraging SEO's to employ meaningful marketing strategies when link building. In his talk at the SEOmoz Meetup at the Search Church on May 10, 2012, Wil Reynolds suggested some Real Company actions for link building, creative ways to use old tools, and the power of persuasion in executing these strategies. We're all familiar the use of directories, and they can be fine for link building. But using them over and over again isn't real company sh*t. When Advanced Link Building = no rankings.
Preface: I presented this at last year's SEOmoz's SEO Conference Mozcon and will be presenting there again this year, so come join me!!!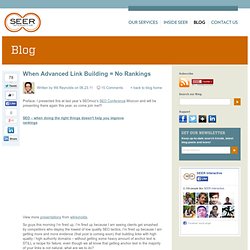 So guys this morning I'm fired up, I'm fired up because I am seeing clients get smashed by competitors who deploy the lowest of low quality SEO tactics, I'm fired up because I am getting more and more evidence (that post is coming soon) that building links with high quality / high authority domains – without getting some heavy amount of anchor text is STILL a recipe for failure, even though we all know that getting anchor text in the majority of your links is not natural, what are we to do?
I'm watching some crap SEO firm outranking us without a single link that has their brand name as the anchor text, they have no twitter following, no blog readership, no youtube channel, nothing…yet they are outranking so many respected quality firms, its ridiculous. Social signals improve search results? In fringe cases yes, but in a lot of others not seeing it.
---