Commercial mindmap software
Edistorm. i2Brain: Multidimensional MindMapping™ Software. Mind42.com - Collaborative mind mapping in your browser. Mindomo. Recall Plus. MindMeister. MindMapper Visual Mind Mapping Software - MindMapper Mind Map Software. MindGenius Mind Mapping Software Homepage. Inspiration Software, Inc. - The Leader in Visual Thinking and Learning. Visual Mind. MindNode. XMind.
Know More. Know more.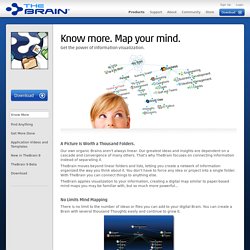 Map your mind. Get the power of information visualization. A Picture Is Worth a Thousand Folders. Sticky Notes : Free Sticky Notes software : Desktop Notes - Free Desktop Sticky Notes - Download sticky notes program : Free Notes - Free stickies software - Desktop Stickies for Windows - Virtual Sticky Note program for Windows. Sticky Notes Software - Desktop Notes Freeware - Note Taking Software. Don't waste your money to buy another set of paper stickies.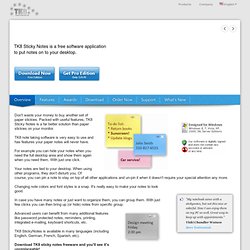 Packed with useful features, TK8 Sticky Notes is a far better solution than paper stickies on your monitor. TK8 note taking software is very easy to use and has features your paper notes will never have. Sticky Notes for Windows - Say the Time. Experience the power of visualization with Mindjet. Wisemapping. A mind map is a diagram used to represent words, ideas, tasks, or other items linked to and arranged around a central key word or idea.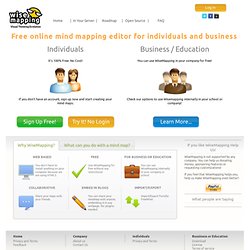 Especially in British English, the terms spidergram and spidergraph are more common,[1] but they can cause confusion with the term spider diagram used in mathematics and logic. Mind maps are used to generate, visualize, structure, and classify ideas, and as an aid to studying and organizing information, solving problems, making decisions, and writing. The elements of a given mind map are arranged intuitively according to the importance of the concepts, and are classified into groupings, branches, or areas, with the goal of representing semantic or other connections between portions of information.
Mind maps may also aid recall of existing memories.
---