Commercial mindmap software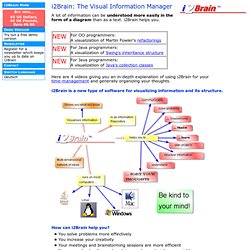 A lot of information can be understood more easily in the form of a diagram than as a text. i2Brain helps you. Here are 4 videos giving you an in-depth explanation of using i2Brain for your time-management and generally organizing your thoughts. i2Brain is a new type of software for visualizing information and its structure. How can i2Brain help you?
i2Brain: Multidimensional MindMapping™ Software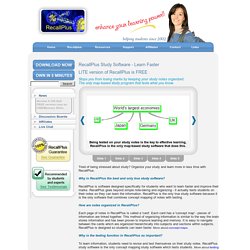 Stops you from losing marks by keeping your study notes organized. The only map-based study program that tests what you know. Tired of being stressed about study? Organize your study and learn more in less time with RecallPlus. Why is RecallPlus the best and only true study software? RecallPlus is software designed specifically for students who want to learn faster and improve their marks.
MindMapper Visual Mind Mapping Software - MindMapper Mind Map Software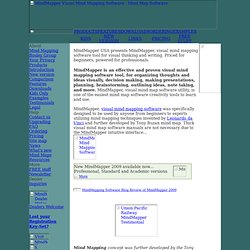 MindMapper USA presents MindMapper, visual mind mapping software tool for visual thinking and writing. Priced for beginners, powered for professionals. MindMapper is an effective and proven visual mind mapping software tool, for organizing thoughts and ideas visually, decision making, making presentations, planning, brainstorming, outlining ideas, note taking, and more.
MindGenius is business mind mapping software that helps you capture, visualize and manage your ideas and information. MindGenius was designed specifically to meet business needs and this understanding comes across in every single piece of functionality, all added to assist with the common business processes that you face every day, from gathering ideas to managing projects and tasks or presenting to colleagues or clients. Thousands of people worldwide have been using MindGenius for more than ten years, download a free fully functional 30 day trial and experience it for yourself.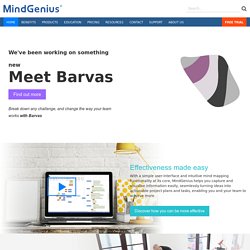 Plots and graphs are a type of visual learning diagram that visually represents a relationship between sets of numbers as a set of points having coordinates determined by that relationship. Venn diagrams, bar graphs, stack plots, pie charts and axis plots are some examples that help students develop data literacy by interpreting information and drawing conclusions. Plots and graphs also help students acquire the skills of reasoning, inquiry and communication.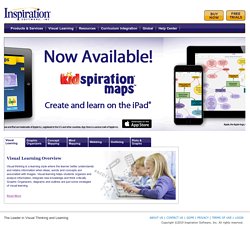 Works with Office/PDF How to make colleagues access our mind map if they don't have XMind? With some simple operations, we can export our mind map into about 10 universal formats by the export functionality. By this way, your team can collaborate seamlessly. We support exporting to Microsoft Word, Microsoft PowerPoint, Microsoft Excel (NEW), PDF, RTF, Plain Text, HTML, PNG, JPEG, GIF, BMP, SVG (NEW), Freemind, Mindjet MindManager. Also support importing from Freemind and Mindjet MindManager.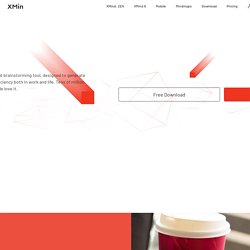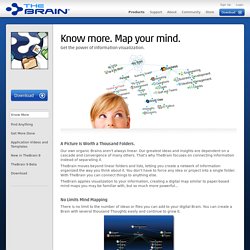 Know more. Map your mind. Get the power of information visualization. A Picture Is Worth a Thousand Folders.
Sticky Notes : Free Sticky Notes software : Desktop Notes - Free Desktop Sticky Notes - Download sticky notes program : Free Notes - Free stickies software - Desktop Stickies for Windows - Virtual Sticky Note program for Windows
Free Notes software Sticky Notes for Windows Write down ideas and thoughts in a quick and easy way using desktop notes (desktop stickies) Free Sticky Notes software allows you to create computer sticky notes to keep all information you have to remember on your PC desktop. Friendly user interface lets you start using the sticky note program within minutes. Sticky notes automatically save all changes as soon as they occurred.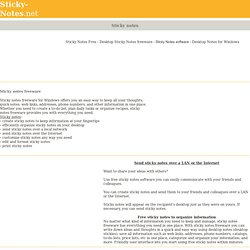 Sticky Notes Software - Desktop Notes Freeware - Note Taking Software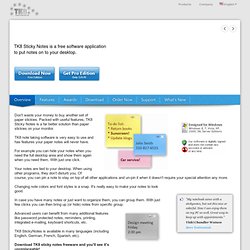 Don't waste your money to buy another set of paper stickies. Packed with useful features, TK8 Sticky Notes is a far better solution than paper stickies on your monitor. TK8 note taking software is very easy to use and has features your paper notes will never have.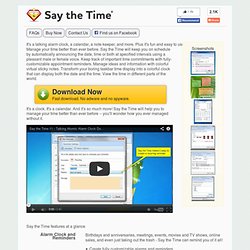 Sticky Notes for Windows - Say the Time
FAQs Buy Now Contact Us Find us on Facebook It's a talking alarm clock, a calendar, a note keeper, and more. Plus it's fun and easy to use!
The Best CompaniesInnovate With Mindjet. 300 Startups Enter Competition Close
A mind map is a diagram used to represent words, ideas, tasks, or other items linked to and arranged around a central key word or idea. Especially in British English, the terms spidergram and spidergraph are more common,[1] but they can cause confusion with the term spider diagram used in mathematics and logic. Mind maps are used to generate, visualize, structure, and classify ideas, and as an aid to studying and organizing information, solving problems, making decisions, and writing. The elements of a given mind map are arranged intuitively according to the importance of the concepts, and are classified into groupings, branches, or areas, with the goal of representing semantic or other connections between portions of information. Mind maps may also aid recall of existing memories.