Sherlock Holmes
Sherlock Holmes and Doctor John H. Watson lived at 221b Baker Street between 1881-1904, according to the stories written by Sir Arthur Conan Doyle. The house is protected by the government due to its "special architectural and historical interest", while the 1st floor study overlooking Baker Street is still faithfully maintained for posterity as it was kept in Victorian Times. Step back in time, and when you visit London, remember to visit The World's Most Famous Address - 221b Baker Street - the Official Home of Sherlock Holmes! Open every day of the year (except Christmas Day) from 9.30am - 6pm Admission: Adult £10 Child £8 (under 16yrs)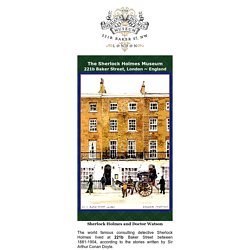 15 05 2014 AGM and London Festival07 06 2014 Eton cricket match22 06 2014 PG Wodehouse Society cricket match30 08 2014 The Stoddart Dinner19 09 2014 Dartmoor 201401 10 2014 Richard Lancelyn Green Lecture (Date TBC)01 11 2014 Film Evening (Date TBC) View All Events >> Members receive the Sherlock Holmes Journal, which is published twice a year and contains a wide range of articles, reviews, criticism and news of the Society's activities. In addition, Full members receive all the notices of Society meetings and other activities, and have the right to attend and participate at these meetings.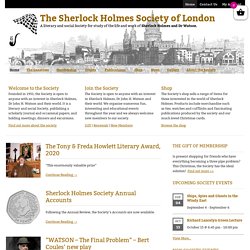 221b Baker Street. Mr. Sherlock Holmes, and his colleague John H. Watson, M.D., spent many years at this address in London, England, under the rent of Mrs.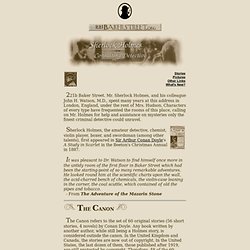 221B Baker Street: Sherlock Holmes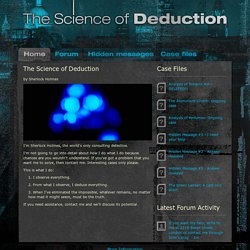 by Sherlock Holmes I'm Sherlock Holmes, the world's only consulting detective. I'm not going to go into detail about how I do what I do because chances are you wouldn't understand. If you've got a problem that you want me to solve, then contact me. Interesting cases only please.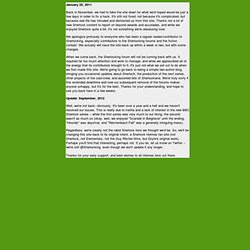 Sherlocking - A fan site dedicated to the BBC series Sherlock.
January 25, 2011 Back in November, we had to take the site down for what we'd hoped would be just a few days in order to fix a hack. It's still not fixed; not because it's complicated, but because real life has intruded and distracted us from this site. There's not a lot of new Sherlock content to report on beyond awards and accolades, and while we enjoyed Sherlock quite a bit, it's not something we're obsessing over.
Sherlockian.​Net Fanfic list•Spiritualizing Sherlock•BBC Sherlock•Tumblrs•Canon•Elementary•Blogs•FAQ The Sign of Three was a party of five, and then Molly Hooper stopped by in jealous yellow. The wedding from BBC "Sherlock" series 3 was reenacted as part of the costume contest at last weekend's 221B Con in Atlanta by (using twitter names, as seems to be de rigueur) @JupiterEyed as John Watson, @6Napoleons as Mary Morstan, @johnfucknwatson as Sherlock Holmes, @makokitten as Janine, and @Jaradel_ as the bridesmaid without a name. Not shown: various con participants dressed as cows ("Farmlock"), deer ("Fawnlock"), pirates (Piratelock), and the Lara Pulver version of Irene Adler.