Bible Study
Michael Scheifler's BIBLE LIGHT HOMEPAGE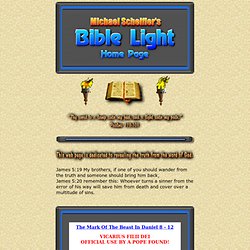 This is a personal web page, and is not associated in any way with any company or corporation utilizing the words "Bible Light" or similar words in their title. In particular, I have no affiliation with Bible Light International Inc. of Ottawa, Kansas, Bible Light Publishers of Hong Kong, or Bible Lights Publishing of Simi Valley, California. All cited quotations or images that are used with the author's or copyright holders permission are accompanied by the phrase "Used by permission." Permission for use does not necessarily imply endorsement of the article in which such use occurs. Any copyrighted quotations or images not bearing a statement of permission, are used for the purpose of non-commercial scholarly commentary or criticism in accordance with section 107 of U.S. copyright law, which by law can be without the consent or endorsement of the copyright holder.
His father was a moon-worshipper in Ur of the Chaldeans. But God began to speak and Abraham listened. He struck out from his home and his people to obey God's call to "go to the land I will show you." His wife was barren and old, but God promised Abram a son.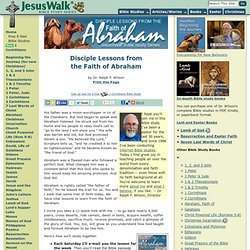 Abraham: Disciple Lessons from the Faith of Abraham
Daily Bible Study - Church of God. Christian Education. Prophecy. Worldwide.
The Holy Bible Web Site @ Zeitun-eg.org - Athens, First Century AD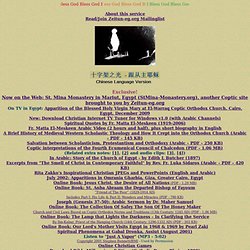 About this serviceRead/Join Zeitun-eg.org Mailinglist RealVideo clips on the apparitions of the Blessed Virgin Mary in Zeitoun, Egypt (1968-1971)Clip 1 (5 min - 20Kbps/Arabic)Clip 1 (5 min - 34Kbps/English) + Clip 2 (2 min - 20Kbps) - Require RealPlayer G2 or laterDownload Clip 1 (as above but in high quality RealVideo - zipped: 2.86 MB)A rare RealAudio clip of a message by Pope St. Kyrillos VI in his own voice (Arabic/Coptic - 4:21 min - 16Kbps) - Requires RealPlayer G2 or laterPope St. Kyrillos VI Web GalleryThe Apparitions of Virgin Mary in Shentena El-Hagar, EgyptThe Apparitions of Virgin Mary in Edfu, EgyptBlessed are those who have not seen and yet have believedThe Holy Bible Web Site WAP ChannelSearch the Arabic Bible Online (Old & New Testaments - Smith Van Dyke)New and Free! Download Arabic Multimedia Bible v99.6 and for ChildrenNew!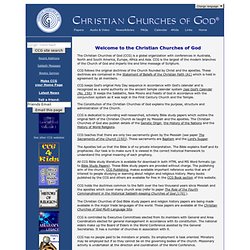 The Christian Churches of God (CCG) is a global organization with conferences in Australia, North and South America, Europe, Africa and Asia. CCG is the largest of the modern branches of the Church of God and imparts the end time message of Scripture. CCG follows the original doctrines of the Church founded by Christ and the apostles.
Christian Churches of God World Conference