Learning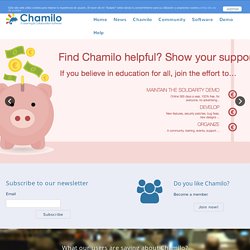 With a strong presence in the 3rd world, Chamilo members go on the field and use their skills to help the people in need. Chamilo association leaders are supporting the integration with One Laptop Per Child laptops, trying to understand the challenges of blind children, and other socially responsible projects. In just 20 months, Chamilo has been adopted by more than 700,000 learners, teachers and businesses around the world. Check the community responsiveness in our forum! Chamilo can connect to any open-specification system (and even some closed ones). Existing portals are currently connected, in production stage, to Oracle®, OpenID®, Drupal®, OpenERP®, LDAP®, Prestashop®, Joomla®, PeopleSoft® and more...
DOKEOS provides you a brand new website with new info and features. Try our pricing device and get an instant quote for your DOKEOS ELEARNING SUITE. Experience elearning at an expert level DOKEOS ELEARNING SUITE simplifies your elearning experience. Responsive, powerful and offering total control, it is always up to date and requires no setup. Enjoy the new DOKEOS elearning experience: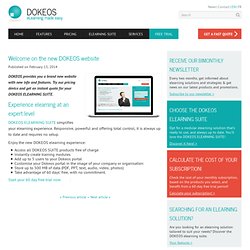 What's Inside? This site lists free online computer science, engineering and programming books, textbooks and lecture notes, all of which are legally and freely available over the Internet. Throughout this site, other terms are used to refer to a book, such as ebook, text, document, monogram or notes.