Frontend gizmos
There was a goal: Create CSS buttons that are sexy looking, really flexible, but with the most minimalistic markup as possible. And voila.. here they are, the BonBon Buttons. Named after the French word for "Candy". So, let's take a tour trough the candy store. No, wait! Before you click that download button and try to use them on your site, please also read the flaws.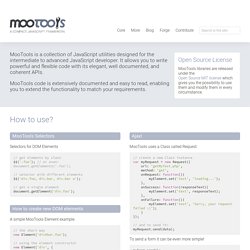 MooTools is a compact, modular, Object-Oriented JavaScript framework designed for the intermediate to advanced JavaScript developer. It allows you to write powerful, flexible, and cross-browser code with its elegant, well documented, and coherent API. MooTools code respects strict standards and doesn't throw any warnings. It's extensively documented and has meaningful variable names: a joy to browse and a snap to understand.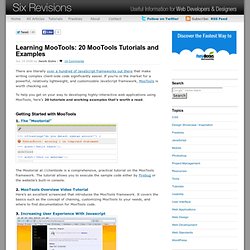 Learning MooTools: MooTools Tutorials and Examples
There are literally over a hundred of JavaScript frameworks out there that make writing complex client-side code significantly easier. If you're in the market for a powerful, relatively lightweight, and customizable JavaScript framework, MooTools is worth checking out. To help you get on your way to developing highly-interactive web applications using MooTools, here's 20 tutorials and working examples that's worth a read. Getting Started with MooTools 1. The "Mootorial"
What is jQuery? jQuery is a fast, small, and feature-rich JavaScript library. It makes things like HTML document traversal and manipulation, event handling, animation, and Ajax much simpler with an easy-to-use API that works across a multitude of browsers. With a combination of versatility and extensibility, jQuery has changed the way that millions of people write JavaScript. Corporate Members Support from our corporate members makes it possible for the jQuery Foundation to continue our work on our JavaScript libraries and pushing the open web forward with events and participation in the standards process.
PIE makes Internet Explorer 6-9 capable of rendering several of the most useful CSS3 decoration features. Learn More This quick demo shows just a few of the CSS3 properties PIE can render. Use the controls to adjust the CSS3 applied to the box. Load this page in IE to see that it is rendered properly!