China
Oregon Town Angers China With Mural on Taiwan, Tibet
Main Page - Rock in China Wiki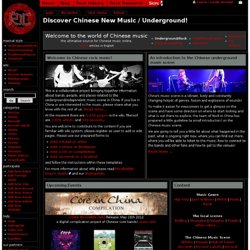 also known as L.S.D. The dragon is the symbol of China. The gods are the source of their resolution, existence and power. The Tao ("the way") comes from the Taoist philosophy of Laozi and points out a certain road or way of thinking. The Way of the Dragon God, (literally: dragon, gods, "the way") is the synthesis of six uncomplicated, artistic, unaffected young people who happen to like the unfettered, free, lighthearted and borderless spirit of reggae music. Music is a way to get information across.
China Maps The following maps were produced by the U.S. Central Intelligence Agency, unless otherwise indicated.
China Maps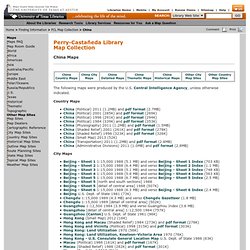 Nedostup, Rebecca. Superstitious Regimes: Religion and the Politics of Chinese Modernity. Cambridge, Mass.: Harvard University Asia Center, 2009. xiv, 459 pp. $45.00 (cloth).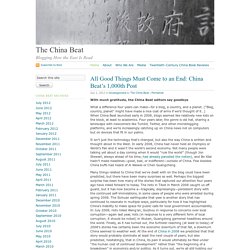 China in Africa
October 23, 2013 Bloomberg News Chinese police detained a reporter who wrote stories questioning the finances of Zoomlion Heavy Industry Science and Technology Co. Police in the southern city of Changsha, where Zoomlion is based, said on the department's microblog that a Xinkuaibao reporter surnamed Chen was detained after accusations he damaged the commercial reputation of a company that wasn't identified. One of the 15 stories Chen wrote about Zoomlion, published on May 27, accused the company of improperly accounting for sales, forcing Zoomlion to halt trading of its shares in Hong Kong and Shenzhen. The company has denied it falsified sales.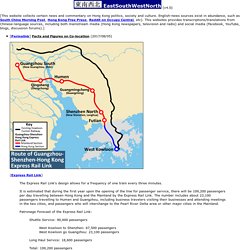 EastSouthWestNorth Blog
Inside-Out China
Modern Chinese Literature and Culture Resource Center; contemporary chinese literature; Chinese film
Jenny Chan critiques a recent TED Talk by Leslie Chang, author of "Factory Girls." Leslie Chang "received a standing ovation when she closed her TED Talk about the lives, aspirations, and—above all—upward mobility of China's workers who make our products… What is life really like for China's 262 million rural migrant workers, the core of the new working class?… Chinese workers have joined a range of actions—from lawsuits to wildcat strikes. Some of these actions have achieved remarkable success. Apple and Foxconn now find themselves in a limelight that challenges their corporate images, requiring that they at least pay lip service to labor reforms.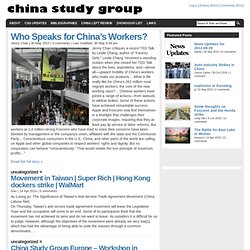 china study group