Creative
Awesome Floppy Disc Paintings By Nick Gentry
The Art of Robert Proch
Ben Turnbull, a controversial artist from London, creates unusual works of art by carving the shapes of toy weapons into wooden school desks.
Guns Carved into Wooden Desks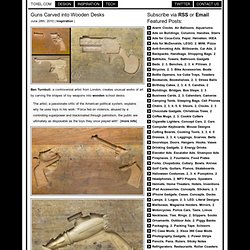 Graphic BirdWatching
Prints
Home | Monster Factory
Goodies
NOTCOT.ORG
Sprite Stitch — A video game inspired craft weblog
Video game Valentine's Day cards by PaperRockScisorz — A video game inspired craft weblog
Style Bubble
Society6 | Affordable Art Prints, iPhone Cases and T-shirts
Behance Network :: Gallery
Dreaming of Japan | Well Mades
For Katsuyo Aoki, dreams of Japan are predictive dreams. Since he's both from Japan and the dreamer in question, we can understand that, in this, probably a reduced manner. If we were to understand this initial premise better, a deeper knowledge of Japan's cultural heritage is needed.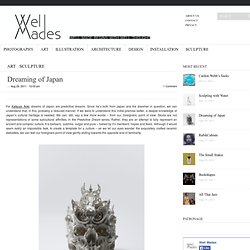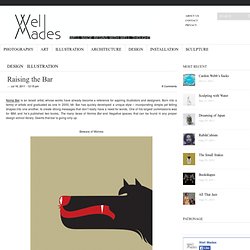 Raising the Bar | Well Mades
Noma Bar is an Israeli artist, whose works have already become a reference for aspiring illustrators and designers.
50 Cool and Creative Earring Designs.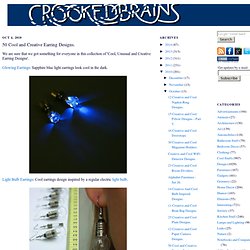 We are sure that we got something for everyone in this collection of 'Cool, Unusual and Creative Earring Designs'. Glowing Earrings: Sapphire blue light earrings look cool in the dark.
Red Dog Run
This Sculpture Is the Most Beautiful Piece of Recycling You've Ever Seen
Gallery
Mon, 01/09/2012 | Co.Design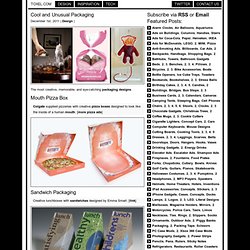 The most creative, memorable, and eye-catching packaging designs. Mouth Pizza Box
Cool and Unusual Packaging
Creative and unusual chairs made by the world's most talented designers.
15 Amazing Chair Designs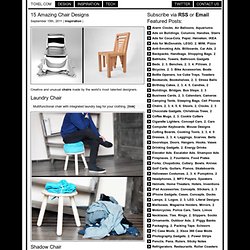 since 1999 home of design culture, leading independent publication for design, architecture, art, photography and graphics
JASON NAYLOR : > JASON NAYLOR DESIGN
Ink Stab @InkStab.Com | Tattoos Piercing Body Art
The Animal Spirits Within: Black and White Tribal Totem Animal Art | Ink Stab @InkStab.Com
Froot.nl
Eco Coke Bottle design - journal - minimally minimal
1 Kind Design
Thought Bubble - Leeds' Comic Art Festival: 12th-18th November 2012
13 sites to get your creative juices flowing | dreambeaker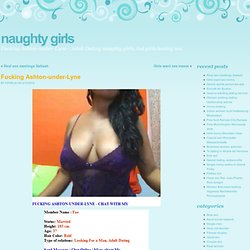 Today I thought I'd share something a little different, and hopefully useful for all you fellow dreamers- a list of some of the websites I've found that exude creative coolness or spark inspiration in some way. Some are well known and fun, others may be helpful or quietly inspiring.
My Modern Metropolis
Colossal | An art and design blog.
Beautiful Life - design news, beautiful art and luxury lifestyle
The Wondrous Design Magazine
xaXor.com
Welcome To DESIGN.inc
Inhabitat | Design For a Better World!
The Creators Project | Technology and the Brightest Young Minds in Music, Art, Film, and Design
Street Anatomy
Lifehacker, tips and downloads for getting things done
Featured illustrator: Roger Hoyos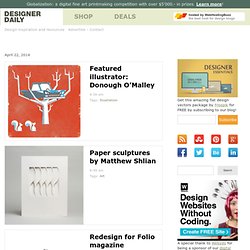 Inspiration - Design daily news
Leaf Cut Art by Lorenzo Durán
Illusion – The Most Amazing Creations in Art, Photography, Design, and Video.
Beverly Semmes Beverly Semmes is an internationally recognized artist who has been showing her work since 1990. Her first exhibitions were two concurrent project rooms at PS1 and Artist's Space in New York City.
Sweet Station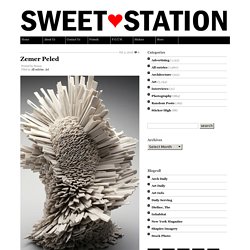 Beautiful/Decay Cult of the Creative Arts
Atlantis Art Materials & Art Supplies
The Fox Is Black
Dornob | Modern Home, Interior & Furniture Designs & DIY Ideas
Design Ideas and Tech Concepts - Toxel.com
Graphics Community with Photoshop Contests, Photography and Drawing Contests
Yanko Design - Modern Industrial Design News
CoolVibe - Digital Art, Wallpapers, Inspiration