Analytics/Optimization Industry Events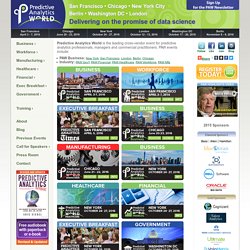 Cross-Industry, Cross-Vendor Sessions The only conference of its kind, Predictive Analytics World delivers vendor-neutral sessions across verticals such as banking, financial services, e-commerce, entertainment, government, healthcare, high technology, insurance, non-profits, publishing, and retail. And PAW covers the gamut of commercial applications of predictive analytics, including response modeling, customer retention with churn modeling, product recommendations, online marketing optimization, behavior-based advertising, fraud detection, insurance pricing and credit scoring. Why bring together such a wide range of endeavors? No matter how you use predictive analytics, the story is the same: Predictively scoring customers and other organizational elements optimizes business performance.
Predictive Analytics World: March 2011, San Francisco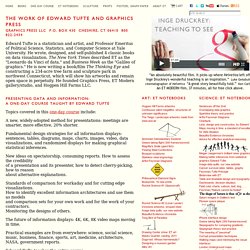 Topics covered in this one-day course include: How to make effective, credible presentations. Fundamental strategies of analytical design. Evaluating evidence used in presentations. Statistical data: tables, graphics, semigraphics. Business, scientific, research, and financial presentations. Complexity and clarity.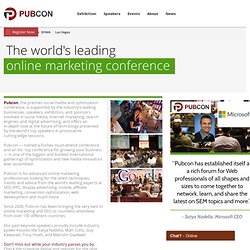 Pubcon: Conference Formats To Fit Your Needs Pubcon offers multiple learning formats to give you access to the kind of learning environment that works best for you. You can choose in-depth sessions, 1-to-1 conversations, or fast-paced breakout sessions. Pubcon Expert Spotlight Conference Dozens of in-depth sessions from leading industry speakers Expanded-length presentations let top speakers dig deeper Like a fresh keynote address every hour Among the most popular events from the past four Pubcon conferences …read more.
PubCon Social Media and Search Marketing Conferences 2010
SES is the leading global event series about search and social marketing. Focusing on tactics and best practices, SES events bring together thought leaders and industry experts—from private consultants to representatives from the search engines themselves—to provide YOU with the skills to succeed in online marketing. Look below for an event near you or read on to find out more about SES. SES London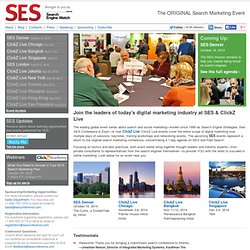 SMX: The Search Marketing Expo Conference Series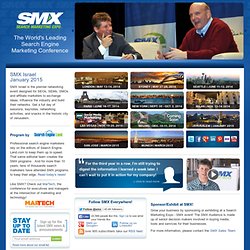 Search Marketing Expo - SMX - is the global search engine marketing conference series from Third Door Media, the company behind the Search Engine Land and Marketing Land news sites, and the Digital Marketing Depot webcast series. SMX is programmed by the sharpest minds in search marketing. Together, Search Engine Land editor-in-chief Danny Sullivan and VP of Event Editorial Chris Sherman have covered the topics, interviewed the luminaries and educated a generation of search marketers. SMX West delivers all of the search engine marketing topics and trends you need to know to stay ahead of the curve - whether you're an SEM expert or just getting started. Participate in your choice of more than 60 sessions on search engine optimization (SEO), paid search advertising (PPC), social media marketing, local and mobile search, landing page conversions and more.
Click Summit 2011, Charlotte, NC: Premier peer-to-peer roundtable event for director-level and up marketers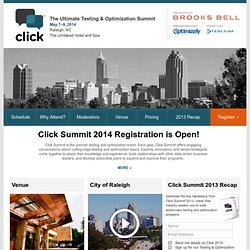 Click Summit is the premier testing and optimization event. Each year, Click Summit offers engaging conversations about cutting edge testing and optimization topics. Experts, innovators, and senior strategists come together to share their knowledge and experience, build relationships with other data-driven business leaders, and develop actionable plans to expand and improve their programs.
Webanalytics Congres
eMetrics Marketing Optimization Summit, International Web Analytics Conferences