Analytics/Optimization Industry Events
Predictive Analytics World: March 2011, San Francisco. The Work of Edward Tufte and Graphics Press. Topics covered in this one-day course include: How to make effective, credible presentations.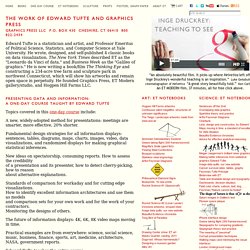 Fundamental strategies of analytical design. Evaluating evidence used in presentations. Statistical data: tables, graphics, semigraphics. Business, scientific, research, and financial presentations. Complexity and clarity. PubCon Social Media and Search Marketing Conferences 2010. SES Conference & Expo | The Leading Search & Social Marketing Event. SMX: The Search Marketing Expo Conference Series. Click Summit 2011, Charlotte, NC: Premier peer-to-peer roundtable event for director-level and up marketers. Click Summit is the premier testing and optimization event.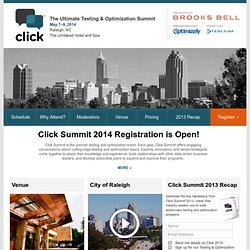 Each year, Click Summit offers engaging conversations about cutting edge testing and optimization topics. Experts, innovators, and senior strategists come together to share their knowledge and experience, build relationships with other data-driven business leaders, and develop actionable plans to expand and improve their programs. Webanalytics Congres. eMetrics Marketing Optimization Summit, International Web Analytics Conferences.
---