Music Blog
Bootie
Download the Best of Bootie 2009 CD (Version 2) Original version with DJ Lobsterdust's NirGaga no longer available, due to Copyright Infringment Notice from EMI Music Publishing. See our blog for more info. RIGHT-CLICK HERE ZIP FILE with all 22 tracks, plus artwork Also, check out the BONUS TRACKS, available for download on the left of this page.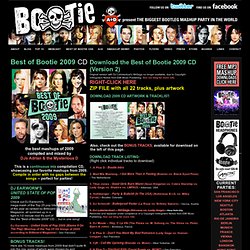 Wednesday's PULL SHAPES w/Beauchamp Greenroom Winnipeg is yet another incarnation of the address which has changed hands many times over the years. When I was first in a punk band growing up I did my first show at what was then the Alternative Cabaret, which then became Die Machine which is incidentally where I first learned to sharpen my chops as a DJ helping out with the legendary Tuesday and Friday nights spots featuring the new rave of olden times past. After many expansions and upgrades to the sound systems and decor the Die Machine was no more. To be leveled and replaced by the soul suckin American Apparel outlet store which you see today.
Voules Random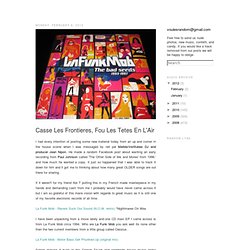 BADICAL BEATS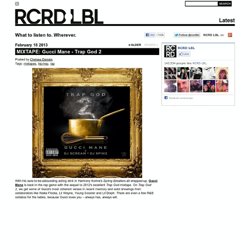 April 3 2013 STREAM: Deerhunter - Monomania "Monomania" seems like the moment where Deerhunter , clearly one of the best bands of the era at this point, enters their '90s Sonic Youth phase where things become crunchier, scuzzier and every move is a grand comment on rock spectacle.
Copy Cats
hollygonightly:Only Living Boy In New York // Dan WilsonThis is a pretty great tribute to Paul Simon. "The Rains of Castamere" by Sigur Ros Originally performed by The NationalWritten by George R.R. Martin & Ramin DjawadiGame of Thrones "Lithium" - St. Vincent (w/ Dave Grohl, Krist Novaselic, and Pat Smear)originally by NirvanaWhile the other singers who fronted Nirvana at their Rock n' Roll Hall of Fame introduction last week mostly, um, didn't do well (Joan Jett, Lorde), Annie Clark (aka St Vincent) did a bang up job of Kurt-ing things up on this heartfelt version of "Lithium". "Heart of Glass" by Arcade Fire Originally by Blondie * Live in Houston 4.9.14 via Arcade Fire Tubes. "At My Most Beautiful" by Jigsaw Puzzle GlueOriginally by R.E.M.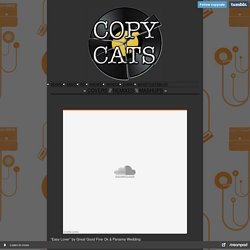 Colin Stetson – New History Warfare Vol. 3: To See More Light (Constellation)Listen: And In Truth "Stetson is a master of overblowing and multi-phonics, which he has finessed to the point where his circular breathing has allowed him to play what sound like several other entirely distinct lines of song. Others frequently achieve this by live sampling and looping, but Stetson insists he doesn't use such techniques, which makes for an extraordinary aural illusionism… The 15 minute 'To See More Light' contains Stetson's most confounding sleight of hand, as he layers up gasping, phlegmatic fanfares over Nautilus-spiralling notes, then produces the real-time effect of slurred tape speed. On 'Hunted' and 'Brute', though, he pushes overblowing into realms previously only accessible with a fuzz pedal, finding timbres in the saxophone's tubing that are rarely brought out.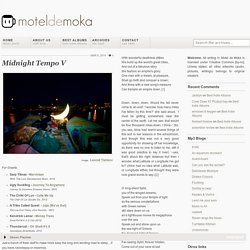 Too Many Sebastians
Links about "mitsubishi": Watch Science Videos Videos on Science, Space, Health,Technology, News and more! Celeb Moms and Stars As Kids See these celeb moms and stars as they were kids!!
THE DOCKING STATION
blouse.
Guys, I'll level with you - I'm leaving Sydney. Leaving for good. I'm moving soon; leaving my sweet middle-class life und moving to Berlin.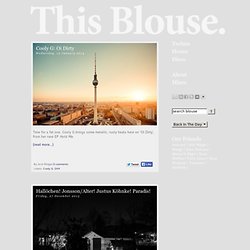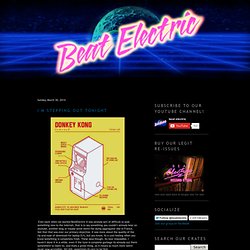 Me and my friend Jimmy were looking through a couple of crates of records at a spot in a forgotten corner of San Jose, the old geezer who ran the place sold doo wop and surf rock but had come into a few boxes of old 80's dance 12" singles that his was offloading indiscriminately, siloed like garbage in a corner, safely away from his Elvis memorabilia. We took a box each and flipped through, handing scores back and forth and Jimmy in his benevolence passed me this beaten e.p by The Pool, telling me it was good and that I could have it as he already had a copy, I didn't thank him, for that would be admitting ignorance, and put it in my pile to be forgotten. I was looking through my shelves today for a totally different record that I was planning on recording to post up, couldn't find it as per usual, but in the process came across this record and finally decided to give it a listen. It was good.
Danger! Danger!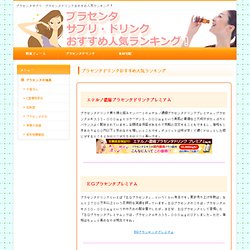 エテルノ濃縮プラセンタドリンクプレミアム プラセンタドリンク乗り換え組みナンバー1のエテルノ濃縮プラセンタドリンクプレミアム。プラセンタエキス33,000mgとコラーゲン5,000mgという美肌に最適な2大成分がたっぷりとバランスよく配合されています。
Lux Illuminates
Freelance Whales released their sweet and honest debut album in September of 2009, but audiences are still getting acquainted with this tenderhearted quintet from Brooklyn. Frontman Judah Dadone (lead vocals, banjo, acoustic and electric guitar, synthesizer, bass) drew on inspiration for the band's name from a near drowning incident in the Sea of Galilee when growing up in Jerusalem. He was seeking to grasp a rock to prove that he reached the bottom, but found it difficult to regain the surface. The Israeli fisherman who pulled him out called him in Hebrew a "freedom whale", which then metamorphosed into the increasingly familiar name.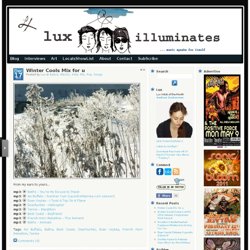 The White Panda