Weight Loss & Fitness
Get flash to fully experience Pearltrees
Amazing exercise options are just a mouse-click away—from yoga to ballet to bootcamp. Here are four live online workout sites that are worth their weight in sweat. Check them out! MORE: Toning Shoes: Do They Really Work?
The secret to dropping pounds and inches quickly is high-intensity walking workouts. But don't panic—you don't have to run for miles or lift 50-pound dumbbells. What's high intensity for someone who's less fit may be low for you, or vice versa. The point is to push out of your comfort zone so you boost your calorie burn an extra 25 to 50 percent in the same amount of time—and incinerate another 75 calories over the course of the day to boot. This firm-up plan consists of three parts: a walking workout to burn fat, body shaping with weights, and tummy-toning calisthenics.
play with the interactive version | find out more about this image | post a comment | see the data | look at the previous version (Jan 2010) UPDATE 2 – 1st October 2010 - Top to bottom revise of the data .
This is part of The Lifehacker Workout , a 3-4 day exercise program for normal people. Our full-body workout combines 20 minutes of cardio with strength exercises. (You can separate the cardio and the strength exercises if you like, doing the walking/jogging in the a.m., for example, and the exercises in the p.m.)
Thinkstock Preparation: In a food processor, combine garlic and cannellini beans with lemon juice and process until smooth. Mix in oil, cumin, chili powder, salt and pepper and process until blended. Add 3 tablespoons cilantro and pulse until mixed. Place in bowl and garnish with cilantro.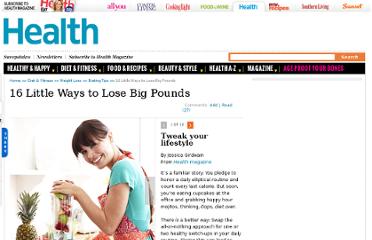 Credit: Terry Doyle By Jessica Girdwain From magazine It's a familiar story: You pledge to honor a daily elliptical routine and count every last calorie. But soon, you're eating cupcakes at the office and grabbing happy hour mojitos, thinking, . There a better way: Swap the all-or-nothing approach for one or two healthy switch-ups in your daily routine.
Superfoods build bones, prevent chronic diseases, improve your eyesight, and even keep your mind sharp.