Blogi
Pijaru Koksu Blog | Blog marketingowy o małym, ale skutecznym zasięgu!
Internet-News.com.pl: serwis o nowych technologiach z artykułami o firmach technologicznych, start up'ach oraz rynkach e-commerce i mobile. Relacje z wydarzeń, ciekawe wywiady, platforma komunikacyjna dla start up'ów.
EzineMark - Free Content Article Directory
www.topsite.com/goto/posterize.us
Social media is now an essential component of doing business. It's important for marketers to keep up with the ever-changing social media landscape so they can align their strategies and achieve the results they're looking for. Here's a list (in alphabetical order) of some great social media blogs to read in 2012. They all have unique voices that cover a wide range of social-media-related topics, news, and trends. From tips to tactics to measurement, there's something for everybody.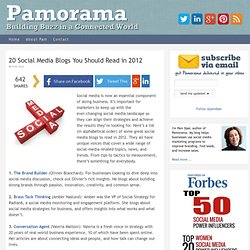 20 Social Media Blogs You Should Read in 2012
Blogs
Google+ Login Businesses embarking on an online marketing campaign can no longer ignore or discount the social impact of Google+ on the marketplace. While initially faltering after its kickoff in September 2011, it has since risen to be the second most popular social media site after Facebook, according to the latest GlobalWebIndex survey [ http://globalwebindex.net/blog/ ]. And whether or not you agree with the analysis (there's some controversy about the way active users are accounted for in Google applications), there's no doubt it is a rising star in the social media realm, and one that will have to be reckoned with soon, if not immediately. Google+ is here to stay.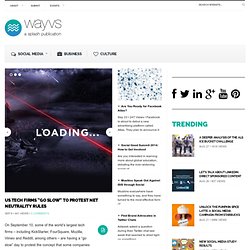 Hubze Social Media Blog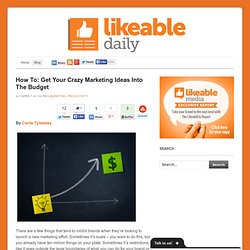 By Michele Weisman Last week I attended the Women in Strategy Summit . Strategy leaders, executives, and innovators from American Express, Lego, Pepsi, Dell, and other large brands explored the role of women in strategy, planning decisions, and the underlying global effects on businesses.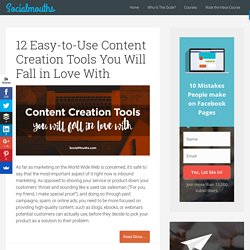 This is a guest post by Shanna Mallon from Straight North . In 2013 more than ever, content will be king. According to Doug Kessler, Creative Director and Co-Founder of Velocity Partners , it's "tipping this year because it works. Content is the engine of search, social, outbound and Web marketing."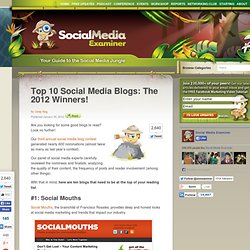 Top 10 Social Media Blogs: The 2012 Winners!
Are you looking for some good blogs to read? Look no further! Our third-annual social media blog contest generated nearly 600 nominations (almost twice as many as last year's contest). Our panel of social media experts carefully reviewed the nominees and finalists, analyzing the quality of their content, the frequency of posts and reader involvement (among other things).