Flipped Out
Introduction to our Flipped Classroom
What is the Flipped Model?
Top 5 Web Tools my students will be using this next year in my Flipped Class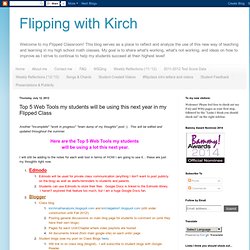 Another "incomplete" "work in progress" "brain dump of my thoughts" post :). This will be edited and updated throughout the summer. Here are the Top 5 Web Tools my students will be using a lot this next year. I will still be adding to the notes for each web tool in terms of HOW I am going to use it... these are just my thoughts right now.
Mr. Driscoll's Class Wiki - Flipped Class Screencasts
Managing the Flipped Classroom Using Google Apps - Google Docs
Managing the Flipped Classroom Using Google Apps - Google Docs
FlippedLearning - EduVision
History Teachers - Teacher Vodcasting and Flipped Classroom Network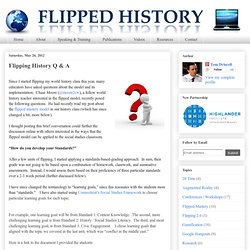 Since I started flipping my world history class this year, many educators have asked questions about the model and its implementation. Chase Moore (@moore2cw), a fellow world history teacher interested in the flipped model, recently posed the following questions. He had recently read my post about the flipped mastery model in our history class (which has since changed a bit, more below). I thought posting this brief conversation could further the discussion online with others interested in the ways that the flipped model can be applied to the social studies classroom. "How do you develop your Standards?" After a few units of flipping, I started applying a standards-based-grading approach.
Flipping History Q & A
Goal of Flipped Class Videos: Content Delivery or Skill Development?
It recently occurred to me that since I began flipping my world history course in January, each of my screencast lectures have had one overarching goal: content delivery. This has proven tremendously useful and the early results, considering both assessment scores and student feedback, are encouraging. Transitioning some of my direct instruction (content delivery through lecture) to video has helped students understand some of the major events and themes from world history, but I realized what I should shift my focus towards: building social studies skills! Since most of our class time is now spent working on such skills, I now have a better understanding of their ability to engage in such learning experiences. In sum, I overestimated many of their abilities.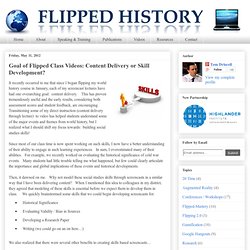 Flipped-History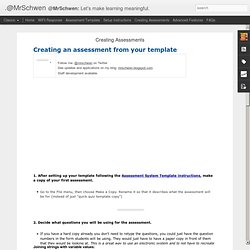 Creating an assessment from your template1. After setting up your template following the Assessment System Template instructions, make a copy of your first assessment. Go to the File menu, then choose Make a Copy. Rename it so that it describes what the assessment will be for (instead of just "quick quiz template copy") 2. Decide what questions you will be using for the assessment.
Creating Assessments
Web editing can be difficult for many and making something user friendly for students can be even more difficult. I've been playing around with Google Sites recently and have found a useful tool for presenting students with an organized list of video resources created for the class. What I'm doing is entering in a video link, the learning objective for the particular video and the textbook resource section associated with the video (as an additional resource). Using a new favorite formula of mine hyperlink(link, text) the link and learning objective are combined together very quickly. What I like is what displays on the webpage can be resorted and filtered.
Video organization using Google Spreadsheets and Sites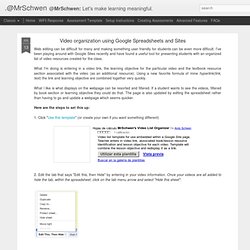 Flipped Classroom Network
Dr. Lodge McCammon's FIZZ - Education - Raleigh, NC
Mr. Driscoll's Class Wiki - Flipping the Class
| THE BASICS | Flipped Class In Action | | Getting Started | Student Access | | Flipped Class Resources Welcome to today's professional development session on "flipping the class!" Below is a brief intro video (also a sample screencast...) What is a "flipped class?" First, it is not (I repeat NOT) simply having students watch Khan Academy videos at school.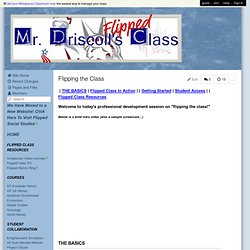 Concluded in August, 2013. The FIZZ method refers to the use of extraordinarily simple video recording techniques that educators can use to transform teaching and learning. This method can be used to successfully flip the classroom by having teachers film and reflect on their lecture content.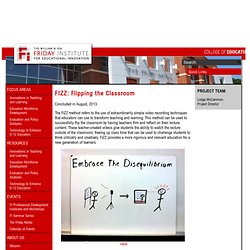 The Flipped Classroom Infographic | ShowMe Voice Blog | Interactive Learning Community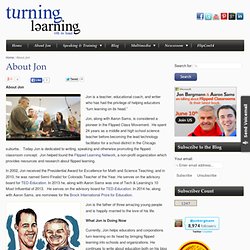 About Jon Jon is a teacher, educational coach, and writer who has had the privilege of helping educators "turn learning on its head." Jon, along with Aaron Sams, is considered a pioneer in the Flipped Class Movement.
About | Flipped Learning