Honestly WTF
DIY Anklet. These days we're all for reincorporating the anklet back into our accessory repertoire.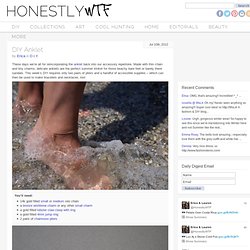 Made with thin chain and tiny charms, delicate anklets are the perfect summer trinket for those beachy bare feet or barely there sandals. This week's DIY requires only two pairs of pliers and a handful of accessible supplies – which can then be used to make bracelets and necklaces, too! DIY Tie Dye Denim. Whether it be shibori or with bleach, warm weather brings out our utmost desire for tie dying – especially when it comes to bleaching as working outdoors for this project is a necessity.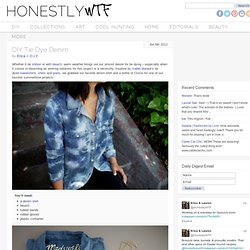 Inspired by Isabel Marant's tie dyed sweatshirts, shirts and jeans, we grabbed our favorite denim shirt and a bottle of Clorox for one of our favorite summertime projects. You'll need:a denim shirtbleachrubber bandsrubber glovesplastic container If the shirt hasn't already been pre-washed, run it through the washing machine first. DIY Macrame Bracelet.
Growing up by the beach in Southern California, the ability to knot a macrame bracelet was practically a right of passage.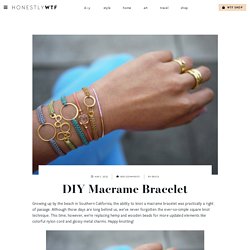 Although those days are long behind us, we've never forgotten the ever-so-simple square knot technique. This time, however, we're replacing hemp and wooden beads for more updated elements like colorful nylon cord and glossy metal charms. Happy knotting! You'll need: DIY Studded Sneakers. Studding sneakers has been on our DIY to-do list for awhile now.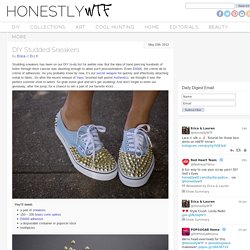 But the idea of hand piercing hundreds of holes through thick canvas was daunting enough to allow such procrastination. Enter E6000, the crème de la crème of adhesives. H&M + HonestlyWTF = DIY. DIY Découpage Floral Bag When H&M asked us to DIY a boho-inspired item for their summer issue, découpage was the first thing that came to mind.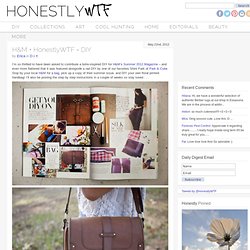 Honestly, does it get any better than customizing a simple handbag with a […] DIY Friendship Necklace As soon as Lauren and I saw this editorial in Flare Magazine, we knew we had to recreate these awesome, friendship bracelet-like necklaces. DIY Lace Earrings. Dolce & Gabbana's Spring '11 collection undoubtedly furthered our already fanatical obsession with lace.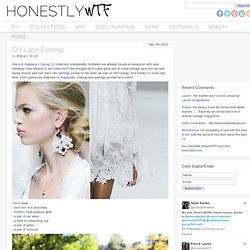 Honestly, how dreamy is the collection?! We thought we'd make good use of some vintage lace trim we had laying around and turn them into earrings similar to the ones we saw on the runway. And thanks to some tips from a DIY previously featured on Poppytalk, making lace earrings proved be a cinch! Mix equal parts glue to water in a bowl. Cut your shapes from your lace trim or doily, making sure both pieces are symmetrical. DIY Braided Hex Nut Bracelet. We're nuts for nuts.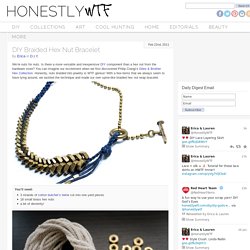 Is there a more versatile and inexpensive DIY component than a hex nut from the hardware store? You can imagine our excitement when we first discovered Philip Crangi's Giles & Brother Hex Collection. DIY Color Block Moccasins. Our love of Minnatonka moccasins and obsession with Balenciaga's Fall 2010 shoes made this DIY we created for Foam Magazine a no brainer.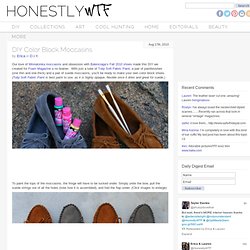 With just a tube of Tulip Soft Fabric Paint, a pair of paintbrushes (one thin and one thick) and a pair of suede moccasins, you'll be ready to make your own color block shoes. (Tulip Soft Fabric Paint is best paint to use, as it is highly opaque, flexible once it dries and great for suede.) To paint the tops of the moccasins, the fringe will have to be tucked under. Simply untie the bow, pull the suede strings out of all the holes (note how it is assembled), and fold the flap under. (Click images to enlarge) DIY Friendship Necklace. As soon as Lauren and I saw this editorial in Flare Magazine, we knew we had to recreate these awesome, friendship bracelet-like necklaces.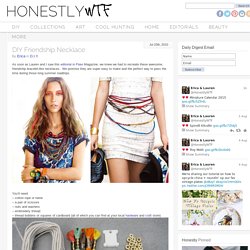 We promise they are super easy to make and the perfect way to pass the time during those long summer roadtrips. To make a 2-tone necklace, cut a long piece of rope and wrap two different colors of embroidery thread around its own bobbin. Tie a starter knot along with the two colored threads you are using, leaving at least 3 inches of slack, Tape down the slack to a flat surface or safety pin it something that will help keep it in place (feeling nostalgic yet?). Lay the color that isn't being used (shown here in purple) in your left hand, along with the rope, and hold them taut. DIY Woven Chain Bracelet. Chain link bracelets, with colorful threads woven through them, have been popping up here and there.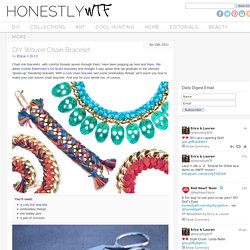 We adore Aurèlie Bidermann's Do Brazil bracelets and thought it was about time we graduate to the ultimate "grown-up" friendship bracelet. With a curb chain bracelet and some embroidery thread, we'll teach you how to make your own woven chain bracelet. And one for your bestie too, of course. DIY Wrap Bracelet. You should all know by now that we are all about stacking bracelets on our wrists. The more, the better. In fact . . . the most, the best! With that being said, we'll show you how to master a version of the ever so popular wrap bracelet. DIY Chainmail Necklace. You'll need: Start by separating the jump rings into two halves: 175 open and 175 closed. Thread three closed jump rings onto an open jump ring. Close the ring. DIY Embellished Friendship Bracelets.
The weather is warming up and my wrists are feeling rather lonely and bare after hiding under long sleeves all season long. But after digging up last year's DIY friendship bracelets, I realized they desperately needed sparkly and shiny upgrades. Today we're showing you three easy ways to embellish your friendship bracelets, making them all grown up . . .
To add rhinestones, you'll need:a chevron friendship bracelet (tutorial found here)5-6" crystal rhinestone chain (last used here)1 yard of embroidery flossan embroidery needlea pair of scissors Thread the needle with embroidery floss and tie the end into a double knot. DIY Elbow Patch. While perusing Pinterest one evening, I came across an intriguing tutorial on the wonderful art of needle felting. I had to learn more – especially after realizing it entailed repeatedly stabbing a needle up and down into a piece of fabric or sweater. A satisfying stress reliever that results in something wearable? Sign me up. And now that I can officially call myself a needle felting maven (and nerd), trust me when I say that you're going to have a blast with this technique.
So grab your supplies and let's get started on a pair of heart shaped elbow patches! DIY Sugar Lip Scrub. This week we're turning to our friend and beauty expert Sarah Howard, of Beauty Banter, who is indulging us with her delectable brown sugar lip scrub tutorial. Inspired by one of her favorite lip polishes, Sarah recently discovered how simple it was to make her own organic version at home. The timing couldn't be more ideal as winter's typically unforgiving weather has us yearning for soft and smooth lips! (PS Be sure to head over to Beauty Banter for our favorite beauty products & tips!) You'll need:pure coconut oilhoneybrown sugara teaspoona tablespoona mixing bowlan empty jar or 2.5 oz baby food jarlabels (optional) Make sure that the coconut oil is solid enough to scoop up but soft enough for a spoon to dig in. DIY Braided Bead Bracelet.
DIY Pom Pom Beanie.
---