Honestly WTF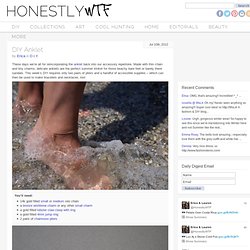 DIY Anklet
These days we're all for reincorporating the anklet back into our accessory repertoire. Made with thin chain and tiny charms, delicate anklets are the perfect summer trinket for those beachy bare feet or barely there sandals. This week's DIY requires only two pairs of pliers and a handful of accessible supplies – which can then be used to make bracelets and necklaces, too!
Whether it be shibori or with bleach, warm weather brings out our utmost desire for tie dying – especially when it comes to bleaching as working outdoors for this project is a necessity.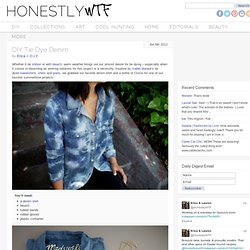 DIY Tie Dye Denim
Growing up by the beach in Southern California, the ability to knot a macrame bracelet was practically a right of passage.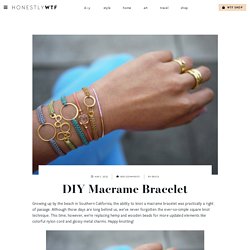 Studding sneakers has been on our DIY to-do list for awhile now. But the idea of hand piercing hundreds of holes through thick canvas was daunting enough to allow such procrastination. Enter E6000, the crème de la crème of adhesives.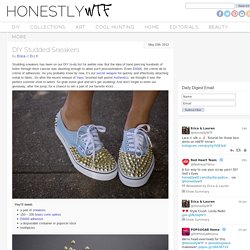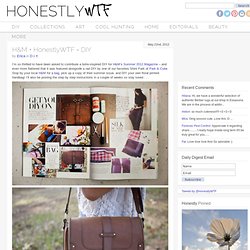 DIY Découpage Floral Bag
H&M + HonestlyWTF = DIY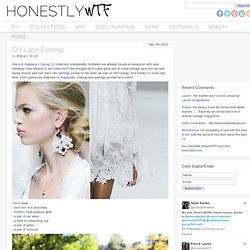 Dolce & Gabbana's Spring '11 collection undoubtedly furthered our already fanatical obsession with lace. Honestly, how dreamy is the collection?!
We're nuts for nuts. Is there a more versatile and inexpensive DIY component than a hex nut from the hardware store? You can imagine our excitement when we first discovered Philip Crangi's Giles & Brother Hex Collection.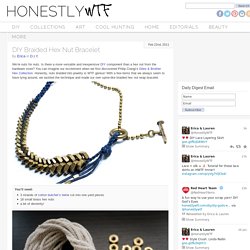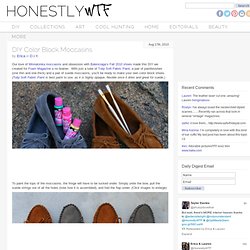 Our love of Minnatonka moccasins and obsession with Balenciaga's Fall 2010 shoes made this DIY we created for Foam Magazine a no brainer. With just a tube of Tulip Soft Fabric Paint, a pair of paintbrushes (one thin and one thick) and a pair of suede moccasins, you'll be ready to make your own color block shoes.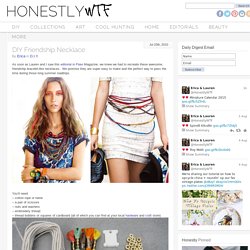 As soon as Lauren and I saw this editorial in Flare Magazine, we knew we had to recreate these awesome, friendship bracelet-like necklaces.
Chain link bracelets, with colorful threads woven through them, have been popping up here and there.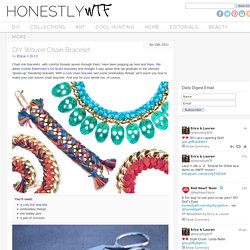 You should all know by now that we are all about stacking bracelets on our wrists.
The weather is warming up and my wrists are feeling rather lonely and bare after hiding under long sleeves all season long.
While perusing Pinterest one evening, I came across an intriguing tutorial on the wonderful art of needle felting. I had to learn more – especially after realizing it entailed repeatedly stabbing a needle up and down into a piece of fabric or sweater.
This week we're turning to our friend and beauty expert Sarah Howard, of Beauty Banter, who is indulging us with her delectable brown sugar lip scrub tutorial. Inspired by one of her favorite lip polishes, Sarah recently discovered how simple it was to make her own organic version at home.
DIY Pom Pom Beanie