Dictionaries
This is an exciting new monolingual dictionary of 35,000 business-related words, phrases and meanings designed to be used by business students and anyone using or encountering English in their work. Select "Business English" from the list of dictionaries at the top of any page on Cambridge Dictionaries Online to search this dictionary. Favourite Entries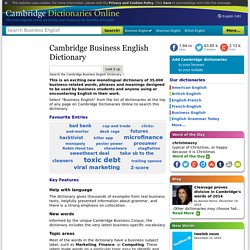 Home page for Business English Dictionary
American Heritage Dictionary - Search
Home - Brill Reference
Sketch Engine: SketchEngine
The Sketch Engine The Sketch Engine is for anyone wanting to research how words behave. It is a Corpus Query System incorporating word sketches, one-page, automatic, corpus-derived summaries of a word's grammatical and collocational behaviour.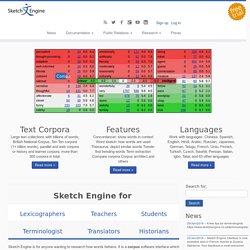 英語辞書 by NAVER
American Heritage Dictionary - Search
BusinessDictionary.com - Online Business Dictionary
The GDEX Demo Dictionary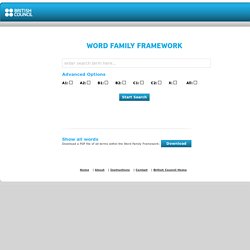 British Council - Word Family Framework
About What is the Word Family Framework (WFF)? The WFF is a searchable resource for teachers and learners of English that consists of over 22,000 vocabulary items arranged according to six levels aligned to the Common European Framework of Reference.
Oxford Dictionaries Online
Bring Your Own Thoughts
The meanings and origins of sayings and phrases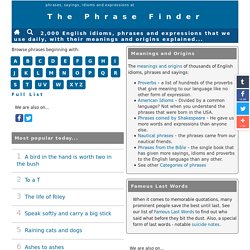 The Phrase Thesaurus is a writers' resource that stimulates ideas for headlines, copy, song lyrics, fiction writing etc. Journalists, advertising copywriters, songwriters, or anyone interested in creative writing in English, can benefit from this ideas generator. find out more and try the free sample... When it comes to memorable quotations, many prominent people save the best until last. See our list of Famous Last Words to find out who said what before they bit the dust.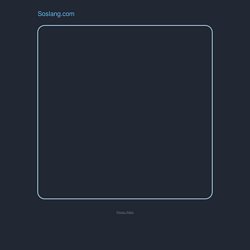 1)A term used when asking to smoke a (joint/blunt/cigarette) after the person(s) currently smoking it. 2)A term used when asking for the remains (ends/ass) of something eg: (food/drink) 3)A term used when asking for usage of something after somebody is finished with it eg: (bike/doodle jump) Stoner1: Blow after on d blunt?
SoSlang - The Dictionary Which You Define!
Word Information - an English dictionary about English vocabulary words and etymologies derived primarily from Latin and Greek word origins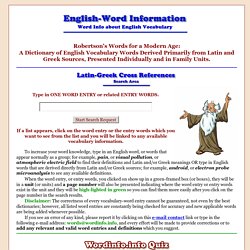 Robertson's Words for a Modern Age: A Dictionary of English Vocabulary Words Derived Primarily from Latin and Greek Word Families, Presented Individually and in Family Units, Plus Vocabulary Quizzes. Type in ONE WORD ENTRY or related ENTRY WORDS. If a list appears, click on the word entry or the entry words which you want to see from the list and you will be linked to any available vocabulary information. To increase your word knowledge, type in an English word, or words that appear normally as a group; for example, pain, or visual pollution, or atmospheric electric field to find their definitions and Latin and/or Greek meanings OR type in English words that are derived directly from Latin and/or Greek sources; for example, android, or electron probe microanalysis to see any available definitions.
Oxford Advanced Learner's Dictionary at OxfordLearnersDictionaries.com | Find the meanings and definitions of words at OxfordLearnersDictionaries.com
Online Etymology Dictionary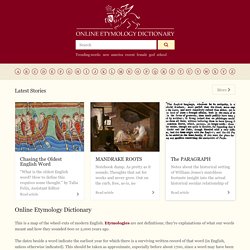 This is a map of the wheel-ruts of modern English. Etymologies are not definitions; they're explanations of what our words meant and how they sounded 600 or 2,000 years ago. The dates beside a word indicate the earliest year for which there is a surviving written record of that word (in English, unless otherwise indicated). This should be taken as approximate, especially before about 1700, since a word may have been used in conversation for hundreds of years before it turns up in a manuscript that has had the good fortune to survive the centuries. The basic sources of this work are Weekley's "An Etymological Dictionary of Modern English," Klein's "A Comprehensive Etymological Dictionary of the English Language," "Oxford English Dictionary" (second edition), "Barnhart Dictionary of Etymology," Holthausen's "Etymologisches Wörterbuch der Englischen Sprache," and Kipfer and Chapman's "Dictionary of American Slang."
OneLook Dictionary Search
Macmillan Dictionary and Thesaurus: Free English Dictionary Online
Love English Awards 2013 Vote NOW for best blog and best website! 90 blogs and websites have been nominated by you in the categories 'best blog' and 'best website' about the English language in 2013.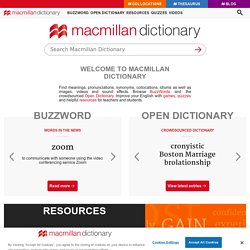 glosbe