Blogging
Rss
Top 18 most downloaded WordPress plugins ever. One of the fastest and easiest ways to improve your WordPress site is to activate a plugin.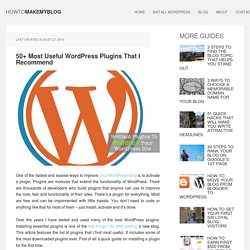 There are thousands of developers who build plugins that anyone can use to improve the look, feel and functionality of their sites. There's a plugin for everything. Most are free and can be implemented with little hassle. You don't need to code or anything like that for most of them – just install, activate and it's done. A Collection of Wordpress Tutorials, Tips and Themes. As far as CMSs go, WordPress is a phenomenon.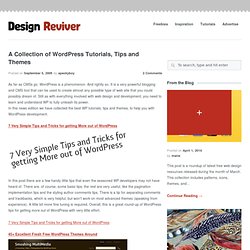 And rightly so. It is a very powerful blogging and CMS tool that can be used to create almost any possible type of web site that you could possibly dream of. Still as with everything involved with web design and development, you need to learn and understand WP to fully unleash its power. In this news edition we have collected the best WP tutorials, tips and themes, to help you with WordPress development. 36 Beautiful and "NEW" Free Wordpress Themes | Dzine Blog. Learn how to earn $125 or more per hour as a freelancer - Click Here You can never have a too wide choice of templates for your blog, especially if you're the experimenting type,Free Themes don't have to be ugly, cluttered,and boring, Some Designers offer high quality WordPress Themes for free you can use them for your personal and commercial projects without any restrictions.
Here Dzineblog Presents 36 Best Stylish Free wordpress Themes Still, before using some of the themes, throw a glance at the license agreements Checkout the whole list they are presented in no particular order, Hope this collection would have something you like. Here we go! 1. 10 Essential Plugins Every Modern Wordpress Site Should Have. Top 150 Social Marketing Blogs « eCairn's Blog. If you want to know more on how we map communities and how to market to industry influencers, we're organizing a FREE webinar next week and would be very happy to have you with us, click here to register: Webinar We just implemented our "influence ranking algorithm".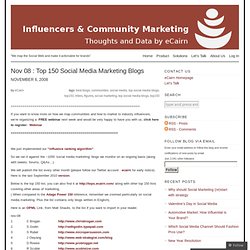 So we ran it against the ~1000 'social media marketing' blogs we monitor on an ongoing basis (along with tweets, forums, Q&As…). We will publish the list every other month (please follow our Twitter account : ecairn for early notice). Here is the last September 2010 version. The Future of Blogging Revealed - ReadWriteWeb. There has been a lot of talk lately about the changing face of the blogging landscape.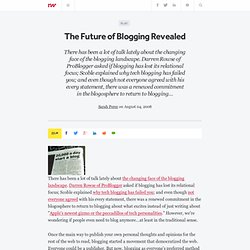 Darren Rowse of ProBlogger asked if blogging has lost its relational focus; Scoble explained why tech blogging has failed you; and even though not everyone agreed with his every statement, there was a renewed commitment in the blogosphere to return to blogging about what excites instead of just writing about "Apple's newest gizmo or the peccadillos of tech personalities. " However, we're wondering if people even need to blog anymore...at least in the traditional sense. Once the main way to publish your own personal thoughts and opinions for the rest of the web to read, blogging started a movement that democratized the web.
Everyone could be a publisher. But now, blogging as everyone's preferred method of communication may be over. Ten Common Objections to Social Media Adoption and How You Can R. Steve Outing wrote a very good article at Editor and Publisher on Friday about the need for cultural change inside the newpapers around the US (found via the wonderful CyberJournalist.net).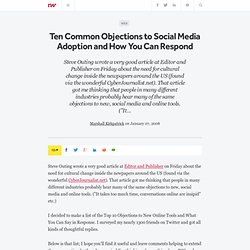 That article got me thinking that people in many different industries probably hear many of the same objections to new, social media and online tools. ("It takes too much time, conversations online are insipid" etc.) I decided to make a list of the Top 10 Objections to New Online Tools and What You Can Say in Response. Guy K The Nine Best Story Lines for Marketing. Lois Kelly is the author of Beyond Buzz: The Next Generation of Word-of-Mouth Marketing.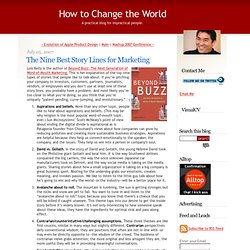 This is her explanation of the top nine types of stories that people like to talk about. If you're pitching your company to investors, customers, partners, journalists, vendors, or employees and you don't use at least one of these story lines, you probably have a problem. My default WordPress setup: 17 must-have plugins. WordPress is my favorite blogging platform and has been for a long time.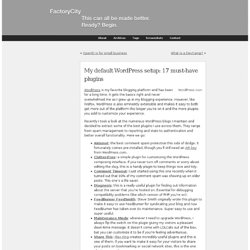 It gets the basics right and never overwhelmed me as I grew up in my blogging experience. However, like Firefox, WordPress is also eminently extensible and makes it easy to both get more out of the platform the longer you're on it and the more plugins you add to customize your experience. Static Front Page Plugin For WordPress | Semiologic. In Software you will find the specific details of individual plugins/widgets for the Wordpress theme and how to use them.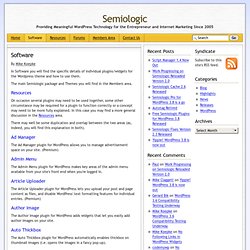 The main Semiologic package and Themes you will find in the Members area. On occasion several plugins may need to be used together, some other circumstance may be required for a plugin to function correctly or a concept may need to be more fully explained. In this case you may find a more general discussion in the Resources area. 7 More Sure-Fire Headline Formulas That Work. 10 Sure-Fire Headline Formulas That Work. The strangest, easiest way to lose weight. « The myth of "keeping up" | Main | Which user's life have you changed today?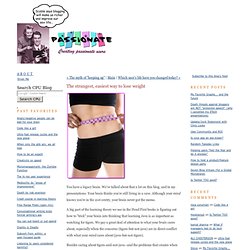 » The strangest, easiest way to lose weight You have a legacy brain. Harness the Marketing Power of Blogs. This newest web phenomenon can rank your site #1 in search engines, boost traffic and sales, and establish you as an expert in your industry. I'm sure you've heard about one of the biggest things to hit the web in the last few years: blogging. A "blog" (derived from the term "web log") is basically just a website with two key differences: First, it's extremely easy to add information to it.
---