Mac
Dan Rodney's List of Mac OS X Keyboard Shortcuts & Keystrokes. I like to figure out the fastest way to do things.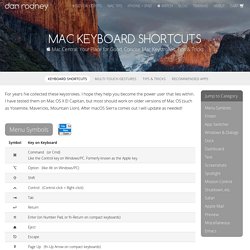 I hope these keystrokes help you to become the power user that lies within. These keystrokes have been tested in Mac OS X Mavericks (Mac OS 10.9) but most should work on other versions of Mac OS (10.8 Mountain Lion, 10.7 Lion, etc.). Menu Symbols Finder. Time Machine on a network drive. Apple's Time Machine software made it easy to set up incremental back-ups, with one exception: network drives (more formally called network-attached storage, or NAS).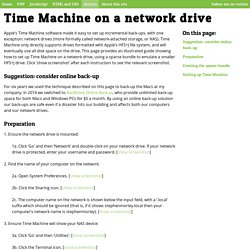 Time Machine only directly supports drives formatted with Apple's HFS+J file system, and will eventually use all disk space on the drive. This page provides an illustrated guide showing how to set up Time Machine on a network drive, using a sparse bundle to emulate a smaller HFS+J drive. Click 'show screenshot' after each instruction to see the relevant screenshot.
Note: Many network drives fail to function with Time Machine under OS X Lion due to Apple's decision to require DHX2 authentication. How To Force Close Unresponsive Applications In Mac OS X Lion. It happens sometimes that an application refuses to quit or becomes unresponsive and the close button at this case will be useless and the user will be obliged to force quit the application.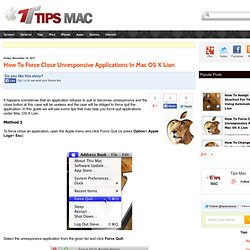 In this guide we will see some tips that may help you force quit applications under Mac OS X Lion.Method 1 To force close an application, open the Apple menu and click Force Quit (or press Option+ Apple Logo+ Esc): Select the unresponsive application from the given list and click Force Quit: 50 Mac Apps With Well Designed & Sexy Interfaces. November 19th, 2009 50 Mac Apps With Well Designed & Sexy Interfaces Ever since the roundup of 21+ essential iPhone apps with sexy interfaces crashed my hosting server (!)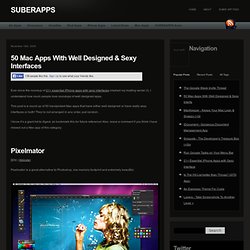 , I understand how much people love roundups of well designed apps. This post is a round up of 50 handpicked Mac apps that have either well designed or have really sexy interfaces or both! OmmWriter Dana II (Mac OSX). » RapidShare file - Your Future Downloads Popular rapidhsrare fileserve megaupload mediafire file and download. → For MacOSX OmmWriter Dana II | Mac OSX | 112 MB OmmWriter is a simple text processor that firmly believes in making writing a pleasure once again, vindicating the close relationship between writer and paper.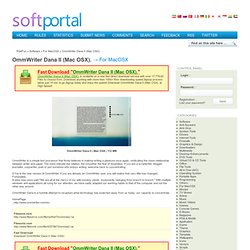 The more intimate the relation, the smoother the flow of inspiration. Mac OS X Hints. Mac App | AppKed. Open Source Mac - Free Mac software, all open-source, all OS X.
---