Citat
"We're so self-important. So arrogant. Everybody's going to save something now.
Quotes About Humanity (629 quotes)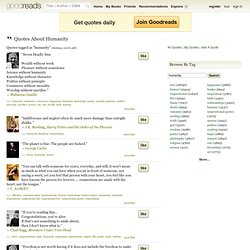 100 quotes - to inspire, challenge, encourage, remind, enlighten, reassure, soothe, and delight. In celebration of 100 blog posts at Always Well Within ! Many thanks to my wonderful readers and subscribers. It's such a privilege and a joy to write for you. I am also deeply grateful to all those who have supported, encouraged, and taught me along the way since the inception of Always Well Within .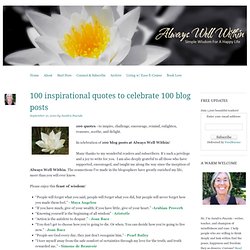 "Lo que hace a las mujeres particularmente aptas para cuidarnos y educarnos en la primera infancia, es que ellas mismas continúan siendo pueriles, fútiles y limitadas de inteligencia. Durante toda su vida son niños grandes, una especie de intermedio entre el niño y el hombre. [...]" (p. 59)
Schopenhauer y las mujeres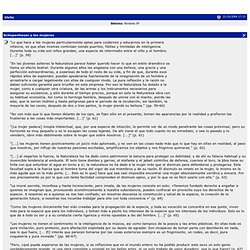 28 More-Than-Just-Clever Remarks From One of History's Great Smartasses | Raptitude.com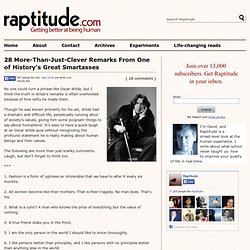 No one could turn a phrase like Oscar Wilde, but I think the truth in Wilde's remarks is often overlooked because of how witty he made them. Though he was known primarily for his wit, Wilde had a dramatic and difficult life, perpetually running afoul of society's values, giving him some poignant things to say about humankind. It's easy to have a quick laugh at an Oscar Wilde quip without recognizing the profound statement he is really making about human beings and their values. The following are more than just snarky comments. Laugh, but don't forget to think too.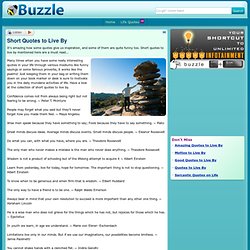 Many times when you have some really interesting quotes in your life through various mediums like funny sayings or some famous proverbs, it works like the psalms! Just keeping them in your bag or writing them down on your book marker or desk is sure to motivate you in the daily mundane activities of life. Have a look at the collection of short quotes to live by. Confidence comes not from always being right but not fearing to be wrong. ~ Peter T. Mcintyre People may forget what you said but they'll never forget how you made them feel. ~ Maya Angelou