Theology
Get flash to fully experience Pearltrees
Since my mother's death, two years ago this past Saturday, I have radically altered the way I write in sympathy cards. I now know more fully the pain that death brings into our lives and, having received so many impacting words of comfort from others, am convinced I will never write in a card the same way I did before. A couple weeks ago, while putting up her decorations, my wife found dozens of sympathy cards mixed up in a box of old Christmas cards. She separated them out for me and placed them on my dresser.
Recently, I completed a series of posts listing what I believe to be the most helpful books on each locus of systematic theology. Prior to that I completed a series of posts listing what I found to be the most helpful commentaries on each book of the Bible. What I would like to do now is something similar with church history. The first series of posts will cover general works on church history as well as some general works on historical theology.
Following his standard practice, Paul addresses this letter to "the saints" in Christ at Colossae. As you know, "saints" is a precious word that has been sorely perverted.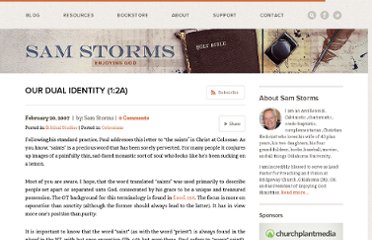 To view the Magazine as a PDF This issue of Credo Magazine might come as a surprise. Purgatory?