Photos
Lofted Forest Home: Organic Curves & Natural Materials. Good things come to those who wait – particularly in a work of uniquely detailed and highly curved architecture.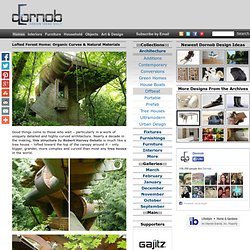 Nearly a decade in the making, this structure by Robert Harvey Oshatz is much like a tree house – lofted toward the top of the canopy around it – only bigger, grander, more complex and curved than most any tree house in the world. The perimeter of the structure is pushed out into the forest around it, curving in and out to create views as well as a sense of intimacy with the coniferous and deciduous tree cover.
The wood and metal detailing is incredible in its variety and customization – each piece designed to fit a particular form and function. Wood and stone carry naturalistic themes from the outside in and even the metal looks naturally rusted. The curved, organic mix of materials continues to the interior of this elevated forest home – a conceptual play on the fluidity and complexity of music (the source of inspiration for the architect and client in the design). 10009760_0589561.jpg (JPEG-Grafik, 919x919 Pixel)
Church-built-across-a-deep-river-gorge-...-Las-Lajas-Sanctuary-Ipiales-Colombia.jpg (JPEG-Grafik, 965x723 Pixel) Breathtaking Photos of Europe. Anyone who lives in Europe, has ever been there, or even dreamed of visiting knows the incredible variety, striking characteristics and history driven culture that exists on this continent.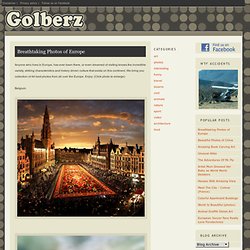 We bring you collection of 44 best photos from all over the Europe. Enjoy.
---